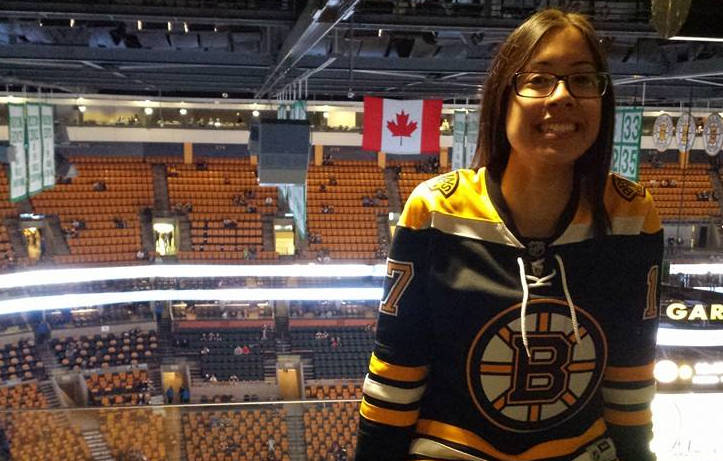 Skylar To is a  Vietnamese-American college graduate with a BSJ in Print Journalism from Suffolk University. Aside from print journalism, she also enjoys studying public relations as well.
In her one year with The Suffolk Journal, To has expanded her beat of covering just Boston Bruins Hockey to sports journalism, and occasionally some news stories, too. She loves meeting new people, and helping to write and share their stories with others through The Journal. She also loves carbs, sweets, shoes and women's fashion.
You can find her either catching a Bruins game "high above the ice" at The Garden, at the school library, or in The Journal office.
Skylar To, Sports Editor
Apr 26, 2017

Feldman paces back to Suffolk: Strides for track & field

(Story)

Apr 26, 2017

Senior leads with a story

(Story)

Apr 19, 2017

Finished wicked strong

(Story)

Apr 12, 2017

Boston ready for playoffs

(Story)

Apr 05, 2017

Davis makes softball history, again

(Story)

Mar 29, 2017

Bruins fundraise $101k to fight pediatric cancer

(Story)

Mar 01, 2017

Rams swing for a triple: title three-peat

(Story)

Feb 22, 2017

Rams cross the blue-line through the years

(Story)

Feb 15, 2017

Cheerleading stunts a comeback

(Story)

Feb 13, 2017

Bruins shuts out Montreal Canadiens with 4-0 win

(Story)

Feb 01, 2017

Suffolk study abroad escapes election

(Story)

Jan 20, 2017

Bruins blow first period three-goal lead, "collapse" in 6-5 shootout loss to Red Wings

(Story)

Nov 16, 2016

The Globies celebrate Boston's best

(Story)

Nov 11, 2016

Bruins lead early, defeats Blue Jackets 5-2

(Story)

Nov 02, 2016

Suffolk Athletics disqualifies Medina and Sagyndykova

(Story)

Oct 27, 2016

Sagyndykova brings SU tennis to a new level

(Story)

Oct 27, 2016

Rams hockey looks to push for a league win

(Story)

Oct 26, 2016

Davis lifts men's soccer to best season since 2011

(Story)

Oct 26, 2016

Manfra finishes first collegiate season in full sprint

(Story)

Oct 26, 2016

Rams Hockey ready for face off

(Story)

Oct 19, 2016

The search is on: John Brooks leads Suffolk in the hunt for the next leader of the university

(Story)

Oct 14, 2016

Commentary: Marchand-Backes-Pastrnak line leads the Bruins to season opener win

(Story)

Sep 21, 2016

CJN splits, centralizing majors

(Story)

Jun 21, 2016

Maria Sharapova receives two-year suspension for using banned substance

(Story)

Jun 15, 2016

Media gap: Editors discuss what makes headlines and what falls flat

(Story)

Jun 14, 2016

Entrepreneurs discuss refugee reality, encourage continued collaboration

(Story)

Jun 01, 2016

Del Prete leads team to another championship, NCAA run

(Story)

Jun 01, 2016

Davis breaks barrier for women in athletics

(Story)

Jun 01, 2016

Sylvester, Pulek honored for big bats and swings

(Story)

Jun 01, 2016

Ready for the unexpected

(Story)

Apr 27, 2016

Ridgeway allows athletics department to thrive

(Story)

Apr 27, 2016

Hockey's "new home" adds to team's success

(Story)

Apr 20, 2016

Strength in numbers produces wins

(Story)

Apr 20, 2016

Tough losses, still looking toward wins

(Story)

Apr 13, 2016

Head coach shakes up softball program

(Story)

Apr 13, 2016

Softball's winning ways

(Story)

Apr 06, 2016

Baistrocchi hits the greens

(Story)

Mar 05, 2016

Hockey comes to a close

(Story)

Mar 02, 2016

Wentworth overtime goal eliminates Rams from playoffs

(Story)

Mar 01, 2016

Basketball captains set the standards

(Story)

Mar 01, 2016

Hockey seniors celebrate a bittersweet ending

(Story)

Feb 24, 2016

Captain's Corner: Rams take it by storm

(Story)

Feb 10, 2016

ECAC honors Chelsea Campellone after near record break

(Story)

Feb 09, 2016

Suffolk basketball captains look toward younger generation generation

(Story)

Feb 03, 2016

Alternative winter break brings student back to their roots

(Story)

Dec 09, 2015

McCarthy leads the Suffolk herd

(Story)

Dec 02, 2015

Gudauskas scores beyond the arc

(Story)

Nov 18, 2015

Daniels achieves goal, wins honors

(Story)

Nov 11, 2015

Boston set to face-off against Colorado

(Story)