Advertising
The Suffolk Journal only accepts advertisements that fit the sizes listed below.  Each price is for one week. The Journal does not run classified advertisements.  Full-page advertisements do not fill the entire page; there is a margin at the top for our header.
If you want to request an ad or start communication with The Journal's Business Office, please submit a request by clicking here or email [email protected]
View our 2019-2020 Media Kit:
ADVERTISING POLICIES AND GUIDELINES
The following policies and guidelines govern all advertising in The Suffolk Journal:
1. Acceptability: All advertisements are subject to the approval of the Editor in Chief
of The Suffolk Journal or their Editorial Staff. The Suffolk Journal reserves the
right to reject advertising deemed to affect adversely the integrity and credibility of
the newspaper or the University.
2. Terms of Payment: All advertising must be paid in advance. The advertising rates
can be found at https://thesuffolkjournal.com/advertising/place-ad/
3. Liability: Sole responsibility for the content of any advertising rests with the
advertiser, who unconditionally agrees to hold The Suffolk Journal harmless should a
claim arise and to pay for any and all expenses incurred as a result of publication of
any advertisement.
4. Errors in Advertisements: Should there be any error in the advertisement, The
Suffolk Journal's liability is limited to the amount paid for the portion of the
advertisement containing the error. The Suffolk Journal shall not be responsible for
typographical errors which do not lessen the value of an advertisement.
5. Governing Law: The parties agree that any dispute will be governed by and
pursuant to the laws of the Commonwealth of Massachusetts.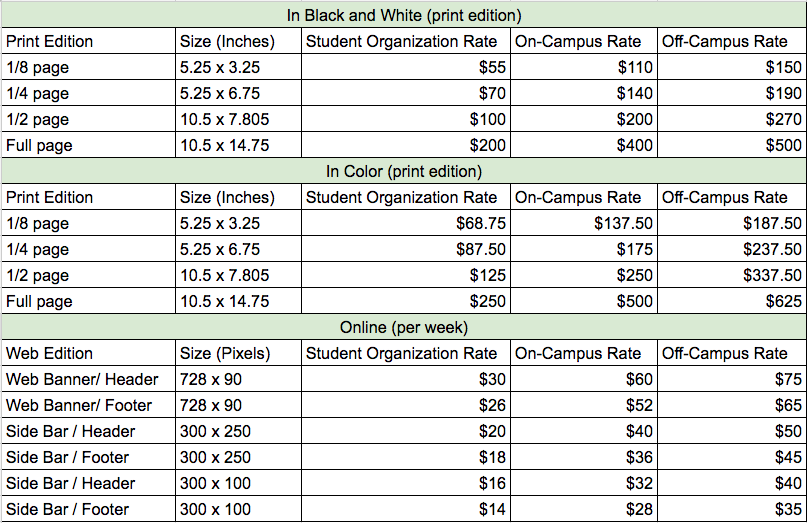 Rates are subject to space availability and do not include additional service fees, advertisement design fees, or discounts.  Please verify the size and price prior to submitting.  All advertisements must be submitted by 5:00 PM EST the Sunday before publication to avoid a late fee of $50 (on-campus), $100 (off-campus).
The Suffolk Journal will not be held accountable for ads that do not get run in a specified issue.  If such an issue arises, the ad will be run in a subsequent issue.
All advertisements are subject to approval by the Editor in Chief or their editorial staff.
Please contact us regarding any questions.