Cheerleading stunts a comeback
After the 61-year varsity club officially concluded its program in 2010, senior Ngaa Shoko wanted to re-introduce cheerleading again at Suffolk University.
The cheerleading club officially started back up last semester in the fall– and they are looking to be recognized as a varsity sport this time around.
"We are excited to get everything up and running and see the cheer club grow," said Shoko in a recent interview with The Suffolk Journal. Hopefully [the cheerleading club] becomes a varsity sport."
The varsity club was founded in 1948. Former Athletics Director Jim Nelson, who is known as "Coach Nelson" at Suffolk, said that the club had little interest and fewer members than the athletics department had hoped for after the opening of the Ridgeway building on Tuesday, Feb. 5, 1991. The club dissolved in the late 90s before it started back up again in 2000-01 before getting grounded in 2010. Because of the risks of sustaining injuries while performing stunts, the athletics department ended the program in 2010 for safety precautions. The team was no longer able to compete. Even when they practiced, a medical staff was unavailable to attend to the club on site due after hours.
Former cheerleading coach Krystle Bennett, who coached the team during the 2009-10 seasons said in an interview with The Journal via email last April that the club was grounded because one of the squad members got hurt while stunting at practice.
"Unfortunately, injuries in cheerleading are not uncommon, but I think the athletics department wanted to prevent further injury, which brought them to the decision to ground the team," said Bennett. "Cheerleading is insanely competitive, and the stunts get more dangerous and creative every year."
Nelson said that some of the difficulties the club faced were lack of sufficient practice time, as they practiced once a week on Sunday afternoons.
"The number of cheerleaders were probably at a minimum in terms of being able to do a certain number of routines they would like to," said Nelson in an interview with The Journal on Tuesday afternoon. "And then unfortunately, there were several injuries to some of the key personnel on it and the combination of numbers, insufficient practice times and those injuries that it was felt that for safety reasons that the program would be disbanded at that point."
Nelson adds that he is not sure that grounded is the appropriate term.
In her last year coaching the team in 2010, Bennett said she had a meeting for returning and new members to explain the decision to ground the team, most of the girls walked out of the meeting.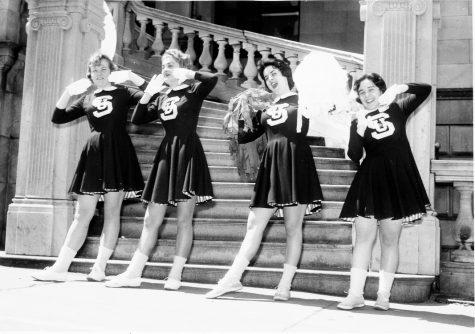 "Grounding the squad prevents them from competing, and as a result no one wanted to try out," said Bennett.
The cheerleading club under Bennett's two-year era also had the challenge of getting practice time in Ridgeway as they were given only Sunday afternoons to practice. As a team that was looking to compete, Bennett said it was not "nearly enough time to practice." The squad not only had to work around the practice times of Suffolk's varsity sports teams men's and women's basketball and women's volleyball, but intramural sports as well.
"This makes the team more prone to injury, and there was no medical staff on site, since it was off hours," said Bennett.
If practice had to be canceled or if a member missed a practice, the team would go two full weeks without practice at times during their season. In the practices missed, Bennett said that the club had to rework stunts and routines, which took time out of working on new routines and advancing stunts. They were unable to compete and perform as a team nationally and cheered at some home basketball games instead.
"Even before the team was grounded, it was hard to keep the squad together," said Bennett. "So, if the school wants to bring back a competitive cheerleading team, they need to invest the time and money into the program."
When asked on the possibility of the program getting grounded again, current head coach Tainara Giacomini said that safety is her number one concern and she "definitely" understands the vulnerability of sustaining injuries that comes with the sport.
To avoid injuries, Giacomini wants to work on the basics with the team's newcomers, stunts and conditioning. Some of the tools she will provide at practices are a balance beam and exercise stands to help the girls balance as well to build stronger muscles.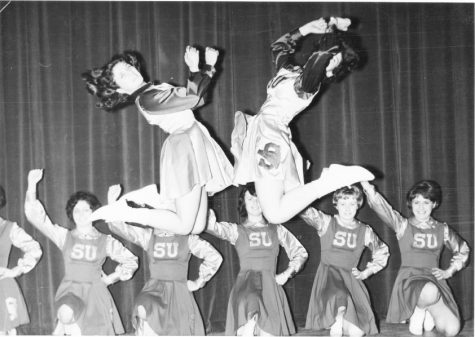 "With a lot of exercise and conditioning, we can keep this program running and be [as] competitive as we can," said Giacomini in a phone interview with The Journal on Monday afternoon. "I want this program to be successful as it can be."
Besides starting cheerleading back up again as a way for the senior to get involved at Suffolk as a transfer student, Shoko thought of other Suffolk students who wanted to get involved in cheerleading, but could not.
"I remember having so much fun at cheer practice, even though it was a lot of work," said Shoko. "It was always the most fun; and getting to competitions, working toward competitions and cheering at basketball games were always the best."
Shoko, a government major with a concentration in international relations, thought that cheerleading would be the best way for her to get involved on campus when she realized that Suffolk used to have a cheer team through the university's yearbooks.
"I just felt like Suffolk should have [cheerleading], because there's a lot of people that do want to get involved in cheering," said Shoko. "It'd be the perfect way to get them involved, but also to build up some school spirit."
After Shoko started her own student organization on campus and became the president, sophomore Stephanie Carter heard about the club and contacted Shoko to join.
"I love cheering, because you meet new people, it's a good workout and it's fun," said Carter, an applied legal studies major.
Carter, who volunteered to become vice president of the club, said that with her position she makes sure that the girls are happy, having fun, enjoying the experience and bonding as a team.
Carter also reached out to her former coach, Giacomini, in her time cheering with Pop Warner to take on the role as the club's head coach. With 10 years of cheering and working as an assistant coach for six to seven years, she is confident of the club and her first head coach position.
"I have quite a lot of experience," said Giacomini.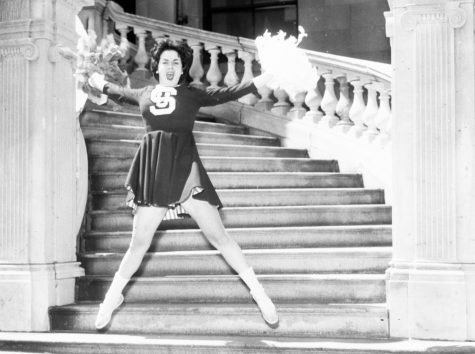 Giacomini, who works as a discharge planner at Nashua Street Jail, said that she learned of the available coaching position through Carter and contacted Shoko. In her first meeting with the group, she said she treats the club as an already competitive team.
"[Carter] told me that the club is getting started from the ground up and I love being a part of that," said Giacomini.
"My goal is to have them compete by next spring," said Giacomini as she looks for the club to be recognized as a varsity sport in the future. However, she adds that: "I want to get the ball rolling and get it rolling quickly, but I understand I have to be patient."
Carter and Shoko said that they started off with 10 girls to having 22 members as of now. They recruited members through the university's annual Somerset Plaza Palooza Fair and during the winter involvement fair.
Once the club reaches its peak number of 30 members, Carter and Shoko have considered holding tryouts. With a bigger team, Carter said she wants the team to be able to compete and advance.
First-year club member Angela Turner said in a recent interview with The Journal that joining the cheerleading club was her next best thing to get involved on campus. The 18-year-old freshman, a criminal justice major, used to participate in gymnastics and knew that she would not be "out of the loop cheerleading."
"There's no reason not to join, we're all starting new," said Turner.
Nelson said that 22 members is a remarkable number, because for many years the athletics department would send out a survey to accepted freshmen, asking students whether or not they were interested in participating in cheerleading and other varsity sports the university offered at the time.
"The number 22 far exceeds the responses we were getting back in the late 2009-10," said Nelson.
The club's first official practice will be held on Feb. 19 at 4:00 p.m. at the Ridgeway gymnasium, following another practice on Feb. 24 at 4:30 p.m. at Somerset. Turner said they held two practices last semester. Since the cheer squad is still working on getting a vacant classroom for a general meeting held every week on Tuesdays and setting fixed practice times as practices times are currently subject to change. They are working on routines and establishing a set schedule that at least accommodates the roster.
Besides holding practices on Sundays and Fridays, Shoko said that they try to work out during the week as well.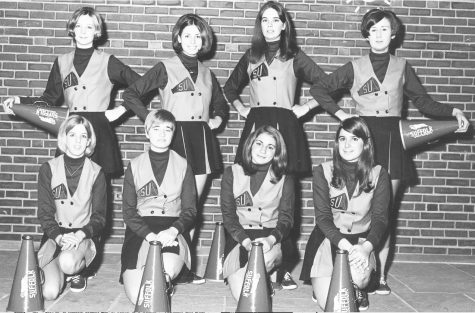 "We try to focus on strengthening the core, because it's really important in terms of cheerleading," said Shoko.
The weekly workouts correlate into the club's goals for the rest of the year. Shoko added that it is important for members to continue to work on their strengthening.
"They say cheerleading is the easiest sport to lose, but the hardest sport to relearn," Shoko said. "So, it's just making sure we are all up to speed and ready to hopefully start doing a pep rally."
Shoko has even looked into some competitions already.
"We hope to cheer at games and maybe co-sponsor pep rallies with other clubs on campus," said Shoko.
Nelson thinks that the club will add school spirit and get more people to go to sports games. He hopes that they will cheer for both men's and women's basketball teams.
For the rest of the semester until parting for summer break, Giacomini said she wants to get the basics down with the club, stay in shape and work on conditioning.
"I want to come back strong [in the fall] and get ready to dive in," said Giacomini.
Leave a Comment
About the Contributor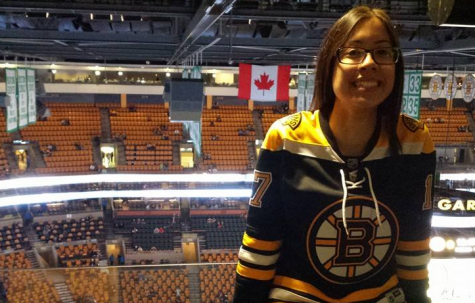 Skylar To, Sports Editor
Skylar To is a  Vietnamese-American college graduate with a BSJ in Print Journalism from Suffolk University. Aside from print journalism, she also enjoys studying public relations as well.

In her one year with The Suffolk Journal, To has expanded her beat of covering just Boston Bruins Hockey to sports journalism, and occasionally some news stories, too. She loves meeting new people, and helping to write and share their stories with others through The Journal. She also loves carbs, sweets, shoes and women's fashion.

You can find her either catching a Bruins game "high above the ice" at The Garden, at the school library, or in The Journal office.