Maria Sharapova receives two-year suspension for using banned substance
Professional Tennis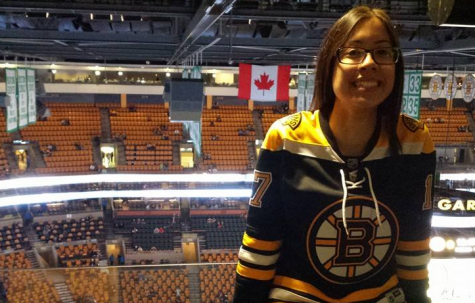 More stories from Skylar To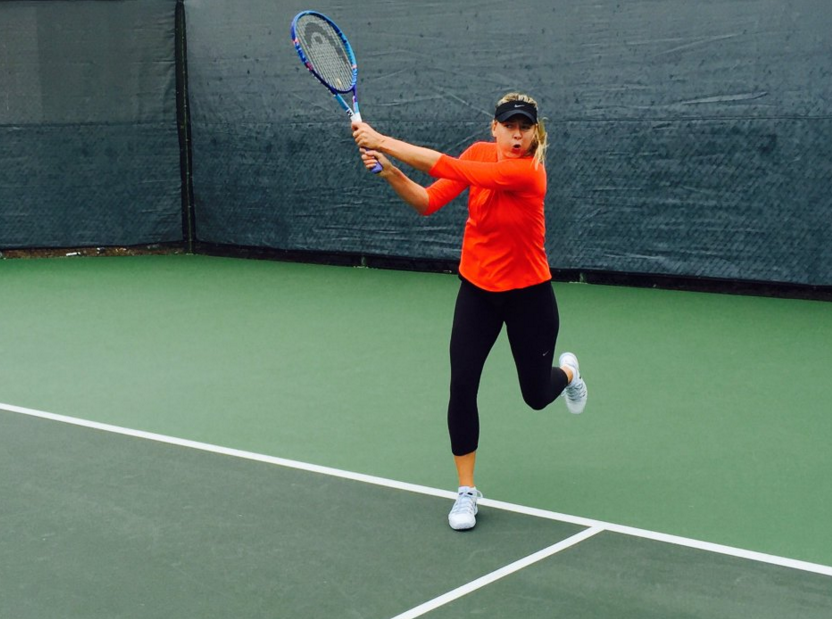 A tennis mega-star's career has been put on hold.
On June 8, the International Tennis Federation (ITF) announced a two-year suspension for 29-year-old Russian professional tennis player Maria Sharapova. Sharapova tested positive for the ITF newly banned drug substance, meldonium.
Sharapova learned from the ITF that she had tested positive for meldonium at the Australia Open on Jan. 26, and served a temporary suspension, which she announced in March. Meldonium, also known as mildronate, is a drug that enhances the performance of athletes. The heart medication also increases and improves blood flow. Sharapova claims to BBC she has been taking meldonium since 2006 when she was 18-years-old to address a variety of health problems such as heart issues, magnesium deficiency and to prevent the risk of inheriting a family history of diabetes.
Sharapova, who had been taking meldonium legally, has been removed from the World Anti-Doping Agency's (WADA) Monitoring Program and was added to the Prohibited List on Jan. 1. WADA banned meldonium on Sept. 16, 2015, which went into effect on Jan. 1. WADA had spent the previous year monitoring the drug in which they found that the drug does enhance the performance of athletes by allowing the body to carry more oxygen to muscle tissue.
In Sharapova's address at her news conference on March 7, 2016, she admitted to failing a drug test and apologized. She said she was not aware of the drug's changed name, as meldonium is also known as mildronate. However, Sharapova takes responsibility for her rule violation and hopes to return to the game she has loved and played since she was four-years-old.
Frank Irizzary, who will be heading into his ninth year at Suffolk University in the 2016-17 academic year, teaches Public Relations including Sports Public Relations and Sports Broadcasting. He said in a recent interview with The Suffolk Journal on Friday, that he thinks Sharapova's apology over Facebook makes sense.
"Her fans are clearly part of the social media generation, so utilizing social media to issue statements is the current day par for the course," said Irizzary. "Her apology was predictable."
Sharapova said she did not read the list of prohibited items in an email WADA sent out to her on Dec. 22, 2015. Sharapova has a support team who missed out on the email as well. Irizarry, who does not think sports bodies such as the International Olympic Committee (IOC), The Fédération Internationale de Football Association (FIFA), Women's Association Tennis (WTA), National Collegiate Athletic Association (NCAA), and all professional U.S. Sports Leagues, communicate effectively with athletes. He said an athlete's team of support should be diligent in managing the communication, especially for those who are going to face the consequences.
"That is almost a laughable excuse," said Irizzary. "Additionally all of the corporate interests; companies that pay her lots of money to represent their products, provide all the more reason to read the email."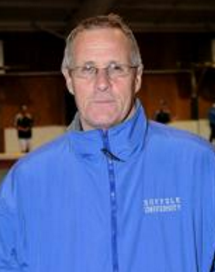 Men's and Women's Head Tennis Coach Steve Counihan, who has coached Suffolk's tennis programs for 12 years, said in an interview with The Journal on Saturday, that he personally gives Sharapova the benefit of the doubt.
"She strikes me as being honest, I don't think she did it purposefully," said Counihan.
Counihan believes Sharapova did not intentionally violate the anti-doping rule, and so does the ITF. Counihan thinks her suspension is "way too much," and a three months maximum sentence is appropriate.  He added that Sharapova should have known better and aware that meldonium is also under a different name. However, Counihan respects the ITF and their stand with the two-year ban. He thinks the suspension serves as a discipline for athletes and a reminder as to why athletes play.
"She's quite a real pro, I can't see her getting an edge like that," said Counihan. "She's one of the top athletes in the world."
Counihan, who referenced the National Football League (NFL) Patriots quarterback Tom Brady and the ongoing Deflategate scandal in which Brady was accused for tampering with the footballs used in the 2015 American Football Conference (AFC) Championship game with the Indianapolis Colts, said four judges of Mass. do not believe Brady when a nation of fans have defended him, his point of in making the reference is to have faith in athletes.
"I'm sure there's a lot of people who lost respect for Sharapova; personally, I'm not one of them," said Counihan. "I believe she made an honest mistake whether that's true or not."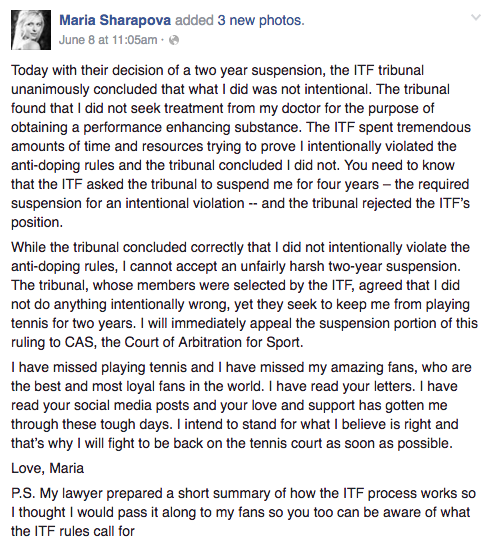 On June 14, Sharapova appealed her two-year suspension to The Court of Arbitration for Sport (CAS), and thinks her sentence should be reduced. She said she cannot accept an "unfairly harsh" suspension, and thinks they are keeping her from playing tennis even though a three-member tribunal of the ITF announced Sharapova's violation was not intentional. She would have had to face a suspension of up to four years if the ITF found her doping incident to be intentional. CAS will appeal by July 18. If they appeal, Sharapova will be eligible to participate for Russia in the 2016 Olympics in Rio de Janeiro held in August.
Even though Counihan said Sharapova is reaching the end of her peak career, as 29-years-old is considered "old" in professional tennis, he thinks the former five-time Grand Slam Champion will return to the sport with the talent she has.
"The only way Sharapova is going to win a major is if Serena Williams gets hurt or retires," Counihan, who bases an athlete on their body of work, said. "I hate to say it."
Irizzary thinks the world has seen the last of Sharapova as a top tennis player, and back into the game after a two-year absence will be tough.
"It's hard to predict what she will do," said Irizzary. He added that she may pursue tennis-related activities and earn income such as continuing to model, becoming a spokesperson, attending celebrity or charity events or serving as a commentator, but Irizzary does not picture Sharapova as a coach.
Sharapova, who has ended her 11-year streak of being the world's richest female athlete after being surpassed by Serena Williams earlier this month, has lost her endorsements with Nike, Porsche and TAG Heuer. Irizzary thinks the sponsors' decision to suspend their partnership with Sharapova was "wholly appropriate under the circumstances." In return of giving away millions of money, companies do not want a bad representation, and Sharapova violated her part of the deal when she agreed to her contracts.

"Companies are quick to cut bait with the athletes they pay a lot of money to endorse their products. We saw it with [professional golf player] Tiger Woods, [retired professional National Basketball Association (NBA) basketball player] Kobe Bryant, [former professional baseball player and current Major League Baseball (MLB) San Diego Padres bench coach] Mark McGuire and [former professional baseball player and current MLB Miami Marlins hitting coach] Barry Bonds," said Irizzary. "That's why companies put moral and legal clauses in their contracts with athletes."
Leave a Comment
About the Contributor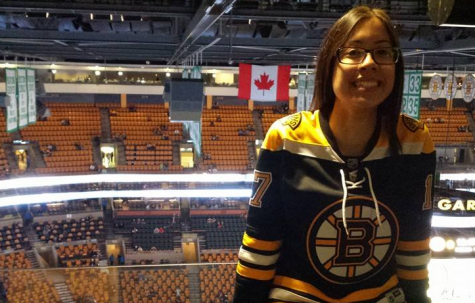 Skylar To, Sports Editor
Skylar To is a  Vietnamese-American college graduate with a BSJ in Print Journalism from Suffolk University. Aside from print journalism, she also enjoys studying public relations as well.

In her one year with The Suffolk Journal, To has expanded her beat of covering just Boston Bruins Hockey to sports journalism, and occasionally some news stories, too. She loves meeting new people, and helping to write and share their stories with others through The Journal. She also loves carbs, sweets, shoes and women's fashion.

You can find her either catching a Bruins game "high above the ice" at The Garden, at the school library, or in The Journal office.