Davis makes softball history, again
April 5, 2017
It was only a matter of time before Head Softball Coach Jaclyn Davis hit another career milestone.
Davis knew it was a possibility heading into the 2017 spring season, but it was "just kind of about when" it would happen.
And it did already happen– twice.
On March 25, Davis notched her 100th career win in her five years coaching the softball team at Suffolk University in an 11-6 win at Salem State University. With last Thursday's 8-0 shut-out win at Emerson College, the second game of the Rams doubleheader, Davis earned her 101st career win at Suffolk to surpass former six-year Head Softball Coach Elaine Schager to give Davis the title as the winningest coach in the program's 33-year history.
"I didn't even know that was a possibility or what the milestone was, it was sort of news to me," said Davis in a post-practice interview Friday afternoon. "I'm really happy to bring the program back to where it was when [Schager, a third-year head softball coach at Merrimack College] was coaching and continue to make it great for the university."
Last April, Davis was also acknowledged for her 100th career win as softball coach with 87 of those game wins from her four years coaching the program at Suffolk. At the end of the 2016 season, Davis was named the Great Northeast Athletic Conference Coach of the Year and also led the team to the winningest season in program history with a 33-9 record.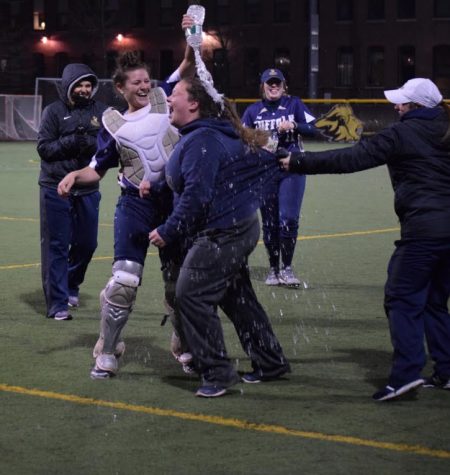 "When I [came to Suffolk], my intention was to change the program and turn it into a winning program," said Davis. "I never really thought about what that would look like in terms of career milestones, but it is really nice to be recognized and I do appreciate the support that people have shown."
Besides personal career accomplishments, Davis praised her "great and talented group of girls" for overall team success.   
"I think I'm doing a pretty good job bringing in really smart, talented young women and doing the best I can to put a winning team on the field every day," said Davis. "[I'm] bringing in girls that know how to play and know how to compete and want to be successful."
Davis also said the Rams owe their success to the consistency in the line up. In last Thursday's game, sophomore Jill Pulek, a catcher, a designated hitter and third base player became the first player under Davis' era and the first Ram to record a home run in three back-to-back games since 2011, according to the Suffolk Athletics department. Pulek now has a  career total of 12 home runs, which ties her to Suffolk alumna Erin McAndrews for fifth of all-time.
Junior Delaney Sylvester, who plays center, made three runs batted in (RBI) the game, for a career total of 13 RBI, which ties her in third place in program history with Suffolk alumni Kathleen Tolson. Davis said she loves that the players are "back in the groove" and that they feel "really good" in the batter's box.
"We have a lot of great hitters on our roster, [Pulek and Sylvester] are certainly known for leading a pack," said Davis. "I hope that they know it and other people recognized it that they are more than girls who hit home runs."
The team also had another program first with their Tucson, Arizona Invitational trip where the team traveled to the west coast to open the season on March 11 and competed with some of the nation's "best" softball teams. With 10 games played in a five-day span, the schedule was "physically and mentally demanding."
"I think the best thing they could walk away from that trip with in regards to softball is understanding that they can play with anybody," said Davis. "There's not anybody that they can't compete with."
"I think the other thing that we take away from it is that we never want to underachieve, we always want to work hard and we always want to be successful. We talked a lot about how nobody gives you the win, you have to earn it."
Even though the Rams finished the trip with a 6-4 record, the team faced the 24th best team in the country, Central College in Pella, IA, in the Rams season opener and defeated the Central Dutch for a 3-2 win, which Davis said is "not an easy [task] to do."
"I think their biggest takeaway was understanding the quality of teams out there and what we were able to do against those teams," said Davis.
She hopes that the "good lesson" will pan out for the team in the next several weeks of the season.
"We learned a lot and our intention is to bring that to New England with us and move into conference play and feel stronger once we get into the playoffs," said Davis.