Suffolk Athletics disqualifies Medina and Sagyndykova
Women's tennis duo breaks NCCA rule, says violation is not intentional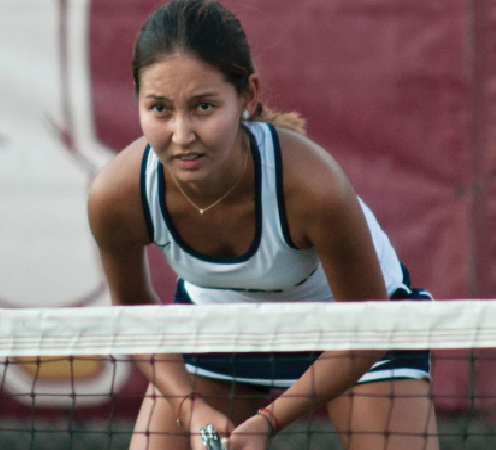 Suffolk University women tennis players, seniors Valentina Medina and Aidiana Sagyndykova, were officially notified on Oct. 22 that they were disqualified from playing in the semi-finals against Simmons College for illegally playing in the offseason last spring with Assistant Tennis Coach Manny Barros.
The university's Athletics Director Cary McConnell reached an agreement with the athletics department to bench both the players after Johnson & Wales University Head Tennis Coach Devin Kitterick notified McConnell in a phone call on Friday afternoon regarding of the violations under Division III of the National Collegiate Athletic Association (NCAA).
"[JWU] were doing us a favor and saving us less damage," said McConnell in an interview with The Suffolk Journal on Monday afternoon. "We went about making decision and decided as an athletics department to not let [Medina and Sagyndykova] compete."
According to the top five secondary violation of the NCAA Division III, "out-of-season athletically related activities is a violation." The rule is provided on the hand out on the NCAA website as well as section 17.1.5 of the non-profit association's manual. NCAA has over 8,500 rules within their DI, DII and DIII schools.
Playing and practice seasons is the second most common type of violations according to the NCAA enforcement handout on the website. As a DIII institution, McConnell said that student-athletes are allowed to practice 20 hours a week with a maximum of four hours per day. The 20 hour rule document provided on the NCAA website also enforces the rule by reminding DIII sports programs that they "may not participate in any countable athletically related activities (CARA) during the off-season."
"Breaking the rule is going against what DIII is about," said McConnell. He added that the practice and no contact rules during the off-season with student-athletes and their respective sports programs encourages students to be well-rounded at the university by balancing their time for academics and studying abroad.
In an interview with The Journal on Monday morning, Medina and Sagyndykova said they want others who think that their offense is "extra coaching" that they were playing alongside Barros and his team for the United States Tennis Association. The pair said they did not receive coaching from Barros.
"I still want people to know that we did not violate the rules intentionally. We just love tennis and we wanted to play," said Medina. "We never say no when we have the opportunity to play."
Sagyndykova added that they played a total of 5-6 matches during a bi-weekly period with Barros during the team's offseason. They misunderstood the rule and thought they were granted 30 hours of practice time last season, so they thought that they were set to play. They now know that there was no rule for the 30-hour practice time and that they did commit a violation.
"His intentions were not to coach us, but to play and have fun," said Medina.
The Journal learned of the disqualification on Tuesday morning from both Medina via text and Sagyndykova via email.
Barros did not respond to communication with The Journal regarding this article as of late Tuesday night. GNAC Commissioner Joe Walsh said in an email to The Journal on Oct. 28 that in his point of view, the two student athletes were not disqualified. However, he will defer any further comments to The Journal about the university's athletics department.
McConnell said the violations were evident and the decision to bench the two players was the best decision for the department to make.
"I don't have an opinion on fairness, it's not my responsibility to judge whether it is fair or not," said McConnell. "The easiest way is to follow the rules."
"We adhere to National Collegiate Athletic Association (NCAA) policies to the utmost importance here," said McConnell. "They had great careers, it's unfortunate it had to come to this."
Associate Director of Athletics Anthony Del Prete said that the violation was self-reported and that they admitted to guilt. Del Prete, who is also the university's head baseball coach, said they are currently in the process of reporting the violation to the NCAA. Del Prete said that the directors will meet with the coaches "to get everyone on the same page" and to understand how serious the offense is.
"It was self-reported and we admitted to guilt," said Del Prete. "Our sports teams comply with the NCAA rules, we're required and mandated to report (violations)," said Del Prete in an interview with The Journal on Monday afternoon.
After speaking with Dean of Students & Associate Vice President of Enrollment Dr. Ann Coyne on Oct. 26, Medina and Sagyndykova said that they understand the athletics department's best interest to protect their department and the university. They said they wished that this information was notified sooner as the girls would have sat out for some matches during the beginning of the season. They felt that that information was used against them in the "perfect moment," before playoffs. Medina and Sagyndykova, who brought their tennis rackets in case with the hopes of competing on Saturday, said that they also wished that they were informed sometime Friday after their meeting with McConnell rather than having to find out on the day of the match to find out that they were ineligible to play.
"It's about taking away a memory that we are never going to have again," said Medina. "We beat (JWU) once (in a conference match on Sat., Oct. 8), we could have beat them twice. We could have taken the title and then this."
Leave a Comment
About the Contributor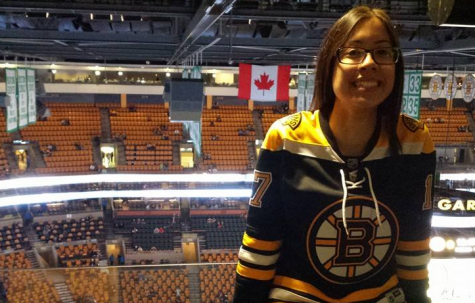 Skylar To, Sports Editor
Skylar To is a  Vietnamese-American college graduate with a BSJ in Print Journalism from Suffolk University. Aside from print journalism, she also enjoys studying public relations as well.

In her one year with The Suffolk Journal, To has expanded her beat of covering just Boston Bruins Hockey to sports journalism, and occasionally some news stories, too. She loves meeting new people, and helping to write and share their stories with others through The Journal. She also loves carbs, sweets, shoes and women's fashion.

You can find her either catching a Bruins game "high above the ice" at The Garden, at the school library, or in The Journal office.