Gudauskas scores beyond the arc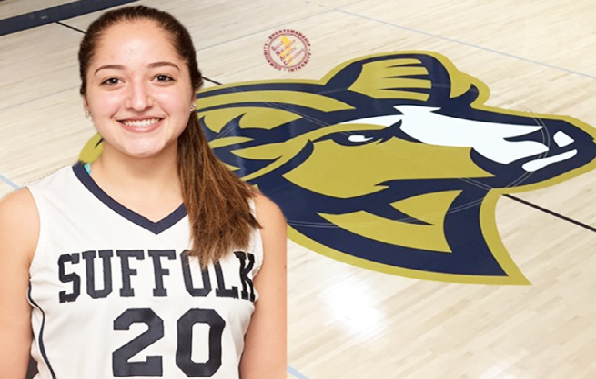 Hang on for a minute...we're trying to find some more stories you might like.
With a ball in hand, a backyard as a court and her idol Rajon Rondo in mind, Marissa Gudauskas mimics his "fancy dribbling moves" to incorporate his style of play into her own- all a part of the game she grew up loving when introduced to basketball at five years old.
The 18-year-old freshman continues her love for basketball as a shooting and point guard for Suffolk University's women's basketball team.
Gudauskas' perseverance to work hard and help her team did not go unnoticed as she tallied an average of 12 points in 18.5 minutes of play in her first two games of the season, assisting in both wins as well as the title of GNAC Corvias Rookie of the Week on Nov. 17.
  "I thought I played hard, and the GNAC obviously saw that," Gudauskas said. "It's a great honor, but you have to move on. You don't want to get over confident," said Gudauskas. Even though Gudauskas shared that she did not dwell too much on the honor, she will reflect on her title as a reminder to continue staying motivated and determined in gaining success for her and the team.
"I have the ability to keep working hard and helping the team," she said. "Everyone will be successful, it's not just a one person game."
In her first collegiate game versus University of Maine Farmington on Nov. 14, an excited and energized Gudauskas said that her nerves vanished when Coach Ed Leyden called her in for her first shift and appearance for the Lady Rams. She gives credit to her former and current teammates, along with her coaches.  Gudauskas also credits her hard work ethic in preparing her for that exact moment.
"I was really excited to be out there. I didn't want to blow it, and I played as hard as I could play at a collegiate level," Gudauskas said. "It was just a good time being out on the court, positively contributing to the team, and playing the competitive and fun game I've grown up to love."
Gudauskas used to her competitive and aggressive style of play from her high school career with the Connecticut Attack, her Amateur Athletic Union (AAU) team.
Gudauskas already knows that she will have to put in 100 percent effort 100 percent of the time playing at the collegiate level.
"You're here for one goal, and that's to win," she said. "I want to go out there, hustle on each play and play as hard as I can. Every game is a battle."
It was through the AAU program that Coach Leyden saw her shine as a player and reached out to Gudauskas.
Gudauskas loves and values the team aspect of the sport, she shared that her teammates helped make transitioning into college easier. "I am just so excited to be playing alongside my [new] teammates," she said. "Everyone is just terrific on the team, I love it."
Gudauskas anticipates a steller season for herself along with the team, with goals such as finishing the season with over a .500 record and making the league tournament. She emphasized how much she recognizes the team's potential in accomplishing these goals.
"I want to grow together as a team, to get a little better each day, and to learn from mistakes made in practice and games in order to bounce back strong for the next ones."

About the Contributors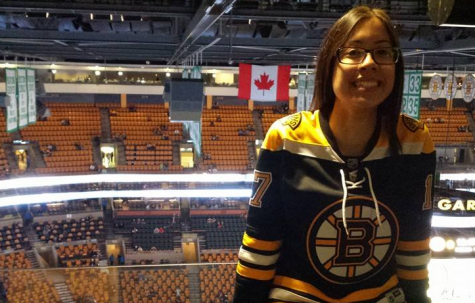 Skylar To, Sports Editor
Skylar To is a  Vietnamese-American college graduate with a BSJ in Print Journalism from Suffolk University. Aside from print journalism, she also enjoys studying public relations as well.

In her one year with The Suffolk Journal, To has expanded her beat of covering just Boston Bruins Hockey to sports journalism, and occasionally some news stories, too. She loves meeting new people, and helping to write and share their stories with others through The Journal. She also loves carbs, sweets, shoes and women's fashion.

You can find her either catching a Bruins game "high above the ice" at The Garden, at the school library, or in The Journal office.