Sagyndykova brings SU tennis to a new level
As captain of the Suffolk University's women's tennis team this year, senior Aidiana Sagyndykova said she wanted to continue to give her best performance on the court and carry the winning mentality for her team.
Sagyndykova, who plays second doubles, and first and second singles depending on the match, earned her first Great Northeast Athletic Conference (GNAC) Corvias Player of the Week on Oct. 17 this season. In the team's final three games of the season against University of St. Joseph, University of Massachusetts Dartmouth and Mount Ida College two weeks ago, Sagynykova was undefeated in singles and doubles.
"I feel honored to receive the award, since it's my last year," said Sagyndykova, who has been playing tennis as a Ram for four years. "I'm very excited and proud."
With a 5-7 record heading into their 14 matchup of the season with Johnson & Wales University (JWU) of Rhode Island on Oct. 8, Sagyndykova said that the team and her already knew that they qualified for the Great Northeast Athletic Conference (GNAC). After notching a 5-3 win over their undefeated opponent, JWU, on Oct. 8, Sagyndykova said her team and she knew that they had definitely secured their playoff spot.
"[JWU] is the best team, and we beat them," said Sagyndykova. "I think [the win] brought the team even closer and there was a special bond when we beat [JWU]." The marketing major and finance minor added that the team thought about the match as early as the beginning of the season, and winning the match was "just an amazing feeling."
The team shutout Mount Ida College with a 5-0 win on Oct. 19 in the GNAC Quarterfinal. The win qualified the team to advance to GNAC Championship Tournament Semifinals on Oct. 22, but they fell to Simmons College in a 5-2 loss at Winchester Tennis Center that ended their season and quest for the championship title.
On Tuesday morning, The Suffolk Journal learned that Sagyndykova and junior and co-captain Valentina Medina were disqualified to participate in Saturday's semifinals tournament, which Sagyndykova said was "unfair." She thinks the team played the best that they could, but believes that their ineligibility to play contributed to the playoff loss.
"Our team needed us but we were not allowed to play, our team simply wasn't prepared to lose its two players in the semifinals and I believe that it was one of the reasons to out loss," said Sagyndykova. "We, as a team, have done the best we could."
She credits her season success to her teammates, and Men's and Women's Tennis Head Coach Steve Counihan and Tennis Assistant Coach Manny Barros. The support and mentoring she receives from both her teammates and coaches made her role as one of two captains, alongside junior Valentina Medina, easy.
"I will miss the team," said Sagyndykova. "[The team] is the biggest part of the whole [sport]. I'm just going to miss the team bonding and friendships I've built and playing everyday."  
Leave a Comment
About the Contributor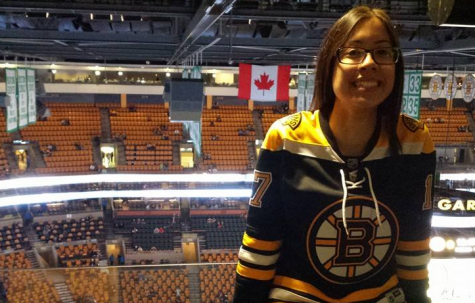 Skylar To, Sports Editor
Skylar To is a  Vietnamese-American college graduate with a BSJ in Print Journalism from Suffolk University. Aside from print journalism, she also enjoys studying public relations as well.

In her one year with The Suffolk Journal, To has expanded her beat of covering just Boston Bruins Hockey to sports journalism, and occasionally some news stories, too. She loves meeting new people, and helping to write and share their stories with others through The Journal. She also loves carbs, sweets, shoes and women's fashion.

You can find her either catching a Bruins game "high above the ice" at The Garden, at the school library, or in The Journal office.