Daniels achieves goal, wins honors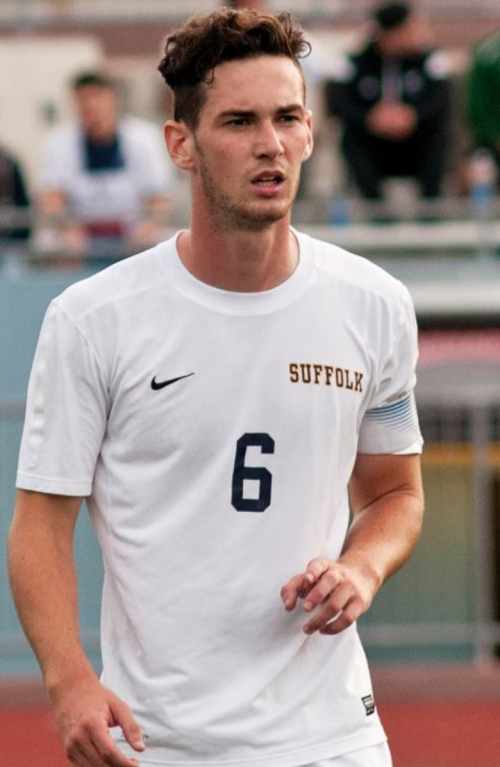 A week after the end of Suffolk University's men's soccer season, center back and first-year captain Ben Daniels learned from new head coach James Boden that he earned GNAC (Greater Northeast Athletic Conference) Honors.
Junior Daniels, who won the same title last season, said that he was a little surprised after the team dropped most of the season this year.
"I'm surprised GNAC noticed me," said Daniels.
Coach Boden explained in an interview with the Journal that Daniels is an extemporary leader to the younger players.
"Ben is a very consistent player, he always gives 100 percent," Boden said. "Ben stood out, and he deserves GNAC Honors."
Daniels, who has been with the team for three years, reflected back on the team's first home game of the season versus Mount Ida College.
Daniels scored a goal to even the game 1-1. Both teams walked off the field with a point after the game was sent into not one, but two overtimes. He said the one point was crucial for the team to qualify for the playoffs.
"I wanted to make playoffs. [My determination] made me work harder as an individual," he said.
Despite having played a tough season, Daniels said the team was able to win two of their last three games left in the season to make a playoff appearance.
In both away games versus Rivier University and Emmanuel College, Daniels commended the team's ability to bounce back into both games after being down a goal before entering halftime, showcasing team character.
Said Daniels as he was pleased to have silenced Emmanuel's "tough fans" after getting back into the game with a win, "I knew that our playoff chances were slim; anything after those games would be special."
The team faced adjustments such as welcoming new team coaches, managers, new players, and calling East Boston Memorial Park their new home.
"More than half of the team is new," said Daniels. "We have an internationally diverse group, so it's just getting used to everyone's different playing styles."
Daniels added that he understands how hard it can be for new players to transition and adjust to playing soccer at the collegiate level.
"This season has been a rebuilding year," he said. "We are definitely moving in the right direction."
Until Daniels can do his pregame ritual, which consists of listening to tunes such as "First" by Cold War Kids on repeat, he is focusing on his academics and looking to better the team's chemistry.
Daniels anticipates welcoming a strong recruit of new players during the offseason in hopes of contributing to a successful season next year. Boden is currently working on recruiting a lot of prospects.
"We are building a new culture," Boden said. "We will go forward from here."
"We'll definitely be GNAC contenders next season," Daniels said. "I hope to make it to the NCAA playoffs."
Aside from the new firsts this season, Daniels was selected as first-year captain alongside senior goalkeeper Nicholas Chamma. Daniels said he played his heart out for Chamma, the only senior of the team, so he could end his last year on a high note.
As a center back, Daniels was surprised to learn he was selected captain, as it is traditionally given to defenders and goalkeepers since they are the ones that are able to see the whole field.
Daniels credits his leadership role to the team for making him gain more maturity and responsibility.
"Being captain made me more focused during the season, and it made me play better."
Daniels, a film major with a concentrated study in advertisement aspires to be a director and gave some credit to his role as captain in helping him take on leadership roles off the field.
"To be successful as a whole, as a team, everyone needs to do their part," he said. "In film, everyone needs to come together to be successful."
Daniels, 20, inherited his love for the game at five years old from his parents. Daniels was coached by his father until he was 17 years old.
"Having my dad as a coach helped and motivated me a lot," he said. "My dad is my biggest fan and critic."
Daniels knew that he wanted to continue playing soccer throughout his college career.
It was always his plan.
Said Daniels with a chuckle, "I knew that being a professional soccer player would not be realistic."