Hockey comes to a close
Twenty-five games later with a re-established identity and winning culture, Suffolk University men's hockey 2015-16 season has come to an end.
And so has the collegiate hockey careers of seven members of the graduating senior class: Zack Capozza, Mike Cherpak, Tyler Heineman, Connor McCarthy, Justin Selep, Shaughn Shields, and Brandon Smolarek. In an interview with The Suffolk Journal on March 4, half of the senior class reflected on their last season playing hockey as Rams.
The Rams went undefeated seven games into the season before Johnson & Wales University (JWU) of Providence, Rhode Island, snapped their winning streak on Nov. 21. Suffolk ranked second in the conference standings after Endicott College of Beverly, Mass. The Rams headed into winter break with a 9-3-0 record.
"We set a precedent. We established ourselves as a hockey team, we established that we are a competitive team in the league," said Capozza. "We proved we can compete and win."
Capozza, who plays forward, added that the team has lost to JWU in playoff games since his sophomore year as he recalled losing to them 7-0 his sophomore year and 5-0 his junior year in both games eliminating his team from their playoff run, and 4-1 when JWU hosted the Rams for a conference road game on Feb. 11 his senior year.
Although the losses to JWU may seem like a failure, on the behalf of his senior hockey class, Capozza said that they want others to look past the results of those games, and instead take away that the games played were a part of the program's "incremental progress" in the four years he has been with the team. The program continues to develop talent, produce success and grow as a program.
While winter break was still in session for the Suffolk community, the Rams started the second half of their season with a five-game road trip, facing Franklin Pierce University of Rindge, New Hampshire on Jan. 9. They finished January with a 5-2-0 record having won four of their five road games before slipping down from second seed to fourth spot in the league towards the end of the season.
"You don't realize how valuable those points are until the end of the season," said Shields.
The Rams finished February with a 1-4-1 record after an overtime playoff loss to Wentworth Institute of Technology of Boston, Mass. on Feb. 28 that ended their season. They won almost as many games as they lost in the second half of the season, and finished the 25-game season with a 13-10-2 overall record. As full-time student athletes, balancing school and work and traveling for road games factored into finishing the remainder of the season.  
"It just came down to teams we didn't beat and take care of business," said Heineman, a co-captain, defenseman and global business major.
Whether the Rams were second or fourth in the league, Selep thinks the team never took a game off, and their efforts to win games remained the same, which is an accomplishment. The forward gives credit to the nine-member league (including Suffolk) of the Eastern College Athletic Conference (ECAC) Northeast Hockey as he said the Rams competed with teams that started "getting hot" in a "close league" during the last month of the regular season.
"Even when we were in second place, we never felt comfortable," said Selep. "We were playing the right way; the puck wasn't bouncing our way."
In their game against Nichols College of Dudley, Mass. on Jan. 16, Selep scored two unassisted goals, which was his third multi-goal of the year; the pair of goals went towards his 11th goal of the season. Capozza scored a goal and added an assist to sophomore forward Shayne Bailey's goal. Freshman forward Justin Holliday added to the scoreboard late in the third with an empty net goal for a 5-2 win. The three stars of the game were awarded to Selep, Capozza, and goalie Smolarek, who made 32 saves of the 34 shots he faced. Smolarek, a biology major, surpassed 2,000 saves as a four-year Ram.
"We realized what we were capable of as a team against Nichols," said Capozza. "We knew that we may not have been the best, but after that win, we gained the confidence that we could maybe do something special." The entrepreneurship major also added that he thinks the team had found their identity with the win over Nichols.
Carrying that momentum into their game against Salve Regina University of Newport, Rhode Island on Jan. 23, the Rams trailed a pair of goals in the first period before getting back into the game with back-to-back goals from forward Cherpak, sophomore forward Luke Miller and freshman forward Nick Mosher. With 2:59 left in the game, Mosher had the opportunity to secure the lead for the team, but Salve freshman goalie Blake Wojtala stopped Mosher's attempt. Suffolk skated away with a 3-2 win.
"We still had that underdog mentality in our win against Salve," said Capozza. "And that win solidified what we felt after Nichols, we truly believed we could beat anyone."
"In [the Salve and Wentworth playoff games], I saw a desperation in our teams that sometimes wasn't there," said Selep. "We were playing defense, blocking shots and capitalizing on power play opportunities."
Selep, a management major, added that the team's seven-game winning streak at the beginning of the season as well as their 9-5 win over University of Massachusetts (UMASS) Dartmouth were also his best moments of the season.
"Scoring nine goals is always fun, because it's coming from a lot of guys who were scoring their first or second goals," said Selep. "It was nice, but you don't want to give up five goals."
Among the team achieving milestones such as earning notable wins, players receiving ECAC Northeast Hockey honors and earning recognition for the ECAC Northeast All-Academic Team, the team celebrated 12-year Current Head Hockey Coach Chris Glionna's 100th-career victory on Feb. 13 with freshman goalie Michael Levine's shutout 1-0 win over Becker College of Worcester, Mass. Levine's game performance earned him a nomination for DIII Hero of the Week. Captains, defensemen, and finance majors, McCarthy and Shields, assisted on Mosher's lone goal of the game to earn the team's 15th win of the season, which was their only win in the last month of the season.
"[Glionna] gives everyone the opportunity to succeed. It's easy to buy into what he's saying when you're playing for a coach like him," said Selep. "He cares about you outside of the rink."
View Comments (1)
About the Writer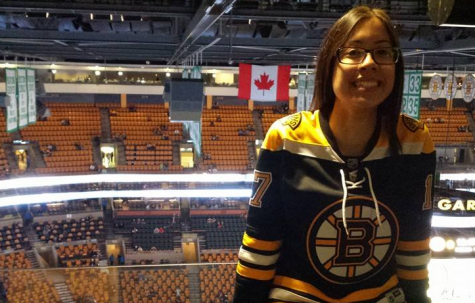 Skylar To, Sports Editor
Skylar To is a  Vietnamese-American college graduate with a BSJ in Print Journalism from Suffolk University. Aside from print journalism, she also enjoys studying public relations as well.

In her one year with The Suffolk Journal, To has expanded her beat of covering just Boston Bruins Hockey to sports journalism, and occasionally some news stories, too. She loves meeting new people, and helping to write and share their stories with others through The Journal. She also loves carbs, sweets, shoes and women's fashion.

You can find her either catching a Bruins game "high above the ice" at The Garden, at the school library, or in The Journal office.