Rams cross the blue-line through the years
Recognized as one of the nation's best in his hockey career at Suffolk, 2007 Hall of Famer Brian "Scorin'"  Horan always seemed to find the back of the net.
As a transfer student from Salem State College, Horan just wanted to be in the city, go to school with his friends and play hockey in Boston.
And, hockey he did play.
Horan, with a nation best of 104 points during the season, led his team to their "super season" with a single-season school record of 175 goals.
"[We were getting in guys who] were really starting to blossom in their careers," said Horan in a phone interview with The Suffolk Journal on Tuesday morning. "It was also a good time for hockey, because of the skilled players [we were recruiting].
Horan said that recruiting "skilled players" worked out well for the team for the next two years. He added that the team "beat teams that they could never beat and made a two-time appearance in the playoffs.
"[The hockey program] really caught on," said former 38-year athletics director Jim "Coach" Nelson in an interview with The Journal on Tuesday afternoon. "I'm certain that [their "super season"] was the highlight of our program. This is the standard we'd like to achieve every year."
Suffolk's men's ice hockey team started off as a club in 1948. Along with other clubs, student life ceased during and after the Korean War. It was not until 27 years later after the club disbanded in 1953 that hockey established as a varsity sport in 1980. The university also had three other varsity sports at the time: men's basketball, men's baseball and men's golf.
"Suffolk was not doing that well financially, so there was a cutback on a number of programs, not only in the athletics as well," said Nelson.
As the university's athletics director at the time, Nelson said his thinking was to add additional sports to Suffolk. Nelson talked to the university's vice president and treasurer  at the time, who controlled the budget. Nelson convinced him to bring hockey back at Suffolk.
"I knew he was a big hockey fan, his interest would be an easier sell than other sports," said Nelson, who started off as an assistant athletics director and men's assistant basketball coach in 1966.
Nelson added that his proposal for Suffolk hockey in Boston, a hockey town, would catch on.
On the 1990-91 team, Nelson said that: "They were unreal and wonderfully successful."
In his three-year career at Suffolk, Horan led the team with 169 goals and 133 assists for a combined total of 302 points. In one season, he scored 11 hat tricks. Horan remains the program's all-time leader in goals and assists today.
Horan attributes his success to the team environment and his two coaches: Peter Saggese and Bill Burns Jr.
"Both those coaches were instrumental," said Horan. "They taught me a lot about the game."
"My time as a player was great, it was a fun season" said Horan. "We had three products in the league: Brian Grunning, Sean O'Driscoll and along with me."
The three players were named to the Suffolk Athletics Hall of Fame individually as well as with their 1990-91 team. In his senior year during the 1991-92 season, Grunning led the nation with 48 goals and second for 86 total points. Grunning, who was inducted into the Hall of Fame in 2009, is the program's second all-time scoring leader with 119 goals and 107 assists, for a combined total of 226 points. O'Driscoll finished his collegiate career with scoring the fourth most goals in program history with 79 and ranks third in total points with 102.
After the team graduated, Horan and Nelson both said that the program had less players. After graduating in 1992, Horan went on to play minor league hockey for several years before coming back to Suffolk to coach the team.
Horan said the program was in a "downward spiral" for some time, winning two to four games a season, and he wanted to give the teams he coached from 1999-2004 an opportunity to win. Chris Glionna, who served as an assistant coach, became the program's head coach after Horan left.
"We worked really hard to turn the team around," said Horan. "It was a lot of fun as a coach."
In his second year coaching the team, Horan said they qualified for the playoffs, which he thinks is a big accomplishment. However, they suffered a "heartbreak" by a one goal deficit in the playoffs.
"The type of school Suffolk is, it's going to be a program that will fluctuate," said Horan. "It's a school that demands a lot." He is proud of the student-athletes that the current coaching staff: Glionna and assistant hockey coaches John Burgess, Greg Fowke and Pat Welch are recruiting for the program.
"These students work ethics and characters says a lot about the kids [Glionna and his coaching staff] are recruiting," said Horan. "This will translate and will eventually lead to team success."
The team did not have a permanent place to practice and play hockey until the athletics department reached an agreement to secure an off-campus home rink, Emmons Horrigan O'Neil Rink in Charlestown, Mass. In an interview with The Journal via email last April, Glionna said that securing took several years to fulfill with the Massachusetts Department of Conservation and Recreation.
The hockey team played some home games and held some practices at Boston University's Walter Brown Arena. Both Horan and Nelson said that the team practiced in a number of different locations throughout Massachusetts for many years. It was requested that "home" games be played at the Steriti Rink in the North End.
"[Moving over to Steriti Rink] worked out well for us, in terms of being in a location that the team members could walk to from class and the number of individuals, we have a huge student population, who did and still live in the North End, coming to the games," said Nelson.   
However, Nelson said that the team still faced the same drawback as the program did not have a "dedicated locker room."
Horan said that he had meetings with Nelson to try to secure the Steriti Rink. He wanted a permanent home. The team spent about seven years at the rink before moving once again to their current rink in Charlestown.
"[Steriti] did provide office space that was not being utilized for us to leave our equipment, but then the opportunity did come about over in Charlestown to not only have a rink in proximity to our campus, but to have a dedicated locker room space," said Nelson. "And that has worked out quite well."
"One thing I really want to try and change and get was a place to call home," Horan said. "Some place to call home is huge for sports." He thinks securing the rink is an "awesome" and "phenomenal" on the athletics front.
"[Glionna] has done a great job in building that program," said Horan. As the 2016-17 men's ice hockey season ended on Monday with a 6-2 loss to Endicott College, Horan thinks the move from the Commonwealth Coast Conference to the New England Hockey Conference (NEHC) next season will produce "higher quality players."
Nelson added that the Rams have joined a very competitive conference, the NEHC.
"Current athletics director Cary McConnell is] keeping up with time here in terms of what the university needs to do to be competitive," said Horan. "[McConnell] adjusted to what's happening around here in terms of athletics and sports, he sees success in all sports."
And even after 26 years later after their "super season," Horan said that he is so happy and proud to see the program is still going strong, and the 1990-91 team is still having a good time.
"We were really close and good friends and we still are today."
View Comments (1)
About the Contributor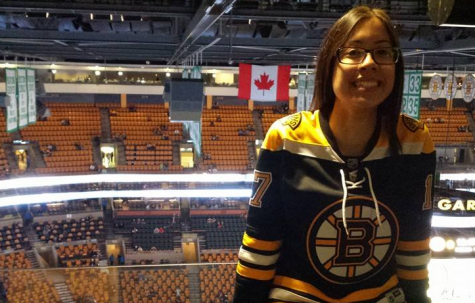 Skylar To, Sports Editor
Skylar To is a  Vietnamese-American college graduate with a BSJ in Print Journalism from Suffolk University. Aside from print journalism, she also enjoys studying public relations as well.

In her one year with The Suffolk Journal, To has expanded her beat of covering just Boston Bruins Hockey to sports journalism, and occasionally some news stories, too. She loves meeting new people, and helping to write and share their stories with others through The Journal. She also loves carbs, sweets, shoes and women's fashion.

You can find her either catching a Bruins game "high above the ice" at The Garden, at the school library, or in The Journal office.