Captain's Corner: Rams take it by storm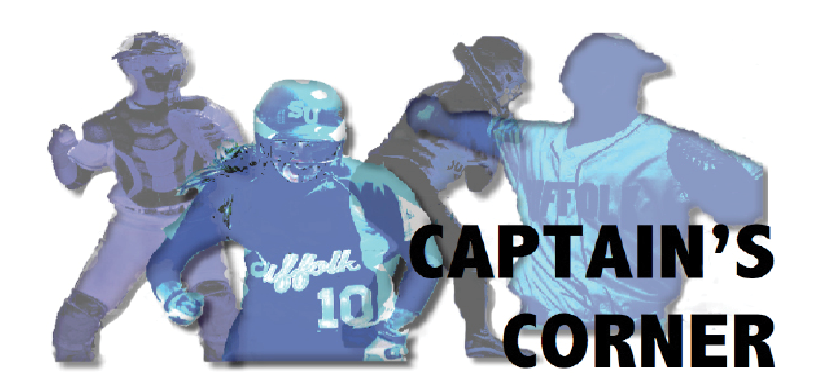 Jon Lapolla
The preparation toward a new season with the goal of defending their GNAC title and ultimately winning the NCAA tournament starts behind closed doors-training year round is senior Jon Lapolla.
"I've seen the game literally slip out of our hands," he said. "There have been tears on the field. We have the rage to win."
The 22-year-old, who is entering his fourth season with Suffolk's baseball team, plays first base and will continue serving as co-captain. "It felt weird, because I looked up to the older guys," he said. "I embraced the role and it helped me prepare for this year, experience wise and how I conduct every day business on and off the field."
Lapolla thinks the roster consists of a good core group of players that are capable of performing well together. He said the team has several players who could also serve as captains.
"At the end of the day, it's just a title," he said. "I'd be the same person with or without it."
In a sport that tests mentality, physicality and failure, Lapolla said he is good with balancing the highs and lows of the sport.
'[In baseball], you're set up to fail, it's just getting past your failure, he said."
Meredith Ball
Everyday, Senior Meredith Ball and her teammates strive to be the best. She is out to prove Suffolk is the best team around heading into the start of a new softball season.
"The girls have worked really hard in the off-season, because they know it is going to pay off during the season," Ball said.
The 22-year-old center fielder heading into her fourth season with the team was always taught to lead by example.
"I remember my freshmen year in college and the teammates that helped mentor me on and off the field were the ones I wanted leading the team," she said.
The second year captain said working with her teammates can be challenging, but enforcing positivity will uplift the team's spirit. Prior to the kick-start of the season in Florida on Mar. 13, the offseason allows for the Lady Rams to bond together.
"Having the same goals as one another will help us succeed in the long-term," she said. "I also think my teammates can trust me with anythin and they truly to appreciate the support I give them on and off the field."
Despite the challenges of being a captain, the role is rewarding and she would not change it for the world.
Nicole Isaken
Four years ago, senior Nicole Isaken entered Suffolk with no intention of playing sports, especially softball.
But, now you will find the outfielder serving her first year as co-captain anxiously waiting to put on her "clean" uniform to kick start her last season with the team.
"If someone told me I was co-captain my freshman year, I would have laughed in their face," Isaken said. "I didn't think I was good enough, I thought you had to be one of the best."
The 21-year-old learned of her new role in October. Isaken thinks she showcases her leadership through her actions and positive attitude on and off the field.
"[Coach Jaclyn Davis] sees the best in me and wants me to add to the team," she said.
Isaken especially wants to be a good role model to help freshmen members make an easier transition to college and the team. She wants to create a hardworking team to experience what would be Isaken's first GNAC championship win.
"I want to be the best teammate I can be," she said. "I want to pick my teammates up and not let us get down. Not every practice or game is going to be good, these are the times we come together."
Cal Carroll
When he's out on the pitcher's mound with a ball in hand and soaking up the warm Florida air, senior Cal Carroll will be looking to strike out his opponent with a fastball– his statement of starting the season off with a bang.
"We have a target on our backs, especially the conference teams," Carroll said.
"The 22-year-old is heading into his third season as a first-year captain with the baseball team after transferring to Suffolk University his sophomore year. From holding his teammates accountable to cheering and motivating them to get the job done.
"You set the table, lay everything out, and let everyone know what's going on," he said. "It's really just a title. There are going to be other guys who will emerge as leaders."
Carroll also wants to make sure the team culture does not change and break a part. He describes his team culture as  a light-hearted team.
"We have a laid-back, laughable mentality," he said. "We have a good time in the van up until the door in the facility. Then, it's baseball and we have to go out and compete."
From van rides to their practice to hanging out on the second floor lounge at Ridgeway to starting the day off training with each other at 7 a.m., Carroll said that these bonds create team chemistry and attitude.