Ridgeway allows athletics department to thrive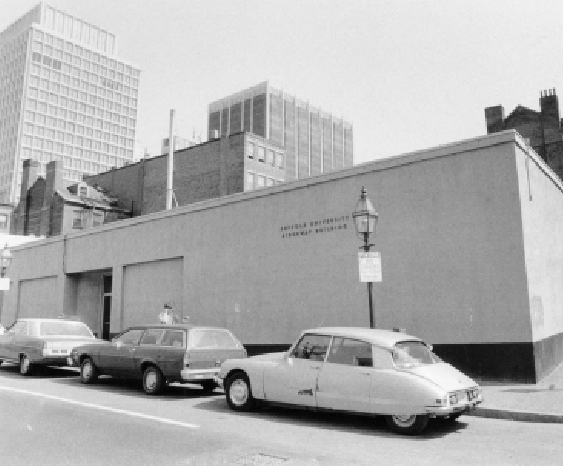 Hang on for a minute...we're trying to find some more stories you might like.
The Rammy logo crested in the center of the court floor once took the dribbles, hoops and steps of National Basketball Association legends like Lebron James, Michael Jordan, Yao Ming, and Shaquille O'Neal, and it still does today.
The underground Regan gymnasium in the Ridgeway building not only served as a convenient space for NBA players to hold morning practices before facing off for games at the old TD Garden, but the building has played a significant role in allowing Suffolk University's athletics department to evolve as a program that now currently offers 13 varsity sports teams.
"I was more than pleased to [allow NBA teams to practice] as long as it didn't interfere with the athletic department," said Nelson. "It worked out, because NBA teams held early morning practices."
For the first 25 years of his 38-year tenure as director of the athletics department from 1975 to 2013, Jim "Coach" Nelson said the university did not have athletic facilities until 1991.
The Suffolk community celebrated the opening of the Ridgeway building on Tuesday, Feb. 5, 1991. Prior to the new asset to the university, Suffolk student-athletes had to travel to temporary home courts for practices and games for "some 45 years."
"I was certainly thrilled to have a place and really call home," said Nelson.
Before Ridgeway's opening day, the university owned the first floor of the building, which was originally a supermarket in 1965 for 22 years. After years of negotiations, lawsuits and compromises, the university and the Beacon Hill Civic Association reached an agreement to pursue and build the university's vision with the building's architect James McNeeley and building's contractor Walsh Brothers, Inc. of Cambridge.
The idea for a six-story building plan was restricted to four stories, because the Beacon Hill community opposed the idea. They thought it would be too tall for the area and block certain views.
Having the university's first athletic facility was not a part of the original plan; however, Nelson said Daniel Perlman, who served as the university's seventh president from 1980 to 1989, advanced the idea to implement a gymnasium underground. The first floor welcomed the university bookstore, the second floor housed athletics and fitness, the third floor offered student services and the fourth floor is home to the communication and journalism department today. Nelson welcomed the new facility with great anticipation and excitement.
"To me, [the gymnasium] was a Taj Majal, it was a wonderful facility," said Nelson. "Being able to take the elevator down to practice oppose to taking the van or the red line to practice, there was no comparison."
Before the university had their first athletic facility, Nelson's challenge and responsibility was to build relationships with the university's sister schools such as Bentley University, Babson University, Boston University, Harvard University, Massachusetts Institute of Technology, Northeastern University, and UMASS Boston. Nelson was always looking to advance the department by providing student-athletes and coaches with practice facilities and practice time to help all sports programs to stay competitive.
"Like my mother, I tend to think of myself as a people person," said Nelson. "I don't mind reaching out to people to establish relationships that we are in request to use facilities."
He is grateful for the Cambridge YMCA for providing the department "a home away from home" for 25 years, and said the recreational facility is "a place very special in [his] heart." Nelson is also thankful for the university's sister schools for allowing the department to use their venues free of charge, which he said was generous of them.
"The challenges remain to a certain degree today in securing venues for practices and game opportunities, and working with the city of Boston to hold those contracts," said Nelson.
Nelson expressed approval of current Director of Athletics Cary McConnell and the department's work in reaching an agreement with the City of Boston to provide baseball, softball and men's and women's soccer teams a new athletic field to call home on Sept. 12, 2015, in a 10-year renewable contract at the East Boston Memorial Park.
When Nelson planned on retiring in 2013, he had hoped McConnell, who previously served for 19 years as head baseball coach, would apply for the position.
"[McConnell] was familiar with the workings and challenges and rewards of the athletic program," said Nelson. "With that, he has a terrific work ethic, outgoing personality. One trait I think he has (that) I value in him is he designates responsibility more than I ever did. With that, I work about 12 hours a day."
Even though Nelson has stepped down from the position, he said his infinity to Suffolk is as strong as ever. He still works closely with the athletics department, and he continues to teach a sports history course, the history of the Olympic Games, for the past 40 years.  He also continues to go to home games and said seeing the student-athletes playing in games is like seeing his own children play.
"My role here is to show student-athletes that someone cares to read about their games, to come to their home games, to thank them for their participation and to encourage them when things aren't going as well," said Nelson. "And to welcome new coaches, provide history about the department itself, the history of Suffolk and [the coaches] programs."

About the Contributors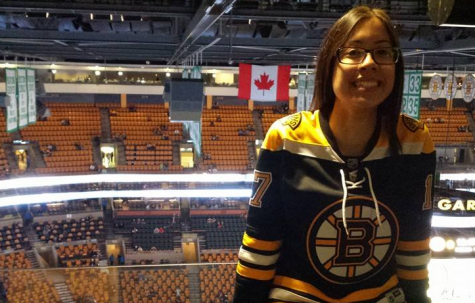 Skylar To, Sports Editor
Skylar To is a  Vietnamese-American college graduate with a BSJ in Print Journalism from Suffolk University. Aside from print journalism, she also enjoys studying public relations as well.

In her one year with The Suffolk Journal, To has expanded her beat of covering just Boston Bruins Hockey to sports journalism, and occasionally some news stories, too. She loves meeting new people, and helping to write and share their stories with others through The Journal. She also loves carbs, sweets, shoes and women's fashion.

You can find her either catching a Bruins game "high above the ice" at The Garden, at the school library, or in The Journal office.