The Globies celebrate Boston's best
A sell-out crowd of "1,000 strong" got to see David "Big Papi" Ortiz walk off one more time with another win.
Well, four wins as Ortiz was honored with four hardware wins at The Boston Globe's second annual "The Globies," which was held at House of Blues in Boston on Monday night.
"Every time I take that field, I want to give everything I have, because of you guys," Ortiz said on his first win of the night as he was voted by fans as the Red Sox MVP, to the crowd. "It's all about the sports. I really appreciate you Boston."
Fans also selected Ortiz for Best Moment, Boston Pride and Athlete of the Year. Former Boston Police Commissioner Ed David, who presented the Boston Pride award with Former Mayor Thomas Menino's wife Angela, said that Ortiz is one player in particular to help Boston believe and that he will always be a part of Boston Pride.
"This city means everything to me," said Ortiz. "I'll try to do good things around here."
By his third and fourth time walking on the stage to receive his last two awards, he chuckled and said he was running out of things to say.
The Globies, presented by Mercedes-Benz, is a collaboration between Fenway Sports Management, the New England Sports Network (NESN) and The Boston Globe, hosted by NESN sportscaster and anchor Tom Caron. The Globies is now an annual event that celebrates New England professional and collegiate sports teams from recognizing "newbies" to locals to the faces of Boston's professional sports teams and their accomplishments in "the best sports city in America."
After sports editors of The Boston Globe did extensive reviewing of statistics and plays of July 2015-16, Caron said that thousands of people got the job done by voting for athletes deserving of the award category. The Globies has categorized 18 awards this year from "Team Most Valuable Player" (MVP) to "Good Sport" to "Boston Pride."
Besides fans, who counted on athletes and sports teams to get the job done, Caron said that the fans themselves get the job done as they go to games, believe in Boston's sports teams and stay up late for games.
"Boston Strong continues to resignate so deep in our city," said Caron to the crowd. "Nobody represents us better than our teams."
The results for Team MVP revealed that fans selected New England Revolution Midfielder Lee Nguyen, New England Patriots Quarterback Tom Brady, Boston Celtics Point Guard Isaiah Thomas and Boston Bruins Center Patrice Bergeron. Caron said that the team's MVP outwork everyone else and did their job the best.
Brady, Thomas and Bergeron were not in attendance to accept their awards. However, Thomas and Bergeron thanked their teammates and fans in a video that aired under the Globies display at center stage. Thompson and the Celtics return to TD Garden on Wednesday after a two-game road trip. Bergeron and the Bruins are on the road until Saturday.
The Globe also highlighted Boston's best moments. In his final season in the MLB, Ortiz recorded his 500th home run, the Celtics ended the Golden State Warriors winning streak and the Patriots raised their fourth championship banner.
And, Atsede Baysa, who won her first Boston Marathon in 2016, gave her trophy to Bobbi Gibb. Gibb was the first woman to finish the Boston Marathon in 1966, 1967 and 1968 and she was never recognized with a trophy of her own. In a video, Gibb said she is so moved by Baysa, who was recognized for her good sportsmanship, love and generosity. Gibb also said she will return the trophy to Baysa after her one year with the trophy loan concludes. Baysa and Gibb were not in attendance.
Another athlete who was recognized for good sportsmanship was Abbey D'Agostino. Massachusetts native D'Agostino and Nikki Hamblin of New Zealand both fell during a 5,000 meter race at the Rio Olympics and they both helped each other to cross the finish line. D'Agostino sustained a season-ending injury to her right knee– an anterior cruciate ligament and meniscal tear and a strained medial collateral ligament.
During her acceptance and thank you speech, D'Agostino said that: "It's clear that we are drawn to selflessness and love." She added that many individuals were a part of her story, which makes it special.
D'Agostino along with local Olympians and paralympians were recognized for their participation and Boston and New England representation in the Rio Olympics, which was held in August of 2016.
Bob Cousy, as known as "Mr. Basketball," was presented with the Lifetime Achievement Award by Massachusetts Attorney General Maura Healey for his work fighting for racial and social justice. Cousy, a former Celtic point-guard, created the National Basketball Association (NBA) Union and led the union as president for seven years.
On Cousy, Healey said there is no greater playmaker than Cousy. Healey, who has had a love for the game since she was nine-years-old, said she honored Cousy throughout her whole basketball career by wearing "9" on her jersey.
Becca Pizzi, a Belmont, Mass. native, was recognized for being the first U.S. woman to complete the World Marathon Challenge. Pizzi completed seven marathons in seven days in seven continents. She competed and won every race in Antarctica, Punta Arenas, Chile; Miami, Florida; Madrid, Spain; Marrakesh, Morocco; Dubai, United States Emirates; and Sydney, Australia. She completed seven marathons in 27 hours, 26 minutes and 15 seconds. AT&T Representative Peter Nixon presented the AT&T Coverage Around The World Award to Pizzi.
Pizzi said to the crowd that it is an honor to be here among Boston Sports elite. She wants to be an example to her eight-year-old daughter that anything is possible if you believe in yourself.
"You rallied for me, you made me Boston Strong," said Pizzi.
Like Caron said, individuals are continuing to change lives through sports such as Pete Frates raising awareness about amyotrophic lateral sclerosis through the ice bucket challenge and Liam Fitzgerald, "the Bruins fist-bump kid," a cancer survivor.
"They are using sports to make the world a better place," said Caron.
The Globies will be televised on Friday at 8 p.m. on NESN.
Leave a Comment
About the Contributor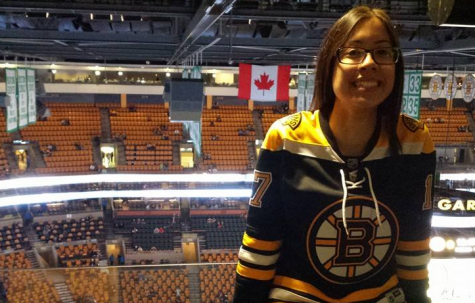 Skylar To, Sports Editor
Skylar To is a  Vietnamese-American college graduate with a BSJ in Print Journalism from Suffolk University. Aside from print journalism, she also enjoys studying public relations as well.

In her one year with The Suffolk Journal, To has expanded her beat of covering just Boston Bruins Hockey to sports journalism, and occasionally some news stories, too. She loves meeting new people, and helping to write and share their stories with others through The Journal. She also loves carbs, sweets, shoes and women's fashion.

You can find her either catching a Bruins game "high above the ice" at The Garden, at the school library, or in The Journal office.