Ready for the unexpected
Seniors say goodbye to Suffolk
June 1, 2016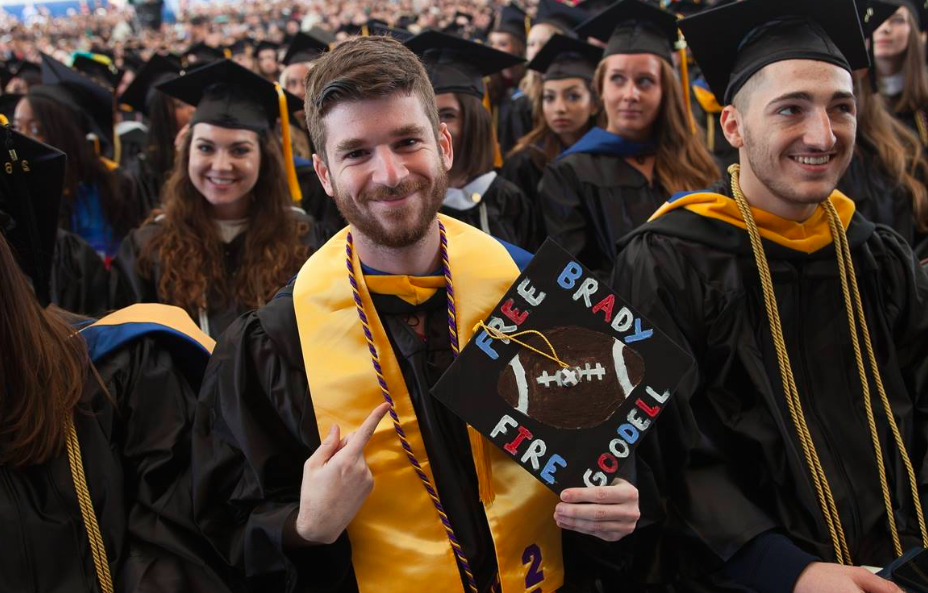 What had started off as a cool, cloudy day soon turned into a clear host for graduates to walk across the stage with diploma in hand in front of their family, friends, volunteers, coordinators and the rest of the Suffolk community to celebrate their achievements and accomplishments of earning their undergraduate degrees.
The Sawyer Business School (SBS) and College of Arts and Sciences (CAS) both held their separate commencements at the Blue Hills Bank Pavilion in Boston on Sunday, May 22. That morning, guests filled the 5,000 seat amphitheater and took their places to witness the business graduates of 2016 and the commencement speakers.
Both commencement speakers for the SBS and CAS gave insightful and thought-provoking speeches enriched with giving back and current events. SBS speaker and YMCA of the USA President and CEO Kevin Washington discussed social responsibility and challenged graduates  to restore "kindness, respect, inclusiveness and understanding" in today's society. As he spoke from experience of struggle and adversity, he told the graduates that with a degree from a "top-notch" business school, there will be many doors that will open for them filled with opportunity, financial stability and advancement.
"You've worked hard to earn this prestigious degree, and you deserve the rewards that will come as a result," said Washington. "But I hope you will feel a sense of responsibility to help those who don't have those talents, who haven't received the support you've received and who haven't had the opportunities you've had."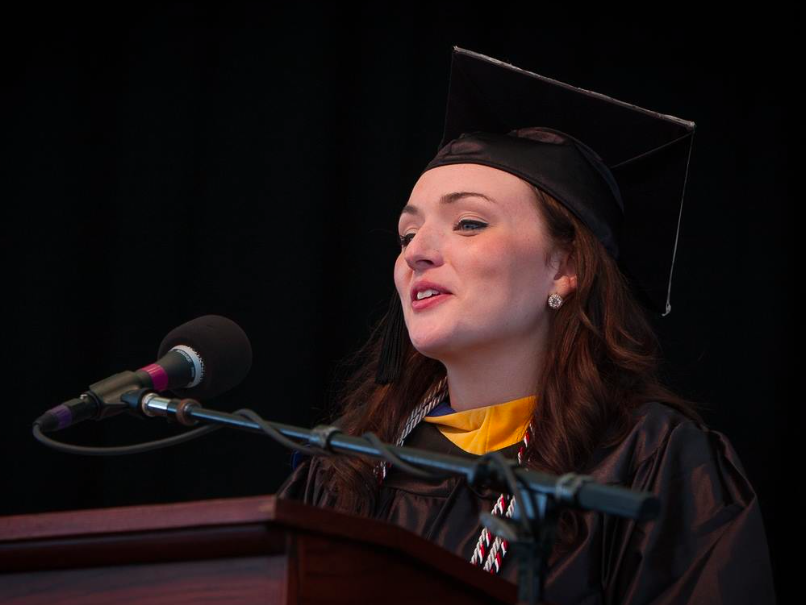 Washington, who grew up in a tough neighborhood in southern Philadelphia, experienced his first opportunity when he walked into a YMCA when he was just 10-years-old. He is the first and only black president and CEO of the YMCA, in which he has used to promote diversity on the Board. He told a personal story of where he met his first mentor, Bill Morton. He reflected on his life prior to meeting Morton and realized that the chances that he would end up standing in front of Suffolk's graduating class delivering a commencement address as president of the YMCA were slim.
Washington also made founder and former President of Suffolk, Gleason Archer, as an exemplary model for social responsibility. While Archer was an aspiring lawyer, a benefactor loaned him money in order to study law and all Archer was asked of was to pass along the favor. Archer had believed that the increasing waves of immigrants arriving in America should be given the same opportunities that were usually only reserved for the wealthy during that time.
With his honorary degree of Doctor of Commercial Science, Washington said he will wear the honor kindly and he left the SBS class of 2016 with one thing, to "think globally and act globally."
"Social responsibility is everyone's responsibility," said Washington. "Make it your responsibility."
Suffolk President Margaret McKenna said that as a class, students have contributed 40,000 hours of community service from tutoring children, cancer patients, and helping the homeless.
"Intelligence is a gift, what you do with it is a choice," said McKenna.
McKenna said that the class of 2016 was gritty and ready to go out into the workforce. She said that the graduating class was a lot like Nelson Mandela, whose name means "shaker of the trees, meaning troublemaker."
"I welcome you into the world of troublemakers," said McKenna. "Make a change and trouble to better this world."
Student speaker Amanda Ho, who received a Bachelor of Science in Business Administration (BSBA) in Information Systems and Operations Management (ISOM) reflected on her own personal journey and overcoming challenges faced. Ho praised the Suffolk and ISOM communities.
"Suffolk allows you to accomplish anything as long as you work toward it– there are endless possibilities," said Ho. "They know it's not about who you were when you came in, but who you will become when you leave."
Ho shared what her father has instilled into her mind, which is finishing tasks, but never being done. Ho said as of [May 22], they are 99.999 percent done, but 100 percent unfinished. However, the class is 100 percent finished as they close out their chapters at Suffolk.
"You are strong, which is why you chose Suffolk," said Ho. "It's also why Suffolk chose you and believed in your ability to come out the other side stronger. Go out there and change the world because you are ready, and you are Suffolk."
Proud tears were shed, but many smiles and snapshots were shared in watching retiring Dean of Students Nancy Stoll as she announced the names of 643 seniors to walk across the stage to receive their diplomas.
Right after the conclusion of graduates walking, Suffolk University Rampage Show Choir performed, tassels were turned right and left and caps were thrown mid-air under the center of the amphitheater.
Just four hours after the SBS commencement began, the amphitheater was filled once again for the CAS commencement and Massachusetts' Senator Elizabeth Warren's speech to the College's graduates.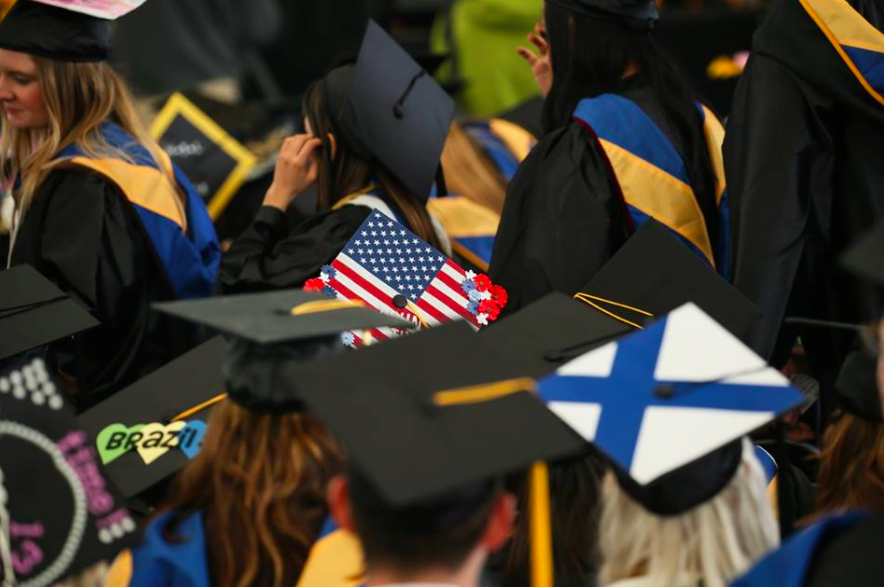 Before Warren came to the podium to speak to graduating students about fighting for their beliefs, student speaker Victoria Ireton, a government and philosophy double major who received her Bachelor of Arts degree, shared her story.
"We graduates all have a story about why we chose Suffolk, why we stayed at Suffolk, and how Suffolk has become a part of us," said Ireton.
Before she pursued college, Ireton said she was homeless for a year and a half, did not make the best decisions. Before Suffolk, she had always thought that her misfortunes would dictate her future, but she said she was wrong.
"I look back and think about how I wouldn't be where I am today without the classes, loving professors and caring staff members," said Ireton. "Needless to say, my story was shaped by all of you."
Ireton then shifted her admiration to the faculty and administration to her classmates, whom she said were her "true driving force."
Even as graduates and CAS alumni who will be a part of other communities, Ireton said the class's stories at Suffolk will never really end.
After Ireton's message of leadership and giving back, Warren reminisced on the same beginning grounds that Suffolk began on that Washington did with her appreciation for the school and its founding.
"I can't think of a better place to be celebrating education than at Suffolk University, a school founded in 1906 for the best possible reason, a deep belief that because higher education matters, it should be available not just for the wealthy few, but for everyone," said Warren.
As a now educator, advocate, and policy maker, Warren's journey began in a working-class family as a first-generation college student.
"Suffolk would grow in many ways that [Archer] could never have dreamed, becoming a world-class university and a cornerstone for the city of Boston," she said.
But with a life of unexpected twists and turns of her own, Warren advised graduates to embrace them.
"If you take the unexpected opportunities when they come up, if you know yourself and if you fight for what you believe in, I can promise that you will live a life that is rich with meaning," said Warren.
She emphasized that the path that people want to take in life will never be easy, but that it is worth fighting for.
"Now that I am in the Senate, I can tell you that Washington is full of people who say 'no, no, no' and who are saying it in nastier and nastier and nastier ways," said Warren. "Fight for the job you want, fight for the people who mean the most to you, and fight for the kind of world you want to live in."