Rams Hockey ready for face off
Men's Hockey forwards Tommy Bishop, Brett Lawson and Connor Parent are heading into a new season with a bigger push, desire and mentality to win.
Last season, the Rams ended up where they did not want to be after Wentworth's defenseman Jake Flynn's overtime goal eliminated Suffolk University men's hockey team from the playoffs in the first round of the post-season to end their year short.
The team lost a handful of games they thought they could have done the "little things" to have won. And they lost their first place seed in the league halfway into the season after winter break.
"The biggest thing that we're about is preparation and hard work," said Lawson in an interview with The Suffolk Journal. "We might not be the most talented team in the league, but we plan to work harder than every single team in the league."
Men's hockey will start their 2016-17 25-game regular season on the road at Assumption College in Worcester, Mass. on Sat. at 6:35 p.m.
Suffolk Hockey was a part of the Eastern College Athletic Conference (ECAC) Northeast Hockey, until the Commonwealth Coast Conference [CCC] announced to sponsor DIII varsity hockey throughout the Massachusetts and Rhode Island regions in 2016. ECAC Northeast Hockey hosted nine teams including Suffolk before its final season last year. Lawson said the team will now have a slightly different traveling schedule being a part of the new league.
"We're excited to be a part of [CCC]," said Lawson. "I think that the additions to the league brings good competition."
Sophomore center Bishop shared with The Journal that the team has been hitting the ice, working out in the gym and attending team events, which takes up four hours a day, five days a week. The team had a late start due to their home rink, Emmons Horrigan O'Neil Rink in Charlestown, Mass., opening later than expected.
"We're really excited obviously to get going. It's been a long wait and a tough way to end last year," said Bishop. "The team's starting to roll, everyone's looking good. I think we're going to be able to make a good front once we get into the season."
With the little time they had to prepare for the upcoming season as a team overall, sophomore forward Connor Parent thinks that team captains junior forward Jack Jenkins and senior forward Stanton Turner have been communicating and holding players accountable such as making sure the student-athletes are present at team events and practices. On top of ice and gym time, the 22-year-old right-winger added that the group has been doing team lifts twice a week and that the varsity gym and Michael & Larry Smith Fitness Center are "awesome" additions to the athletics department.
"We've been utilizing everything for the time we've had," said Parent, an undeclared business major, in an interview with The Journal.
Lawson, an accounting major and finance minor, said that maintaining ice and gym time is important to make sure that they are in good condition and good strength to avoid losing a lot of muscle mass throughout the season.
"We want to make sure that we're not only prepared for the beginning of the season, but also toward the end of the season as well," said Lawson. "And that starts now."
Besides the program's coaching staff recruiting new players every year, the program also hold tryouts, which is open to current and new players, before the start of a new season as well. Lawson said that tryouts that hosted about 40 players were held on Mon., Oct. 17, Tues., Oct. 18, with the last day undeclared by the coaching staff, which consists of 13-year Hockey Head Coach Chris Glionna and Hockey Assistant Coaches John Burgess, Greg Fowke and Pat Welch. The 23-year-old winger and his teammates believed that the last day of tryouts were held on Wed., Oct. 19.
"Any time you bring in new kids, which is every single year in college hockey, it's always the first few weeks working on things like shooting and stride, skating with your head up, making more crisp passes and being prepared to get hit a lot," said Lawson with a chuckle.
Due to losing members to both transfers and graduation over the off-season, Bishop thinks that not too many cuts will be made to downsize the roster, which had 32 players last season.
"We have a lot of guys that got recruited in this year to fill a minimal amount of spots," said Bishop. "I think we have a good amount of guys to fit. [We're] going to be a good team."
"I guess with every new season brings a new set of players," said Lawson. "We lost some key of our aspects of our team last year, so I guess it's making adjustments and making sure that there's always the goal of winning the league."
Leave a Comment
About the Contributor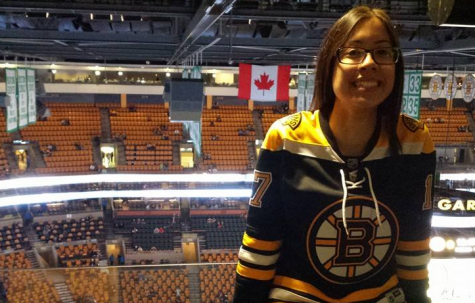 Skylar To, Sports Editor
Skylar To is a  Vietnamese-American college graduate with a BSJ in Print Journalism from Suffolk University. Aside from print journalism, she also enjoys studying public relations as well.

In her one year with The Suffolk Journal, To has expanded her beat of covering just Boston Bruins Hockey to sports journalism, and occasionally some news stories, too. She loves meeting new people, and helping to write and share their stories with others through The Journal. She also loves carbs, sweets, shoes and women's fashion.

You can find her either catching a Bruins game "high above the ice" at The Garden, at the school library, or in The Journal office.