Basketball captains set the standards
When the ball is tipped off at center court for the start of a game, you can expect senior captains Ignacio Ballve, Adam Chick and Caleb Unni to bring their A game, representing Suffolk University's men's basketball team.
"It's an honor to play, so we value and represent Suffolk every time," Ballve said. "We are the face of the team. It's our responsibility to set the tone."
The captains emphasized the importance of bringing energy to keep the team going, as well as using that energy to uplift teammates during tough times, and maintaining good relationships with everyone.
"I portray a lot of leadership skills on and off the court," said Unni, point guard and shooting guard. "I'm good with being there for anyone."
Unni, who has been captain since his sophomore year, said that he wants to lead by example. He applies his captain role off of the court as well.
"In my mind, I always strive for excellence and want my teammates to do the same," said Unni. "I have always gone by the fact that hard work will beat talent if talent does not want to work hard."
Chick, a small forward, said that he demonstrates leadership through his actions, keeps the team organized and stays on top of tasks. He also recognizes Ballve as a leader regardless of his playing time. Ballve, a shooting guard, who averages about three minutes a game, is vocal and energetic on the bench.  
"It's how we act (our personality), how we represent our team, not by how many minutes we are playing on the field," said Chick. "Playing basketball for Suffolk University has helped us to better ourselves as players and people."
Ballve said that getting little playing time has been really tough, but the decision to play him lies within Current Head Basketball Coach Jeff Juron, and Assistant Basketball Coaches Eric Wheeler and Dana Harris- all serving their first seasons with the team. Ultimately, playing time is a minor issue for Ballve as long as he has the support and respect of his teammates.
"The day I leave this program, I want my teammates to see me as one of the best captains as well as one of the best teammates they have ever had," said Ballve.
The teamwork aspect of the game was not entirely present during the seven game losing streak, more than halfway into the season.
"From an individual standpoint, I believe each member of the team did not trust the process of our team game, and instead each player tried to do their own thing to win," said Unni. "This hurts because there is no "I" in team. It takes a whole team to win a basketball game and during the losing streak, we did not work as a team."
However, the captains believe that the team will overcome their challenges, regroup and go out in the court and "do the little things" to win games. "We need to realize that there are only a few games left and everyone needs to give it their all," said Unni. "We all need to trust one another while on the court and know we can win together. Our goal is to play a full 40 minutes and to work as a team to get the win."
With six games in hand before the end of the season, Chick will especially reflect and cherish the opportunities Suffolk has given to him. It is through basketball that friendships were created and life lessons learned.
"As senior day approaches, it's a realization that our collegiate careers are now coming to an end," said Chick. "Whether we win or lose, we know that playing basketball is a privilege and an opportunity that we shouldn't take for granted."
Ballve is optimistic that the team will be able to reach their goal of making the playoffs. "It's a new month and there is a lot left to be decided within the league," said Ballve. "I really believe this team will make a comeback at the end of the season."
Their hard work and play hard motto has earned the team success, as Unni said that the Rams have made playoffs every year since he has been with the team. Unni's goal for the team is to make it to the Great Northeast Athletic Conference (GNAC) championship to top off an unforgettable match up versus Albertus Magnus College of New Haven, Connecticut during their freshman year. The captains recalled earning a memorable 93-92 win against a team Ballve said they would usually lose 30 to 40 points to.
"It is our biggest upset of four years," Ballve said. "Hopefully, we will make even better memories."  
Chick added that the team will continue to battle- win or lose- all while having fun playing the sport they love.
"Our teammates are our brothers, and our team is family no matter what the final outcome of a game is," he said.
With a set of captains, new young members and new coaches, the three players want to finish their last year with the team on a high note, leaving their mark for the future of the team.
"We have a good mix of maturity level, younger guys are learning and older guys are there for guidance," Chick said. "We represent culture within the team, we are going forward for the younger guys."
The Rams are back in action on Wednesday, Feb. 3 at 7:00 p.m. at Anna Maria College in Paxton, Mass. They will end their three-game road trip with a home game on Saturday, Feb. 6 at 3:15 p.m. against Norwich University of Northfield, Vermont.
Leave a Comment
About the Contributor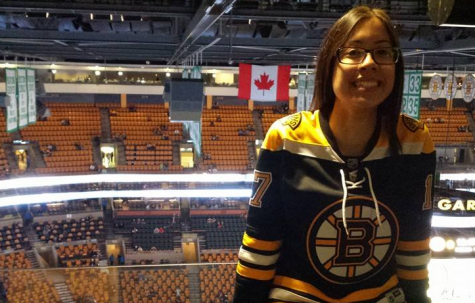 Skylar To, Sports Editor
Skylar To is a  Vietnamese-American college graduate with a BSJ in Print Journalism from Suffolk University. Aside from print journalism, she also enjoys studying public relations as well.

In her one year with The Suffolk Journal, To has expanded her beat of covering just Boston Bruins Hockey to sports journalism, and occasionally some news stories, too. She loves meeting new people, and helping to write and share their stories with others through The Journal. She also loves carbs, sweets, shoes and women's fashion.

You can find her either catching a Bruins game "high above the ice" at The Garden, at the school library, or in The Journal office.