Davis breaks barrier for women in athletics
The 2015-16 season was better than Head Softball Coach Jaclyn Davis could have imagined.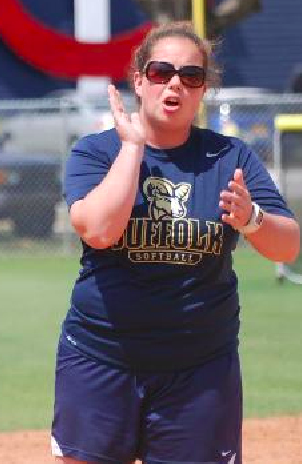 Davis led the team to its most winning record in history as the Lady Rams finished the regular season with a 33-9 record on May 4. Davis achieved her 100th career victory by 87 of those games as a result of her four years serving as head coach at Suffolk.
"The season was fun, challenging and emotional—and it ended up being the most successful season in program history, which is incredible," said Davis in an interview with the Journal.
To top off the season, Davis was named the Greater Northeast Athletic Conference (GNAC) Coach of the Year on May 9, which Davis said is a great honor.
"As a young, female in the coaching profession, it can get pretty tough to be respected, which is always a challenge," said Davis. "Recognition like [being named GNAC Coach of the Year] is validating and acknowledges that people have respect for the work that I have put into this program."
Davis, who said she worked hard to rebuild the program in 2013 in her first season coaching, praised the program's success.
"This just means that I have found a strong, dedicated, hardworking group of young women to represent Suffolk on the field," said Davis. "When they get on the field, it's not about me or them, it's about us as a program."
Though team faced challenges this year, Davis helped them stay mentally tough and game ready.
"This group of student-athletes is extremely special," she said. "They are young, passionate and hungry, and they worked all year to prepare for the season. Their work ethic and dedication to the program as a whole is what sets them a part."
"The successes of this season mean that I am staying true to who I want to be as their coach and that they have bought into this program, and are working to be the best that they can be as Suffolk student-athletes."
The team persevered through the challenges they faced and won many games, however they fell short in their fifth straight appearance in the GNAC post-season tournament and were eliminated on May 7, in their third game 9-1 loss to Emmanuel.
Despite what Davis saw as playing extremely well, she said at some point the game got away from the team quickly. But she's confident that the team will bounce back from the loss.
"I don't think the score of that game is definitive of who we are as a program or even the season that we had," said Davis. "While we had some things working against us, no one played with more heart that day."
With the departure of some seniors, Davis is looking to recruit and enahnce the team.
In order to do so, Davis plans to have the team train year round to improve on their skills as individuals as well as to learn from mistakes made to ultimately build onto their success as a program moving forward.
In a recent interview with the Journal, Davis shared she will continue to work hard to set her team up for success, and knows her team will be doing the same wherever they are this summer.
"Every year there are things we want to improve on and do better, I always want to be able to give them more and better of whatever that is," said Davis.