Del Prete leads team to another championship, NCAA run
Hang on for a minute...we're trying to find some more stories you might like.
Suffolk University's baseball team finished another season coming out on top.
With the team looking to defend their 2015 championship title, it was an "exciting moment" when the team accomplished that goal. On May 8 against Saint Joseph's College of Maine (Standish, ME), they left Rhode Island with the first back-to-back Greater Northeast Athletic Conference (GNAC) championship in the program's 69 years.  With a strong desire to win, Head Baseball Coach Anthony Del Prete said the team was motivated in achieving the goals they set out to accomplish.
The team's success was recognized under Del Prete being named the GNAC Coach of the Year. He attributes the award from the program's "quality group of players" and assistant coaches John O'Brien, Jay Parker and Mac Jacobson who work just as hard to develop talent for the program, according to Del Prete.
"I think our team played well throughout the year and showed we were the best team in the conference and also one of the top teams in New England," said Del Prete.
They closed out the 2015-16 season with a 33-13 record, the most wins in a season since the program's 38-9 record in 2000.
"I'm happy for the seniors who were able to go out on top, but also happy for the younger guys as they continue to set a bar of excellence," said Del Prete.
"The players are responsible for our success this season. We challenged them, and they responded and were able to perform at a high level, so all of the credit for our success belongs to them," said Del Prete. "[GNAC] Coach of the Year is a team award and a reflection of [our] program."
Despite being faced with challenges like inclement weather throughout the season, the team stayed game ready.
"We continued to remain focused on what we needed to do to be good and got some key contributions from guys like [graduated senior right-handed pitcher] Kyle Turner and [upcoming senior first base player] Kevin Belskie who had strong second halves [of the season], and helped us keep pace," said Del Prete.
However, Del Prete thinks the team can be better. He said that in 12 of the 13 losses of the season, the team had the opportunity to tie or extend the lead.
The team's GNAC Tournament Championship win earned them an automatic qualifying bid into the National Collegiate Athletic Association (NCAA) New England Regional Tournament, which is also the program's first consecutive back-to-back regional appearance.
The team faced "two quality opponents" and was eliminated from the NCAA in their 5-2 loss to Keystone College [Factoryville, PA] on May 18 in Mansfield, CT, and in their 6-5 loss to Wheaton College [Norton, MA] the following day at the Eastern Connecticut State University Baseball Stadium in Willimantic, CT. Del Prete said the team had the chance to win both games, but they "just came up short." Despite the effort and team's ability to play well, he said the team did not play "well enough."
The 2015-16 season was a "great stepping-stone" for the team. In preparation for next season, the team will continue to work toward being one of the top teams in New England and to make a run in the NCAA. But, to make it all happen, Del Prete said the team has to focus on winning the GNAC conference first.
"Our goal moving forward is to compete at the national level. We will continue to recruit players that can perform at a high level both academically and athletically here who will represent our program well," said Del Prete. "I hope our success will help motivate Suffolk's other programs to excel and also show that this is a school where you can do well athletically."

About the Contributors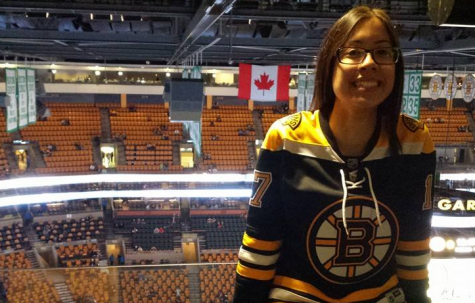 Skylar To, Sports Editor
Skylar To is a  Vietnamese-American college graduate with a BSJ in Print Journalism from Suffolk University. Aside from print journalism, she also enjoys studying public relations as well.

In her one year with The Suffolk Journal, To has expanded her beat of covering just Boston Bruins Hockey to sports journalism, and occasionally some news stories, too. She loves meeting new people, and helping to write and share their stories with others through The Journal. She also loves carbs, sweets, shoes and women's fashion.

You can find her either catching a Bruins game "high above the ice" at The Garden, at the school library, or in The Journal office.