Alternative winter break brings student back to their roots
After her parents left Vietnam during the war and never turned back in order to come to the US, Lesley Ta goes back "home" during alternative winter break to help others in need, while also finding herself.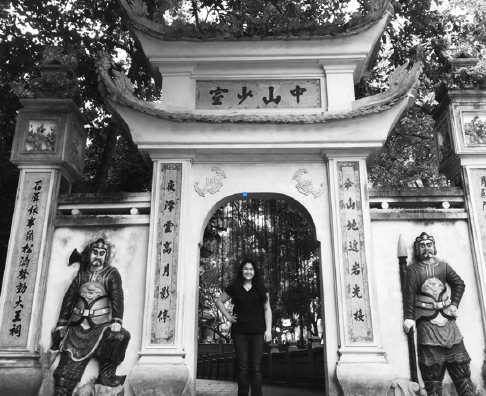 Twenty hours across the world by plane, sophomore business major Lesley Ta was landing at midnight on a path toward a new journey, a home far away from home: Hanoi, Vietnam.
After noting her parents haven't been back to their homeland since the Vietnam War, she said she gained a better appreciation for them and their accomplishments after her journey overseas.
"My parents really succeeded in achieving the American Dream," Ta said.
Her main goal is to bring her own family back to see the house and family in Vietnam.
"I was going back home for my parents," she said. "It was an opportunity to go see Vietnam for them because they don't want to see it for themselves." Her parents have not returned to the country since leaving during the Vietnam War.
"Vietnam is a beautiful place," said Ta. "It's a place you'd never expect war to have happened there."
Ta, along with six other Suffolk students and Carolina Garcia, director of Suffolk's Center for Community Engagement, traveled to Vietnam during winter break in January as a part of the annual Alternative Winter Break (AWB).
"I couldn't believe it when I found out that I was going to Vietnam," said Ta. "I'm thankful for the opportunity and for Suffolk allowing me to go back home."
Ta learned of the AWB Vietnam trip from an email the Center for Community Engagement sent to students last spring semester. Ta, who is involved in other leadership positions on campus — Honors student, Administrative Scholar, tutor at Center for Learning & Academic Success (CLAS) — jumped on the opportunity to apply. In July, she learned of her leadership position as one of six students selected for the trip.
"I am honored and proud to have served as the student leader," she said. "Being selected for this trip was a revelation of who I am, and who I wanted to be."
The group left for Vietnam on Jan. 4, arriving in Hanoi the next day. They immediately traveled from Hanoi to the work site in Tan Hoa to work on building the walls of a house for a week.
"We shared our moment of the day at dinner, and these are the moments we will carry for the rest of our lives," she said.
Ta said the group spent most of the time mixing cement and layering bricks for the nine foot home. The father, who walked around with a hard hat, was very involved in the entire process.
"Even though I don't speak Vietnamese, [the father] understood what I needed," she said. "It was a nice, unspoken communication. I tried my best speaking without speaking."
Ta did not let the language barrier become a disadvantage for her.
"I wanted to see Vietnam through my own eyes and not through a translator," she said.
Ta overcame her fear of heights by climbing up a ladder on-to scaffolding. Scaffolding, in this scenario, was standing on wooden planks supported by bamboo sticks tied with rope, to plaster bricks and cement. After she settled, she took 20-30 seconds of her three-hour stay on the scaffolding to reflect.
"From the moment I looked up, I saw mountains, houses, and villages; I had a beautiful 360-degree view," she said. "In the process of getting comfortable with going on scaffolding, I made a difference in someone else's life. It was an exhilarating moment."
A couple hours into working on a scaffolding, Ta also heard a church-like choir singing from the community center, just steps away from their work site and family's old home.
"[The choir] came out of nowhere as we were working, it was relaxing and angelic," she said. "It seemed like we were doing something holy."
As a Bostonian from Malden, Massachusetts, Ta did not do well with the heat, but she pushed herself to keep on working. Her face was drenched in sweat, and was eventually dripping into the bucket of cement used to layer the bricks.
"I am really leaving a piece of myself in Vietnam, literally with my sweat in the family's house," Ta said with a laugh.
Besides fulfilling their agenda serving, the group also connected with the family. Ta said the girls loved playing with the boys, four-year-old Bak and nine-year-old Nam. Suffolk students Breanna Brown and Megan Decker bought a ball for the boys, and watched the biggest smile grow on their faces.
"Bak transformed throughout our time there, he turned into a social butterfly," she said. "We watched him grow."
Based on Ta's observations, especially Bak's reaction towards his gift, she noticed that Vietnam is not materialistic, as they are happy over simple things. Ta said that the family only gets to see the mother once in February when she returns home to Phu Tho from working in Saigon in order to provide financial support.
She thinks highly of Vietnam, even though the country is deemed as poor. The biggest culture shock Ta experienced was crossing a busy road filled with motorcyclists.
"Their lives are simple, everyone shares the same values," she said. "Coming home to Boston was almost surreal, because I've seen what the real Vietnam is like."
She also said that America is very competitive as a nation compared to Vietnam.
"We are always striving for excellence," she said. "It takes a bit from who you are as a person; this trip has allowed me to reflect on myself, which emphasizes staying humble."
On their last day, the group presented a photo frame to the family and Ta made a speech. Ta told the family they were honored and thankful for the opportunity to help. It is expected that the house will be completed in a few months.
"We were touched to be in Vietnam. We weren't trying to impress the family, we just wanted to be there for them," she said.
Ta also had the opportunity to visit Hung King Temple in Phu Tho, which was one of the best experiences of her life.
"The best moment was praying," Ta said, who shares her family's Buddhism faith. "I felt really connected to my family's spiritual roots."
After their stay in Phu Tho, the group stayed in Ha Long Bay for the night. She spent a rainy and cold afternoon kayaking while half of the group opted for streaming the river on bamboo boats. As the leader, Ta was really big on giving the girls their independence to make the trip theirs.
"I couldn't let the rain stop me from going out there. There is something special about kayaking on the water," she said. Ta felt inspired and mystical being surrounded by the limestone islands, adding that their beauty reminds her of how she has grown as a person.
"I've realized I made an impact for the family in Vietnam, and at the same time this trip has made an impression on me," she said.
Ta gave special credit to Garcia, Associate Director Tim Albers of the Center for Community Engagement and Dominguez for recognizing her potential as a leader as well as selecting her to participate in the trip.
Ta said she recommends her peers to travel abroad, to learn, and give back.
"I can't fully explain how wonderful it was to be there," she said. "I will continue to dream about Vietnam, but Boston will always be home too."