Coming and Going: Insights on Spring Transfer Students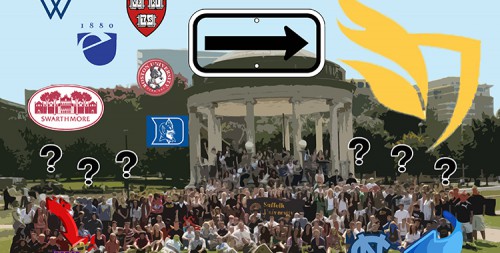 During the first semester of the 2012-2013 scholastic year at Suffolk University, many students returned to Boston for another semester, while freshmen joined the school for their first year. Among a relatively new administration under the current leadership of President James McCarthy, a new proposal of an innovative five-year strategic plan was introduced in the fall of 2012 with hopes of improving and developing Suffolk University.
However, many students on campus were upset with Suffolk, and planning on transferring. Their reasons for wanting to transfer varies extensively based on the person, but a general feeling of disapproval lingered through the fall semester and continues as the spring semester began in January.
Valeria Szeto, a freshman who transferred to Bryant University this semester, said she left Suffolk because of the "location and lack of student and campus life wasn't for [her]," and that she was "looking for a school that has a better all-around experience."
Szeto said she was planning on double majoring in global business and marketing communications. Although, at Bryant University, she is double majoring in marketing and communications with a minor in sociology.
She chose to attend Suffolk last year mainly for the reason that they provided her with "an outstanding scholarship and financial aid package." Considering the current recovery still underway in the United States, and with many college students being hit hard financially, this would be considered understandable as it makes Suffolk more affordable among other advantages.
Believe it or not, transferring from Suffolk is not a rarity at all. However, the reasons for students leaving Suffolk to go elsewhere for their education may differ a bit from other schools, partially due to Suffolk's central location in the heart of Boston; something that people consider beneficial. While it is convenient for internships, for example, others think it has a negative impact, like an expensive cost of living.
Another student who transferred from Suffolk last semester is Zoë Moriarty. She is now attending the University of Tampa. Majoring in Marine Science, Moriarty explained she "applied to Suffolk because [she's] from Boston" and loves "the city but it was just way too hectic." She said that she "really thought it added on to the stresses of college."
Vanessa Desiato, unlike Moriarty or Szeto, transferred to a different school solely because it was her first choice and she was able to get a spot starting with the current spring semester of 2013. Desiato is still a freshman, but now goes to Emerson College, just a few blocks down the street.
Desiato, who is majoring in communication studies and publishing, said she will miss "the people from Suffolk…I've made so many good friends here, I'm glad I'll be so close that I can just come back! The people here are the reason I'm sad about transferring."
Like Desiato and many other students who transfer, Moriarty and Szeto also said that they miss their friends the most after leaving Suffolk. There are always concerns that, even if students move to another college, they still may  not fit in or find whatever exactly it is that they were looking for in the first place.
In somewhat of a contrast to Desiato, Moriarty, and Szeto, there are still students who remained at Suffolk for this spring semester, but some of them are considering transferring soon too.
Mariana Teran, a freshman majoring in Political Science, was hoping for more of "an actual campus" as opposed to the city lifestyle with classes and buildings spread out around Beacon Hill and the surrounding area in the heart of Boston.
Teran, a native of Florida, is not entirely certain where she would apply to transfer but is considering the University of Miami, and "would like to eventually transfer to the University of Florida."
A fellow freshman, Nayara Da Silva is majoring in Applied Legal Studies with a minor in Sociology. She is dissatisfied with Suffolk's "policies and can't afford it anymore. I have to live off campus next year and it's too expensive to live in Boston. You have to go far to get a cheap place."
Da Silva intends on going "to a school in Canada like McGill, Waterloo, UToronto, and other schools in the area."
Although she, too, is interested in leaving Suffolk for a different school, Paige Roy has different reasoning behind the negative feelings she has towards the university, "due to the dangerous city life being hard to adjust to. I've almost been jumped."
Roy, a freshman from Rhode Island majoring in biotechnology, admitted she "chose Suffolk because they gave me the most scholarship money and I'd be paying the least amount of money out of all schools."
The city life can be dangerous, but Suffolk does offer assistance with walking to and from buildings at night. When it gets dark and students need to return to their dorms on the other side of the Boston Common, for example, the Suffolk University Police department provides a uniformed officer upon request to assure that the students are as safe as possible, though not many students actually use this for help.
Even though it is likely that most students know someone who transferred from Suffolk, there are still just as many, actually more, students that are transferring to Suffolk. One of these students is Bianca Roman.
Roman, a sophomore majoring in radiation biology, transferred to Suffolk from Bay State College last year. Among other reasons, including the numerous advantages of living in middle of Boston, she said that Suffolk "is the only place that had [her] major."
Overall, Roman is definitely glad she chose to attend Suffolk because of "the student-teacher communication," as well as the factor of "not being in a closed-in campus so she can meet other people," and additionally wanting to follow in her mom's footsteps with her alma mater.
Asked if she wished she could have transferred somewhere else, Roman replied "No, I'm happy here with my classes and the friends that I have made." This seems to be the same, or close, opinion of other students who transferred to Suffolk. Fortunately for Suffolk, Roman is not alone when it comes to students transferring to the school, as opposed to transferring from it.
In an email, Greg Gatlin, Vice President Marketing and Communications for Suffolk University, provided some informative statistics on what is actually happening with admissions and transfers at Suffolk:
"Of the new freshmen who started at Suffolk in Fall 2009, 285 transferred to another school after one year. For Fall 2010, we had 234 transfer to another school. For Fall 2011, we had 212 transfer to another school. So the number dropped about 26 percent between 2009 and 2011. Conversely, In Fall 2010 we had 367 students transfer in. In Fall 2011 we had 447 students transfer in. In Fall 2012, we had 467 students transfer in. So we experienced a 27 percent increase in the number of students transferring in. The rate at which we retain students is also steadily rising. From Fall 2009 to Fall 2010, the retention rate was 72 percent. Fall 2010 to Fall 2011, the retention rate was 75 percent. Fall 2011 to Fall 2012, the retention rate was 76 percent."
According a Boston Globe article that was published on the day of President McCarthy's inauguration in Dec. 2012, in 2009, "the acceptance rate for undergraduate applicants [at Suffolk] was nearly 85 percent." Last year, "in 2012, the acceptance rate was 78 percent."
To add to some positive outlooks for Suffolk over the coming years, they have hired a new Senior Vice President of Advancement, Stephen Morin. His job will be to "help students, financially and academically, be rewarded for their hard work to get through college and to get where they want to be." Hopefully this will be as helpful to students as it sounds.
View Comments (1)