Women's hockey ready to bounce back from playoff perils
After an unfortunate 3-2 upset in the Commonwealth Coast Conference Quarterfinals against Curry College that ended their record-breaking season last year, the Women's Hockey team is looking to bounce back in 2023.
Team co-captain Madison Duff hopes that last year's upset helps fuel this team's fire to win even more this season.
"I think it's gonna light a fire under everyone, just because we worked hard all season, had a great year, and then to have it end so quick, like, that was just disappointing. I think everyone's gonna remember that this year going into the playoffs," said Duff.
Pushing last year's upset to the seventh seed Curry aside, there's a lot of excitement heading into the year from a team that had its best regular season record ever last season.
"We've had a good first few days of practice. I'm just excited for the scrimmage next weekend to see how the different d-pairs and the different lines click together, and how the goalies do in the net and things like that," said head coach Taylor Wasylk. "I'm really, really excited to get rolling!"
This year will likely end up being the last to feature players who were originally on the team during the inaugural 2018-19 season, with only a few players returning for their fifth year.
"This past spring we graduated our inaugural class, so the class that started the program back in the fall of 2018. So we lost a lot of personality, a lot of leadership, a lot of experience, a lot of heart and soul, if you will," said Wasylk. "I think we have a really good class that's come in this year of new people. There's five new players, and it's not so much about filling the shoes that were left behind, but coming in and making an impact right away."
While confident that her new players will come in and make an immediate impact, coach Wasylk noted that, without that inaugural class, the team wouldn't be where it is today.
"I don't think the people that graduated are replaceable in any means, just because they were that first group that believed in the team and came in as freshmen having no idea what to expect. They had a brand new team, a brand new coach, and a brand new program and those people are kind of irreplaceable in my eyes," said Wasylk. "But it's not about replacing them, so much as building off what they left. We have five of them that came back for a fifth year, so we're really excited about that, half that class being back."
Duff, one of those fifth-year players, provided some insight into what it's like to be in a final season of collegiate sports.
"We had captains' practices before [coach] Taylor got on the ice, and at our last captain's practice we just did a bunch of drills. You get off the ice and you don't really think, you're just kind of in the moment, and then when you're driving home you just kind of think to yourself 'wow, that's my last captains' practice,'" said Duff. "And then everything you do, it's like 'oh that's the last time I'm gonna do this.'"
Looking forward to this upcoming season, Duff said the team has a newfound sense of purpose.
"So I think it's just gonna be a really focused team and it's kind of just like all eyes on the prize all year. We got one goal and that's it, and we're not gonna do anything to get in the way of that," said Duff. 
Another fifth-year player, team co-captain Shana Cote, looks to end her Suffolk hockey career on a high note.
"I've had a goal since freshman year that I wanted one hundred points in my college career, and I'm at ninety five. As a team goal, I think we want to win our conference and go to the NCAA [Tournament]. I think ending first in our conference and beating Endicott would be huge because we've never done that in regular season play," said Cote.
This team is looking to rise above the high bar they set for themselves last season, and do even better than just winning 19 regular season games.
"We're a handful of steps away from [winning the CCC and making it to the NCAA Tournament], we've got a lot of work to do, but it's exciting. I think this group is certainly capable, they're talented enough, etcetera. After last year and how we ended, I think they all want it bad enough," said Wasylk.
With players graduating, leadership needs to be replaced, but the team has all the confidence in the world that coach Wasylk will keep them on track.
"Me and Shana, this will be our third year being captains so we've definitely got some experience under our belts, but one of our assistant captains last year, Payton Dockus, was a big voice on the team and wasn't afraid to put people in their place when they needed to be," said Duff. "So that's one thing we're going to be missing, but I think [coach] Taylor will have that covered."
The women's hockey team is looking for support from the Suffolk community as they head into a season where they believe they have a real chance at making it to the NCAA Tournament for the first time.
"The more fans we have, the more energy they bring to the team which really makes a difference on the ice. I know it doesn't seem like that from the stands, but it does make a difference," said Cote. 
Cote and the rest of the women's hockey team begin their season on Oct. 28 against Plymouth State and will have their home opener against UMass Boston the following day on Oct. 29.
Follow Joe on Twitter @JoeDiminoSU
Leave a Comment
About the Contributors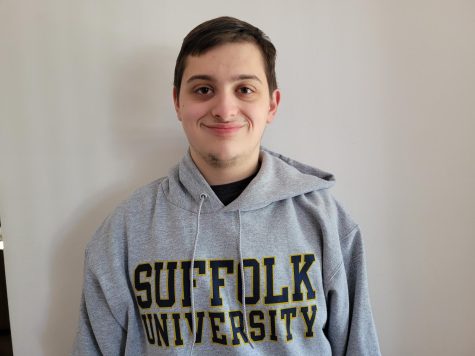 Joseph Dimino, Staff Writer | he/him
Joe is a junior journalism major from Revere, Mass. When he has free time, he can be found in Suffolk's VGA room or watching Boston sports. He's particularly a fan of the Celtics, Patriots, and Red Sox! When he graduates, he hopes to become a sports journalist covering Boston sports.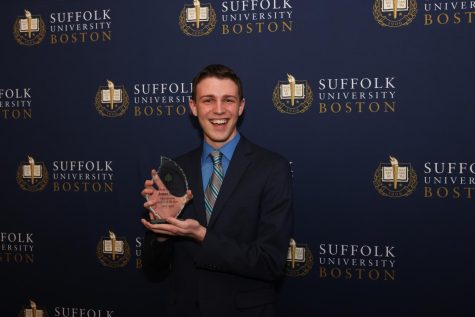 Jamie Taris, Managing Editor | he/him
Jamie is a senior broadcast journalism major and public relations minor from Pelham, New Hampshire. He has a deep passion for sports, especially hockey and football, and hopes to make his way into the sports media field after graduation. Outside of the Journal, Jamie is very involved with Suffolk's orientation department, and he's a member of Suffolk's Program Council. When he's not obsessing over the latest sports news, you can usually find Jamie hiking or camping in the White Mountains, or exploring the city with his friends.
Follow Jamie on Twitter @JamieTaris