A dream come true, Soulfully Versed debut
As one of two A cappella groups at Suffolk, they're working to establish their place on campus.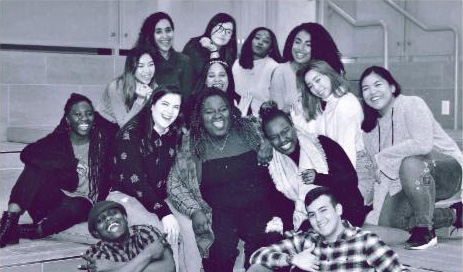 Suffolk University's Soulfully Versed, one of two A cappella groups on campus, prides itself upon both diversity and unity. This group represents 14 different and uniquely talented students, but when their individual passions and voices come together, there is no question that Soulfully Versed embodies one, collective spirit.
Soulfully Versed was founded in 2016 by junior business major Jo'Lise Grant and Josephine Omoyugho, an International Relations major.
"When deciding what to name our group, we knew that we wanted to convey the message that we take pride in representing a diverse set of people, and that soul is the type of music which we wanted to perform," said Grant in a recent interview with The Suffolk Journal.
Suffolk's Soulfully Versed put forth natural talent, hard work and boundless amounts of passion into their debut performance at Roxbury Community College this past Friday. With the combination of talent, new friendships and diligent work, Soulfully Versed was able to accomplish that very goal, making their wish come true.
"One day, Josephine and I were thinking about how many talented people there are on campus," said Grant. "We wanted to form a group for talented and passionate students to really come together as one to enjoy music."
Not only does Soulfully Versed take pride in their own diversity, but also in the assorted music genres and selections of which they practice and perform together. The group expressed to the audience that they do not just sing soul, but that soul is something they always strive to create and embody when their voices come together.
"You don't have to have a soulful singing voice to join," said Grant. "Soulfully Versed is really about all of us just coming together as one. A cappella means being a family and uniting to us."
The show began with a creative and spirited performance of a dream-orientated Disney Medley. The auditorium was darkened as a single light illuminated the microphones on the stage while the group sang, "When You Wish Upon a Star." One by one, the members of Soulfully Versed entered the stage and although they appeared individually and in different black attire, it was clear they all embodied a collective heart and energy.
"Our theme was a Disney-dreaming opener, and we chose this because it showed the audience that we are here," said Grant. "We are pursuing and debuting our dreams."
"
A cappella means being a family and uniting to us."
— Jo'Lise Grant, President of Soulfully Versed
The group instantaneously sparked a reaction from the audience as they sang a snippet of "The Circle of Life" from Disney's "The Lion King," which showcased their talented altos and wide vocal ranges. Soulfully Versed stage presence was entirely that of unity, liveliness, and pure joy.
The song which followed in the Medley was "Zero to Hero" from Disney's "Hercules." The combination of the lyrics, beatboxing, harmonious voices and one powerful vocalist, conveyed a strictly confident message about starting from nothing and celebrating victory. This specific performance within the medley showed the audience that Soulfully Versed is not only excited to share their passion and music with the world, but that they are a fiercely confident group.
Following this upbeat song, Soulfully Versed paid tribute to Disney's Mulan by performing "Let's Get Down to Business" and "Dark Side of the Moon." During this part, the group was swaying back and forth, snapping their fingers and singing with determination, as the song was about putting hard work forward to accomplish a goal,  something this group has experienced first hand.
The group concluded with "Poor Unfortunate Souls" from Disney's "The Little Mermaid." The enthusiasm and high spirit displayed by Soulfully Versed was undeniable and it was the strong presence of family and community which truly showed what this group was founded upon.
"We are so motivated from this show and especially from all the dedication and support we have received," said Grant. "Everyone is dedicated to enhancing our group's success which is amazing."
Soulfully Versed has set some promising goals for the near future, which include having an EP out by this time next year and gaining a bass to add to their A cappella group.
Find Soulfully Versed on Facebook as Soulfully Versed, Instagram @soulfully_versed.
Connect with Juliana on Twitter @julianatuozzola