The Department of Communication and Journalism has announced that the 2015 Rammy Awards, set to take place in April, will be canceled.
Due to a shortened timeline and lack of submissions, the department, which decided to cancel the event last week, felt it would be best to take a year off.
"Not a lot of material has been generated, primarily due to the weather. Rather than put on a show that was not up to our standards, we decided to take a one year hiatus," said Dr. Bob Rosenthal, chair of the CJN department.
Despite this hiatus, the department has full intentions of bringing the show back to campus in spring 2016.
"We will grandfather in senior submissions," said Rosenthal, regarding any graduating students who may wish to submit work to the contest. Although their submissions will not be judged this year, they will be held for the 2016 award ceremony.
The show, which would have run for its seventh consecutive year this spring, features multi-media submissions from students across all departments in several different categories such as hard news, in-depth reporting/documentary, short fiction narrative, and photography.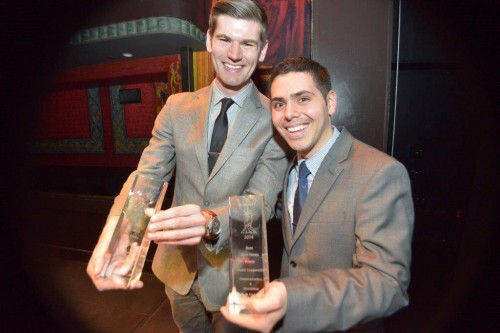 Despite the department's plan to grandfather work into the 2016 show, many students in the department have expressed their disappointment upon hearing the news of the cancellation.
Amy McAleer, a senior, praised Rammy Awards of the past and said she was saddened to hear about the cancellation of this year's show.
"The news of the Rammy Awards cancellation is disappointing. I've submitted before two years ago and did not get recognized. I thought with time my photography would improve and this year I could actually win an award," said McAleer.
"The Rammys also are not about winning awards, but it's a place to show your work and passion. Also, to celebrate and share it with people who also have the same creativity," she continued.
Even students who had yet to participate in the Rammy Awards expressed frustration. Matt Kramer, a film studies major and senior, echoed McAleer's discontent on the news of the cancellation.
"As a senior who transferred here I haven't experienced the show yet, but all I've heard are positive things and I believe it's a great night to celebrate lots of communication students' hard work over the past year," said Kramer.
Not only are the Rammy's a university tradition, but they also present a way for young professionals to gain recognition in the field many will likely pursue after graduation.
"I think either way the show should have happened whether that much was put into it or not. Just to give students recognition for their hard work and creative work, plus if you are able to win an award it's great to put that in a resume," said Kramer.
Although no Rammys will be presented this year, there are already plans in the works to improve the ceremony in the future.
There is a strong push to increase alumni involvement in the Rammy's, according to Rosenthal. Although alumni typically participate by presenting awards or participate as judges, a category specifically for alumni is a possibility for future award shows.
"The purpose is to recognize student work and bring in a sense of community," said Rosenthal.
Increasing alumni involvement is just one way to expand the sense of community that the Rammy Awards foster.
Echoing other downtrodden students, Siobhan Sullivan, a senior and broadcast journalism major, said she was thinking of submitting to the Rammy's this year.
"I've gone to the show twice before and I always thought they were great," she said. "Especially when I was a freshman. It was so amazing to see the kind of work seniors were doing and knowing that could be my work up there."
Professor Dana Rosengard, Ph.D., long time emcee of the Rammy Awards, declined to be interviewed regarding the cancellation.