Smith, Sodexo slash dining costs
If you've bought food on campus this semester, you may or may not have noticed a drop in prices.
During winter break, Interim President Norman Smith partnered with Sodexo to reduce prices of food and beverage for all vendors on campus, the change being one of many steps in his mission to centralize campus and improve Suffolk's visibility.
In an email sent to the Journal, Smith said, "Sodexo, at my request, conducted an outside survey of all commonly served items and reduced prices so that all on-campus prices are below the neighborhood average.  In some cases, like salads, the prices dropped by $1."
According to Inside Suffolk, Suffolk University's internal publication, Sodexo management conducted this survey on food outlets like Pret A Manger at Downtown Crossing, Starbucks at Government Center, and Panera Bread on Tremont Street.
According to the publication, Smith wanted to make changes after noticing the "large number of students and staff who would come into 73 Tremont each day with food bags from outside vendors."
Cafe 73 in particular has experienced many changes. According to Sodexo, the updated menu will include flatbreads and other offerings, all sandwiches will be served with kettle chips, packaged and fresh juice in a grab & go cooler will be sold at a reduced price point, fountain soda will be installed in the future at cross-campus pricing, and new combos, bundles, and value offers featuring fountain beverages will be included.
"What we had requested of Sodexo is that they survey all neighborhood eateries and assemble all the prices being offered for comparable products, then take an average price for each comparable product and re-price the product offered at all campus eateries so that each price is lower than the average price of the off-campus eateries," said Smith.
Suffolk will also be introducing a program partnership with AppCard, which, according to Sodexo, will be similar to that of CVS and Starbucks' loyalty reward program. Sodexo is currently waiting for the IT department to approve the utilization of Suffolk IDs for this program.
"Hopefully this will reduce the exodus of those students and staff who are most financially challenged and add to the positive reaction of everyone else," said Smith.
In addition to this, Sodexo will not be requesting an increase in either retail or catering pricing for the 2015-16 school year.
New developments on campus has extended beyond the dining halls, as well.
With the Tuesday announcement of the sale of the Donahue and Archer buildings, and the opening of 20 Somerset in the fall, John Nucci, vice president of government and community affairs, said that One Beacon is going to be the new home of the entrepreneurship program.
"Our lease on the One Beacon space runs out in 2017," said Nucci. "However, we feel it's a very important space for the university. It's centrally located and it's highly visible for the foot traffic, vehicular traffic that goes out there everyday."
Nucci said they are in the process of renegotiating their lease.
In regards to NESAD, there has been no firm decision made on moving NESAD closer to Suffolk's campus, although Nucci said the intentions are to try to move it closer to the central campus.
Both President Smith and Nucci have confirmed that there will be an upcoming Campus Forum where Smith will address many of the changes happening at Suffolk.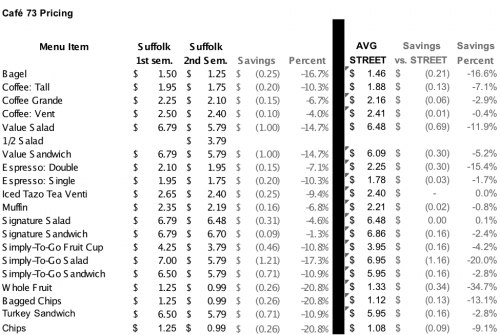 Leave a Comment