Environmental Club supports Koch Free Zone Campaign, asks for transparency
The Suffolk Environmental Club has voted unanimously to support alumna Kalin Jordan's campaign to keep the university a "Koch Free Zone," an effort to keep money from the conservative Koch brothers out of the university.
The SEC is a relatively new group on campus, holding weekly meetings to take on issues like the green movement and making Suffolk more environmentally healthy, according to their mission statement.
In an interview, Vice President of SEC Asara Tenney said Jordan presented the group with her efforts to increase transparency within the university, discussing an apparent discrepancy of money reported that was donated by the Charles G. Koch Charitable Foundation versus what Suffolk says it received from the foundation, and concerns about the donated money influencing particular studies relating to climate change and greenhouse gasses.
"We decided to take a unanimous vote to support her campaign … The fact that she was presenting this information I think is pretty honorable," Tenney said.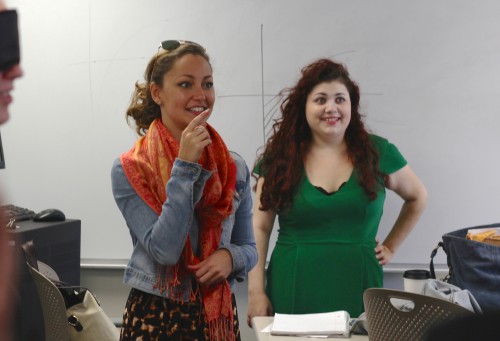 President Briana Cervantes felt that there was an obligation to get involved with Jordan.
Cervantes and Tenney both said working with Jordan will create a community at Suffolk, and will promote awareness of what the university's money is supporting.
When asked about their reactions to last week's story on Jordan's efforts, Cervantes and Tenney said they still have questions about what the funding is used for exactly.
"It's not acceptable when certain funding is coming in and it's influencing the scientific results that have an effect on public policy, especially when it's something as tricky as greenhouse gas emissions and climate change," Tenney said.
Part of the donations from the Koch Foundation support the Beacon Hill Institute, a research center on campus that works on economic analysis of policy issues, tax issues, and also state issues. It is run by full-time staff and interns.
Director of BHI, David Tuerck, found the new relation between Jordan's campaign and SEC somewhat troubling.
"What they are in fact doing is affiliating themselves with a political operative to advance [Jordan's] career. They have never bothered to ask us what we're doing," Tuerck said. "If they somehow hook up with [Jordan] and agitate to get rid of Koch at Suffolk, they should be ashamed of themselves."
Not only does money from the Koch Foundation support BHI research, but it has also supported staff and graduate students.
Instead of joining with Jordan's campaign to rid the Koch donations from Suffolk, Tuerck said he does not understand why SEC does not address BHI directly.
When asked about the future at BHI given the recent efforts of SEC and Jordan's campaign, Tuerck said they will continue to do what they've always done, which is conducting economic analysis to inform policy making.
"It will have no impact on our work … we will pay no attention to anything they say," Tuerck said. "I have to ask: what do they know about what we're doing? Have they asked us questions? No."
On the research performed at BHI with the help from Koch donations, Cervantes said she remains skeptical.
"It's definitely fishy and brings up questions, and it makes us want them answered even more," she said.
Tenney took particular notice to the numbers Jordan presented to her regarding the apparent discrepancy of reported donations.
"I thought it was unacceptable in the sense that I felt as though we weren't getting the full picture, and then when [Jordan] starting drawing these connections between interests of people that were funding these particular studies and then how the studies were being used to influence public policy, that was jarring," she said.
Tenney is also interested in how BHI applies economic analysis to their policies, and does not have a problem with Koch money supporting speakers rather than projects.
"I think my general standpoint is when it starts to influence scientific research and how that's being used. That's when I have a problem with it," she said.
Leave a Comment