CAS and SBS revamp honors programs, changes in admissions and scholarships
Each year a select group of students have been allowed to peruse extra academic challenges and opportunities through Suffolk University's honors program. Through eight years of existence, both the College of Arts and Sciences and Sawyer Business School honors programs have seen changes, but none as large as recently.
The CAS program received a major makeover with the start of the fall semester. These modifications include a new director and administrator. SBS will continue with the same director, Kim Larkin, but developed a new honors council to add to the program. Both programs, which are completely separate, have dropped scholarships for entering scholars.
The inaugural honors program class in 2005 consisted of 21 students. The total number of honors students never rose above 28 until the class of 2015 arrived on Beacon Hill. Suffolk's junior CAS class features 94 students. The sophomore and freshmen classes in CAS have 120 and 90 students enrolled respectively. The level of students has not risen as high in SBS.
With the start of this semester, Dr. Agnes Bain stepped down from the role of director of CAS to prepare for her retirement in the spring. Dr. Lisa Celevosky of the English department was named the new director during the first week of classes.
"I'm not sure what the optimum percentage [of honors students per class] should be, but I plan to look into that over the following year. The program now accepts more sophomores who have been performing at university level and proven themselves since coming to Suffolk," said Dr. Celevosky.
Another adjustment for CAS was a new program administrator. Racheal Campbell left the program this year and Steven Church has taken her position.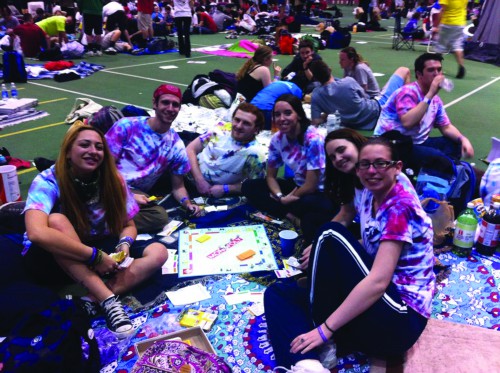 CAS Honors program student Vice President Brendan Clifford and President Cori Simmons come from two different spectrums of the current transition. Simmons is a member of the senior class, who was the last to feature less than 30 students. Clifford is one of the 120 sophomores, representing the largest class in honors history. Despite hailing from two different eras of the program, both Simmons and Clifford supported the expansion.
"My freshmen were the largest class to have gotten into the program…I've always been more accustomed to having a larger group," said Clifford, "The way I look at it is, it's not a club it's a program. We're not a clique. We want it to be an inviting experience. To do that, we need to have a fairly large population."
Simmons added that as long as the expansion is done manageably, she thinks it will be a good decision for the program.
"A lot of people say that Honors Program [are] the students that have been given privilege but…the way we see it is, you've been marked by the university that you have this immense capability to do something," said Simmons.
Along with bringing more faces to the program, the expansion has put an end to students being awarded scholarship money upon their acceptance. The class of 2017 is the first group of honors students to not receive any scholarship award money from the program.
"This year we have no scholarship money for students…One thing that was discussed when I was a faculty member was that since admissions had ranked the students high, they were going to get money for that reason anyway," said Dr. Celovsky. "The money might not be coming because a student is in the honors program but it would come on the basis of other things."
Both Simmons and Clifford said that this year's freshmen have been very receptive to the change. They did note that their scholarship money did play a factor in their decisions to join the program but not a large one.
"As honors students, we're here because we want to be here. It's nice to have the scholarship but it shouldn't be the reason why you're in the honors program," said Clifford.
Scholarship money has "changed every year" since Simmons has been in the program. One number that has not fluctuated much over the years is the program's retention rate.
"In the past, retention rates of honor students have been very high, almost 100 percent," said Dr. Celovsky. She admitted concern regarding how those numbers will change with more students coming into the program.
"It's a little disheartening that some students come to us or perceive Suffolk as a farm team to go to BU, BC or Northeastern," said Dr. Celovsky.
One of Dr. Celovsky's goals to better the honors community is keeping in touch with graduates of the program. This is a goal she has set for herself and one she hopes to work on achieving through the next few years.
Simmons and Clifford are hoping to make the honors student council more effective this year.
"Since there are so many students now, it's definitely more needed that it has been in the past," Simmons said.
Although SBS has not had such a rise in the number of honors scholars or a change in administration, the program is still constantly evolving.
This year SBS is adding an advisory council, a change Larkin is excited about. A group of 10 students between sophomores and seniors will be acting as the council, a liaison for the honors community, faculty, and administration.
"The ultimate goal is to provide a rich and vibrant co-curricular experience for the members of the SBS honors community," said Larkin. The council will be focusing on program development, program changes, social activities, service events to benefit the local community, and potential interaction with the SBS Honors alumni network. The new feature was a creation of Larkin's research on how other honors programs in small, urban universities function.
SBS has 300 total honors students, who like CAS, receive varying amounts of scholarship funding. The program eliminated scholarships as a reward of the program in 2011.
Like any program at Suffolk, the honors systems are constantly growing with the overall concept to strive for greatness.