Suffolk Days of Giving raises thousands for campus life, financial aid
Suffolk University's annual Days of Giving campaign from April 26-27 is striving to raise funds for financial aid, academic programs and campus life to "Step it Up for Suffolk."
At the time of this article's publishing, over $150,000 has been raised for Suffolk, with nearly 500 donors. Donors can choose between dozens of programs, including individual athletic programs, academic programs and scholarships.
Suffolk President Marisa Kelly said Days of Giving has a tremendous impact on the university as a whole.
"Days of Giving is so important to the Suffolk community because it is an opportunity for all of us to pay it forward in support of students and our mission. Doing so has both positive tangible and intangible impacts," Kelly said.
According to Kelly, Suffolk's Board of Trustees will match total donations up to $100,000.
Donations of $20.23 and over will receive a pair of Suffolk-branded socks, but the university emphasizes that the gift will go far beyond a Ram-approved fashion statement. Marketing professor Kimberly Ring noted the importance of the donations Suffolk receives during Suffolk Days of Giving.
"Every amount of support, big or small, empowers Suffolk to continue delivering world-class programs, and innovative and immersive teaching practices, to all of the students that come to our campus," said Ring.
Suffolk in the Hub, the university's student-run marketing agency, has stepped up to make the Days of Giving more student-centered.
Junior Clarissa LaGasse, the Hub's co-founder, said the organization wanted to change how students view the annual campaign.
"As students, we wanted to create a new, more positive perspective around giving back to the school. Students underestimate the effect their gifts have on the Suffolk community and campus life," said LaGasse in a statement to The Journal. "By approaching the Day of Giving campaign from a fresh perspective, we hope to reach the Office of Advancement's donation goals."
According to the university, the Hub, with support from the Office of Advancement, created an innovative strategy to make donations not only accessible, but fun for the student body and beyond.
"Our team has decorated campus with creative signage, online challenges and featured alum on a few of our podcasts to speak about their experience and appreciation for Suffolk," said LaGasse.
In her Momentum blog, Kelly wrote that Suffolk's community is unique in both its physical location and the connections between students, faculty and alumni.
"Every day I witness acts of generosity and friendship that bind our campus closely together: Faculty and staff going the extra mile to help students succeed; students supporting one another and celebrating their successes together," Kelly said. "This is a community that shares its time and talents freely; this week we have a chance to share some of our treasure as well."
Donations can be made online or by texting SUGIVES to 71777.
Leave a Comment
About the Contributor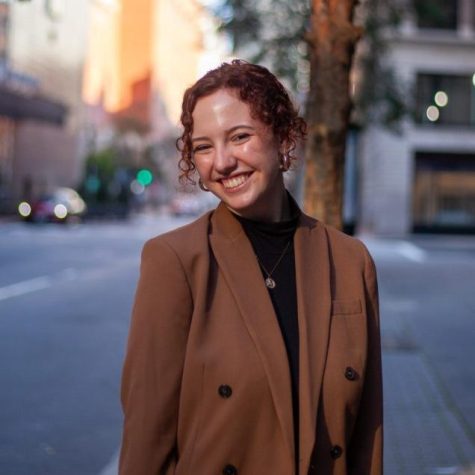 Shealagh Sullivan, Editor-in-Chief | she/her
Shealagh is a senior double majoring in journalism and international relations from Ashby, Mass. In her spare time, she enjoys reading, finding a new favorite coffee spot and exploring Boston. She is a huge art lover and wants nothing more than to see the Van Gogh Museum in Amsterdam. After graduation, Shealagh hopes to be a political journalist in Washington D.C.
Follow Shea on Twitter @ShealaghS.