Podcasts play their way onto campus
Podcasts have become a world-wide phenomenon appealing to the ears of listeners everywhere. Whether you want to indulge in self-care, or jump into a realm of killer crime scenes there is a podcast for everyone.
Here at Suffolk University, one student is particularly eager to jump into the craze.
Freshman Sonniya Tith created her very own podcast called "Sticks & Stones: The experience of adulthood." As she takes the mic she hopes to tackle all things endured throughout the journey of growth. 
"Where we [will] cover things like university, careers, work, love, relationships, family, health and wellness, the whole nine yards," Tith said. "It's really just transitioning from being adolescent and young to being an adult and it is a really big transition and it comes with a lot of ups and downs"
Tith, who is also president of Suffolk's Southeast Asian Association, said she drew inspiration for this podcast from projects in high school as well as wanting to create a safe space for everyone. 
"I actually had a podcast in high school, and it was very small obviously because it was just for fun, it was like a hobby," Tith said. "I feel like I myself am in a constant rate of growing and changing and I think that a lot of people go through similar things and it's nice for people to know that they're not the only ones going through this and going through the changes."
While maintaining a comfortable space for vulnerability, she hopes to be a shoulder for many to lean on. 
"So I want people to be able to listen and be like, 'Yeah I can relate, I've been there,' just like I have an outlet, and feel like they're not alone," said Tith.
Tith said that she loves tuning in to her favorite creators and their podcasts in her downtime. Whether it's health and wellness or advice from iconic celebrity couples, she has endless favorites.
From Alex Cooper's infamous "Call Her Daddy" to "The Wellness Cafe" where self-care and mindfulness are prioritized, Tith calls herself "an avid podcast listener." She said she also loves listening to some of her favorite dynamic duos as they take on the mic, one being Claudia Sulewksi and Finneas' "We Bought a House" before it had gone on a permanent break. 
Overall, as she also draws upon these podcasts for creativity in conversation, she hopes to provide listeners with insight into compelling topics that many tend to steer away from in society today. She hopes to open a new space to a range of raw and truthful opinions that will set "Sticks & Stones" apart from other podcasts.
"There's going to be no limits when it comes down to this. It's the real deal, it's going to be raw, real information," Tith said. 
"Sticks & Stones: The experience of adulthood" will be streaming on platforms such as Spotify and Apple Music, where episodes will soon be posted every other Friday. Tith also hopes to provide a video version on YouTube for listeners as well.
To stay updated with all Sticks & Stones content, follow the Instagram @sticksnstones.su and Sonniya Tith's instagram @sonniya.tith.
Follow Juliana on Twitter @julianap_03
Leave a Comment
About the Contributor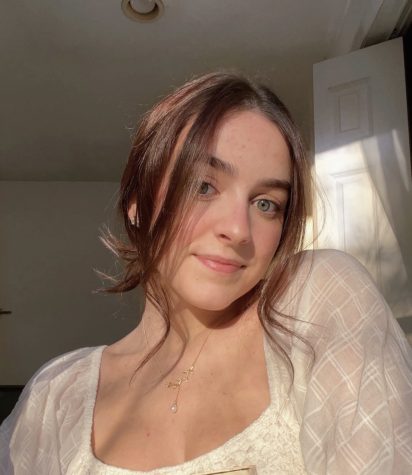 Brooklyn Leighton, Asst. Opinion Editor | she/her
Brooklyn is a sophomore English major with a concentration in creative writing and a minor in journalism from Falmouth, MA. When she isn't working on writing a book, she is listening to Taylor Swift and watching Marvel movies. She loves cats and baking. After graduation, she plans on becoming an author.