The third annual Fusion Festival, hosted by Suffolk University's Fusion Dhamaka, celebrated cultures from around the world, featuring performances by Fusion Dhamaka, Pasión Latina and Rampage Show Choir on Oct. 28. 
Founded in 2018, Fusion Dhamaka is the first and only Bollywood fusion dance team in the university's long history. Each year the club hosts a festival called "Fusion Festival," which gives students the opportunity to experience the food, dance and culture of India. 
The night was hosted by two Suffolk Class of 2021 alumni, Dina Barua, who founded the dance team, and Dina Singh, who founded the festival. 
"In the University overall, there weren't any Bollywood dance teams and every university had one so I thought why not start one and create a family where our cultures can be shown. It doesn't matter if you're within the Desi community, anyone could join and we just try to spread joy through dance," said Barua.
The festival came not too long after, as the club wanted to have just as much representation as the other previously established dance clubs. 
"[Hip-hop group] Wicked has Exclamation, Pasión Latina had Culture Fusion and at the time Fusion Dhamaka was just getting their name out there so I thought the best way to introduce the team to the entire Suffolk community was a festival of our dance performances as well as highlighting other cultural dance groups on campus, so [from there] Fusion Festival was born," said Singh.
Aside from the performances there was also food, caricatures and a henna artist, Henna by Hiba S., which helped fully immerse every attendee in the culture and make them feel comfortable and at home at the festival.  
"Bringing home into Suffolk, whether you are from the Indian community, whether you're from the culture or not, just having a piece of home within your college community is really big for a lot of people, our dancers, members and people that came here tonight that are international students so to be able to give them a piece of home here is just the biggest gift for me," said Singh.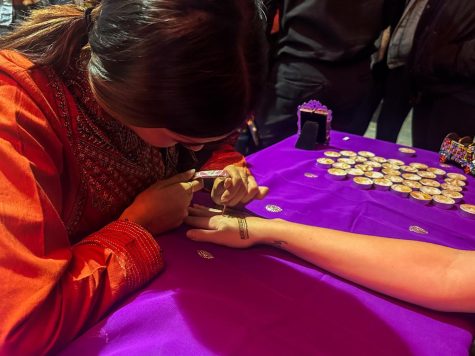 Even with the food and activities, there was no ignoring the main event of the dance teams and performances. With Fusion Dhamaka, Rampage and Pasión Latina all performing there was no shortage of entertainment all night. There were no bleak moments, even for those who had never attended or performed at the event. 
"It is really fun, it had a really good turn out. This is my first time coming but I really enjoyed it," said freshman Bianca Mota. "I wanted to join [Fusion Dhamaka] because I love Bollywood and I always felt like I was out of place because I am not Indian, so I saw this and saw so many people with so much diversity so I decided to join."
This festival aims to make every person feel like they are welcomed to experience the cultures of others and enjoy themselves. 
"I definitely want to say that it's important to ask questions, but you can't really get much out of culture through a textbook, through an article or through a video. It's really important that you experience it, so I am really glad that we were able to put on an event that allowed people to experience our culture but also didn't feel out of place. Ultimately, our goal is for us to have a place here and feel represented but also show we are all just a big community together and not divided," said Singh.
Follow Keely on Twitter @MenyhartKeely.