Bostonians can get a taste of Nashville at one of Boston's newest themed bars, Nash Bar & Stage. 
Nash Bar, on 253 Tremont Street in the Theatre District, opened in December, filling the vacated space previously occupied by Abby Lane. The lively bar takes inspiration from its namesake, Nashville, and brings a little bit of the country music capital to Beantown.
One moment you are walking the dirty, pothole-filled Tremont Street, and the next you enter a bar that is reminiscent of Nashville's famed party street, Broadway. As soon as you walk in, you are greeted by an open-floor plan of seats and a lengthy bar along the back wall, with additional seating upstairs. To the right, there is the kitchen that you can easily peer into and a neon sign above that states "What Would Dolly Do?"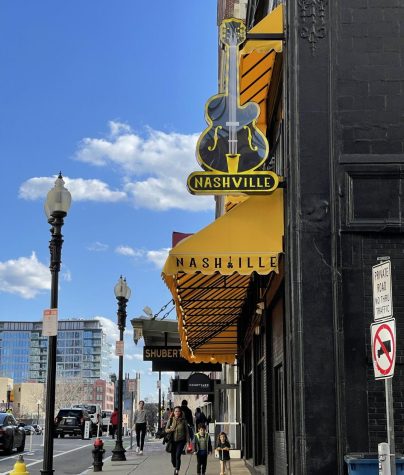 And that is the key question. As you browse the extensive drink menu and slightly lacking food menu, you look at the Dolly motto and wonder, what exactly would she order?
My table first went for a round of drinks while we waited 15 minutes for the kitchen to open at 5 p.m. The drink menu took some time to look through as everything sounded enthralling with terms like "elderflower" and "orange flower water." 
We ended up ordering the citrusy lie'd up in nash, fruity southern strawberry smash and the sparkling paloma. These drinks were full of creativity and made for the perfect Instagram boomerang. However, they were a bit too sweet and underwhelming despite how presentable they appeared.
For the most important part of the experience of enjoying Southern eats, I ordered the crunchy chicken skin BLT and the rest of the group got the classic chicken and waffles, each with a side of crumbly cornbread. 
Nashville is known for its trendy restaurant scene of Southern cooking and Nash Bar attempts to replicate just that, but it doesn't hit the same. The B.L.T. came in a small portion and was cut up into four minuscule Texas Toast sandwiches that weren't filling. Although it was under the main menu, it would make a better appetizer. And the worst part is it didn't even come with a side of fries – making it not worth the $13.
The chicken and waffles came out in a slightly better appearance with a small cup of maple syrup and looked far more appetizing than the subpar B.L.T.
The menu also boasts chicken wings, burnt-end fries, nachos, pulled pork sliders and more. Hopefully, you can taste the country vibe better in these eats.
For a place that serves up Nashville-inspired soul food, which is traditionally known for hearty portions, you would think it would live up to the hype, but Nash Bar did not. I was expecting more generous portions with loads of spices, but it felt like just another restaurant that exudes all vibes and no tasty meals.
However, Nash Bar certainly lives up to mimicking Nashville's upbeat atmosphere. The speakers were blasting popular country hits, although I would also like to enjoy older country music. The addition of a jukebox would be a nice touch for this.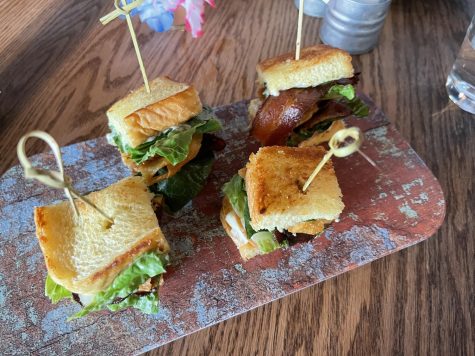 There is also live music upstairs and downstairs every weekend and on occasional Wednesdays and Thursdays. Unfortunately, on the day we went, there were no local bands or performers, but I'm sure the experience is elevated with this. 
Be sure to put on your best dress and cowboy boots for Nash Bar's photo opportunities with colorful murals of bright red lips and one that says "Nashville Looks Good on You." Even if the food and drinks are ok, once the booze is flowing you might be compelled to take pictures in front of these funky walls.
Despite some kinks with the menu that the new restaurant still has to work on, it's an affordable and trendy hang-out that anyone obsessed with country music should try. Nash Bar is full of passion and dedication to Music City, and this high-energy place is just what Boston needed.
Follow Sarah on Twitter @thesarahdipity.