Over the weekend, the Suffolk University Theatre Department (SUTD) launched "Sputnik," a virtual festival of four student-written and directed plays.
Performances took place on Nov. 19-21 over the video platform Vimeo, where each Suffolk student showcased their own unique plays in the hour-long production. 
The four shows that made their appearance in "Sputnik" were "Agora," "The Murder at Garfield Manor," "Which Witch" and "Kathy Kares," with each student's own directing and writing creativity and abilities shining through.
"Agora" was a solemn but powerful short film that depicted a character, anonymously named M, contemplating suicide while being confronted with old memories of him and his girlfriend chatting on Zoom. This performance was extremely raw as M's emotions jumped off the screen, and theatrical and cinematic elements were combined to produce this pre-recorded performance. 
"This piece was really unique and I'm so grateful for it because it was really kind of born out of the circumstances that we are in," said Justin Lahue, the director and writer behind "Agora," in a post-show talkback.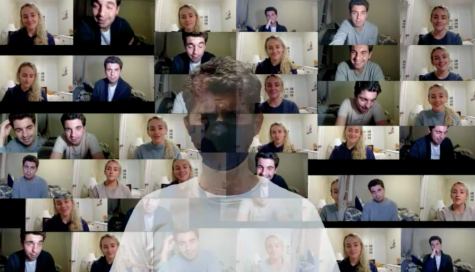 Lahue described how A-roll and B-roll was merged to produce a heartbreaking short of M reacting to the overlaid footage of him and his girlfriend talking and fighting at times, in a performance that was largely improvised by the two-person cast. 
The next student piece shown was "The Murder at Garfield Manor," a play by Suffolk student Erin Field that was inspired by the classic radio dramas from the roaring 1920s. 
This mysterious and engaging play featured only black and white still images of the Garfield Manor, where a detective tried to solve the murder of his childhood friend at this omnious mansion. The voices of each character played on top of these alternating images which echoed radio dramas of the past.
"Which Witch," directed and written by Sam Durso, was a short and spooky play that provided a moment of comedy relief, as five witches came together to argue over which one is the most powerful. 
The witches never quite chose who was the most powerful, as they each believed themselves to be the best, but it was hysterical seeing a variety of witches represented on screen such as a sea witch, an earthy witch, a grudge witch and even a witch from the Broadway show "Wicked."
The show beautifully combined both comedic and fantasy elements and allowed the audience to take their mind off of the current troubling times for a short duration.
The final piece of the night provided a moment of nostalgia and celebrated classic children shows from our childhood. This fun-filled and colorful show "Kathy Kares" was written and directed by Suffolk student Kendyl Trott and incorporated a mix of pre-recorded and live elements.
"Even though it made it kind of stressful because there were two separate shows going on the entire show, at the end having these pieces come together was incredible," said Trott in the talkback. She also revealed that she wrote this show to be much longer before the pandemic. 
The entertaining performance did give the audience a much needed blast from the past, but it also revealed a troubling behind-the-scenes perspective during the filming of "Kathy Kares." At one moment, host Kathy fought with a dramatic producer over the mispronunciation of a child's name on air. 
Suffolk's mascot Rammy even made a guest appearance, but fell over due to an asthma attack, causing a fight to break out between the cast and the angry producer.  
The carefree show also featured an assortment of adorable, but slightly scary handmade puppets that were handled by Suffolk students. These puppets mimicked childhood favorites like "Sesame Street" and "Blue's Clues."
Given the obstacles created by the pandemic, the writers, directors and performers of "Sputnik" adapted to create an engaging show that dealt with a wide range of emotional and captivating topics. 
In a time like this, student creators and performers need to be supported, and "Sputnik" did just that.
Follow Sarah on Twitter @thesarahdipity.