The 123rd Boston Marathon was about more than just a race. Runners from all over the world cast light on different stories of how they had stepped foot onto the blue and gold starting line, but all had one ultimate goal: to finish the 26.2 miles.
With a rainy and cold marathon in 2018 many runners feared another gruesome trek for this year's race. It was almost the complete opposite case though as morning showers made way for a warm sunshine.
According to the Boston Athletic Association, 20-year-old Daniel Romanchuk made U.S. history with his finish in the men's wheelchair race as he was the first champion since 1993. Following this, for the second time Manuela Schär won the women's wheelchair race with a 1:34:19 end time.
"It's an amazing, amazing thing to happen," Romanchuk said to ABC News. "I'm thankful to God for the opportunity that's been presented."
For the elite women's runners, Worknesh Degefa of Ethiopia finished on top with a time of 2:23:31. On the men's side, finishes were tight, as Lawrence Cherono of Kenya came in first by two seconds in his Boston Marathon debut.
While many elites and celebrities took part in the race, it was members of the Suffolk University community that hit even closer to home.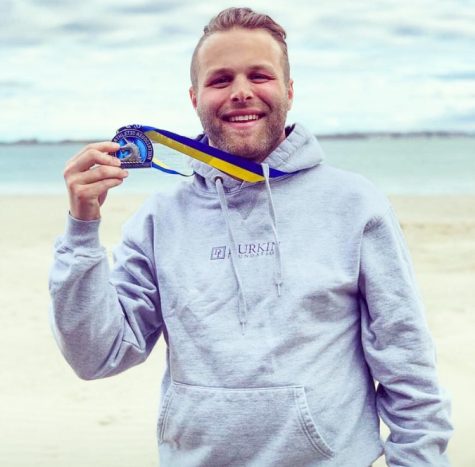 Suffolk alumnus Matt Durkin, a 2017 broadcast journalism graduate, took part in his third Boston Marathon. As the Executive Director, he runs with his family's organization, The Durkin Foundation, which he founded after graduating.
According to the foundation's website their mission, "is to help and support individuals and their families impacted by the effects of Alzheimer's Disease, Intellectual Disabilities, and U.S. Veteran Services by providing education, services, and daily assistance dedicated to improving the quality of life of all so challenged."
Durkin's grandmother had Alzheimer's, his grandfather was a World War II veteran and his aunt had Down syndrome. While all of them have passed, Durkin started the foundation with his family in mind.
"I think that's what's so beautiful about the marathon. It's not just a race, it's a great showing of humanity, human strength, love and support," said Durkin in an interview with The Suffolk Journal. "Everyone's there for a reason."
Durkin explained that some people run to raise money, while others run in memory of loved ones, but no matter the story, everyone is supportive of each other. He said that while it's important to train for the marathon the majority of the race is about having the mental strength and determination.
Another Suffolk Alumnus, Lauren Spencer, '15, also took part in her second Boston Marathon running with a team from the Patriots Foundation. As reported before by The Journal, Spencer is the Social Media Coordinator for the New England Patriots.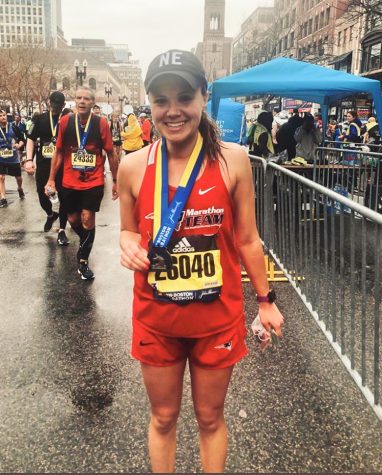 In total, Spencer was able to raise $7,845 for the foundation which will be distributed to charities across New England. Spencer finished with a time of 4:24:18, beating her personal from last year by more than 20 minutes.
"It is really cool to be a part of the marathon, especially being from around this area," said Spencer. "Being from Boston, I always looked up to the people who ran the marathon each year."
Spencer also expressed how tremendous the support from her friends and family was during the fundraising and training process. Her main goal is to one day qualify individually as runners with foundations do not have to do this.
Whether someone is running for a charity, accolades or both, the Boston Marathon brings over 30,000 runners together every year and celebrates astonishing narratives that will be remembered for years to come.