Stage Raider
Filled with nostalgia, action and humor, junior theatre major Justin Smith brings Lara Croft to life in an original production inspired by the critically acclaimed video game series, "Tomb Raider," in the latest installment of the Suffolk University Spotlight Series, "A Fish Without a Bicycle."
The video game series "Tomb Raider" began in 1996 with its first installment, and continues to produce new chapters, with the most recent "Rise of the Tomb Raider" (2015).  In a post-show interview with The Suffolk Journal, student director and playwright Smith explained his introduction to the series with "Tomb Raider: Anniversary" (2007), "I just kind of fell in love with it. It just seemed so cool, to see her swinging and climbing, rocking those pistols, looking badass, just so awesome," he said.
Starring five Suffolk film students, the production follows the inspirational heroine Croft, played by junior theatre major Sam Fagone as she seeks to recover three artifacts before supporting characters Trent, played by junior film major Sam Deans, and Hawes played by sophomore theatre major Kaleigh Ryan, can retrieve them. Croft receives help from the inexperienced and clumsy Avery, played by sophomore theatre major Will Grubb and her butler, Winston, played by sophomore theatre major Justin Peavey. Adding to the number of obstacles in the recovery of the artifacts, Croft and Avery come into conflict with several Guardians, also portrayed by Deans, Ryan and Peavey of the ancient locations she visits.
Lara Croft as a character is recognized as a strong, independent adventurer and the writing for this play holds true to this character model, as Sam Fagone sprinted around the stage wielding two very shiny pistols as Croft's weapon of choice.
Smith described himself as an intense supporter of women's equality, which he focused on in the show by flipping the stereotypical roles of the man and woman in action-adventure stories. In the play, Croft is accompanied by Avery, who Smith described as, "basically the damsel in distress," as he is constantly in need of Croft's help.
Due to external issues regarding scheduling amongst cast members, Smith recalled some difficulties in following through with the suggested meeting times for working on the production. This forced Smith to "make up the schedule" as the weeks progressed forward in order to ensure that the production would be finished on time.
During the casting process, Smith faced several issues, including the need to recast the role of Winston, as well as three actors cast for the role of Lara Croft. The original choice for the role of Lara Croft dropped out shortly after her casting, and within the same week the second pick dropped out as well. Smith then came to Fagone, a choice that Smith described by saying, "I don't feel like I settled at all, she's really taken a lot of initiative with this, she's asked me questions, she's tried to arrange stuff, I never felt like I had to make her do anything, we were equally invested in the process."
Using very simple images projected onto the backdrop behind the stage, as well as a few unique props, the play explored several locations, including the Czech Republic, Greece, Italy and Portugal, all of which felt like different settings on stage. One audience member, senior sociology and theatre major Olivia Lowe, said that for her, the set and costume design were the most impressive features of the show, as she could tell that there was a lot of thought put into it, and that it must have been very time-consuming.
Leave a Comment
About the Contributor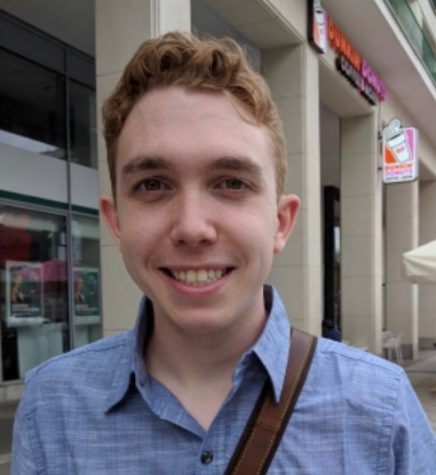 Kyle Crozier, Former News Editor
Kyle is a senior environmental studies major from Rhode Island, and has written for the Journal since 2017. When he is not covering science events in and around Boston, Kyle is working to pursue a career in urban sustainability and possibly attend Grad school. He loves animal facts, Poland, and animal facts.