Students, staff race across Boston Marathon finish line
In 2013, Haley Erickson was watching a live broadcast of the Boston Marathon. When Erickson, a Suffolk University Police Department systems administrator, saw the live video of two bombs exploding at the finish line, she decided it was time to start training to run a marathon herself.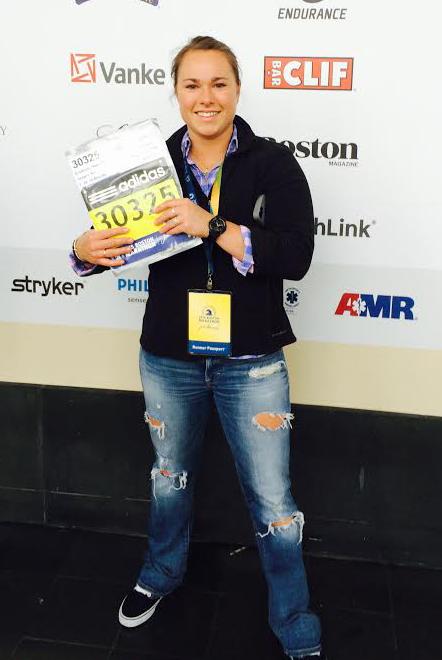 "Before this, the farthest I've run was 13 miles. It's been about pushing myself. I run for those who can't. It's such a great experience and I'm going out of comfort zone," Erickson said.
The 119th Boston Marathon brings together prestigious international athletes annually. It also draws members of the Suffolk community to the 26.2 mile-course that starts in Hopkinton and ends on Boylston Street.
Senior Matthew Durkin visited the finish line on Boylston Street every day the week prior to his first ever marathon, and said he felt positive energy radiating during a moment of silence held on Wednesday, the second anniversary of the bombings.
To be at the finish line "was extremely eye-opening and life changing I am so honored to be running with these people who have endured so much pain and struggle," he said, referring to the athletes who were running the year of the bombings.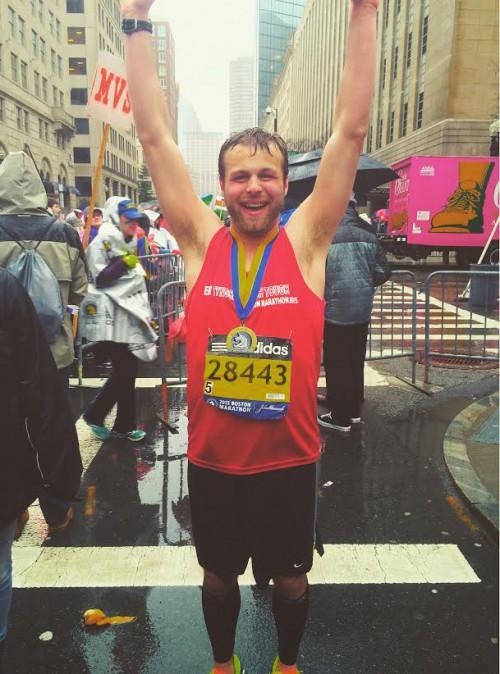 Durkin said running the marathon has always been one of his goals.
"My dad ran it 20 years ago, my aunt ran six times and qualified three times. I had a childhood of always going to the marathon. I would always tell my aunt I wanted to run," said Durkin.
Training for the marathon, Durkin said, was especially challenging because of Boston's record-breaking snowfall. His practice runs did not stop during the winter's cold winds, rain, or snow, he said, which even made his watch and phone shut off from the frigid temperatures.
Sticking to a clean diet was a challenge, and although he already ate healthy, being in college while preparing for a marathon has been a challenge.
"I've been eating very clean that has been extremely challenging. That and managing my time. Eating in the dining hall, as much as Sodexo helps, it doesn't," and although Sodexo now provides healthier options, it is typically fried foods that are served late at night, he said. "My dad told me, 'Listen, it just shows you can't mess around. I know you're eating healthy, but everything you're eating now is fuel for the marathon.'"
Participating in the 2015 marathon has come to mean more than just running 26.2 miles for senior Jake Iannuzzi.
"It started out as a personal thing, and as I've been training, I realized who is supporting me. My family, loved ones, and the spirit that you get in terms of connecting with people," Iannuzzi said.
Originally from New York, Iannuzzi set a personal challenge for himself to run in the Boston Marathon before he graduated.
To prepare for 26.2 miles, Erickson went for runs each week through Boston even when sidewalks were often not shoveled in the suburbs.
"It's pretty simple, eat healthy, sleep and drink.  I was one of those people drinking a gallon of water a day on campus," she said.
Erickson hopes that by participating in the marathon, she will see the postive outcome it brings to families affected by the 2013 bombings.
The convicted Boston Marathon bomber, Dzhokhar Tsarnaev, is facing the death sentence for the attacks that killed three people and injured more than 260 others.
"I have my own personal views, but I hope for the people involved [that] it hopefully gives them closure to the events," and the sense of community that came after the attacks is what should be celebrated, Iannuzzi said.
According to Gerard Coletta, chief of the Suffolk University Police Department, while the department is not directly involved in marathon security, SUPD increased the number of staff on Monday. The Boston Police Department also issued a release to universities listing precautions the city is taking, such as an increased number of uniformed and undercover officers and cameras along the route.
Not only are Durkin and Iannuzzi taking pride in being prepared for the run, but in the charities they have raised money for. Durkin started "Team Tyngsborough Tough," a fundraiser that will donate proceeds to Connor Flanagan and Jack Trottier, friends from his hometown in Massachusetts. Flanagan was diagnosed with cancer as a 5-year-old, and Trottier was in a snowboarding accident that left him paralyzed from the neck down.  Iannuzzi has planned to run for the ALLY Foundation, which works to end sexual violence and promote awareness in the United States.
Once the runners pass the finish line, they hope to continue the sport. Erickson said she has already signed up for 5K races, and will try to run in half marathons in New Hampshire and in South Boston.
"I've heard from a number of people that once you do it, you want to do more. I just wanted to do this one, but we'll see," said Iannuzzi.
Durkin plans on making his next Boston Marathon a sentimental one.
"I decided this morning, I definitely would want to do this again when I'm 25 for the 25th anniversary of my dad running the marathon."
Leave a Comment