By Maria Baluch
Suffolk sophomore Shavanáe Anderson remembers drawing an apple for the first time in 1998.
That introduction to art was bolstered by the inspiration she found in the graphics of a biology textbook her mother used in high school. Later inspired by diagrams of skeletons her mother drew in the text, Anderson, now a film studies major, decided to try her hand at creating art.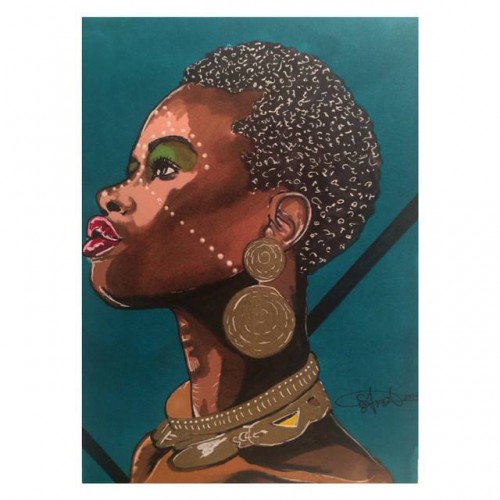 "She's not an artist anymore but I came across the book with bright red and blue pen drawings of skeletons and I think that's when I said I want to aspire to be my mom and to be an artist," said Anderson, 19.
In addition to introducing her to art, Anderson's mother has always  supported her, equipping her with the supplies she needed to create her paintings.
However, it wasn't until January of last year, after receiving professional art pencils and markers, that Anderson drew a picture of herself and realized her passion and talent for portraiture.
"I've never done portraits before in my life and literally the next day I was drawing [professional-size] portraits and that's how it developed. Within six months, I was getting better and better," said Anderson, who works with various mediums, from colored pencils to copic markers.
Anderson said she's usually a "confused person" when she begins a portrait. Instead of having an exact idea of what she's going to create on the canvas, she starts by drawing just the facial features. When she sees colors that work well together, she adds other elements along the way until it all comes together.
Although she doesn't have a real-life muse, Anderson is inspired by the work of other artists. As a native of Jamaica, she is especially inspired by the beauty she finds in African-American women.
The feedback she has received on her work has been mostly positive and she likes to surround herself with artists who she draws inspiration from or who are inspired from her because they encourage her to keep going.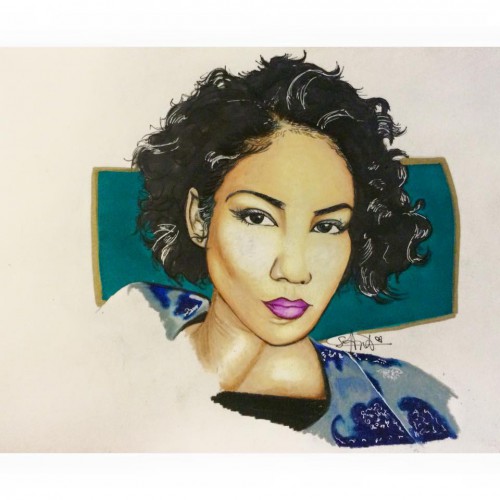 Anderson's portraits mainly depict women which she considers her way of advocating for feminism. One painting, entitled "Power and Strength," depicts a profile view of an African woman and a lion, displaying her interpretation of strength.  According to Anderson, the woman facing the lion is, in a way, saying, "she's not afraid of anything."
For Anderson, the best part about painting is seeing what she can do and how far she can push herself. Even if she doesn't understand where she's going when she first starts a painting, she never abandons the idea. She likes to take on big projects and when she starts them, she focuses only on her art.
"Usually when I start, I say 'oh I don't like it' but something is going to come out of it and I like that there's a meaning behind my work. I just never give up," she said.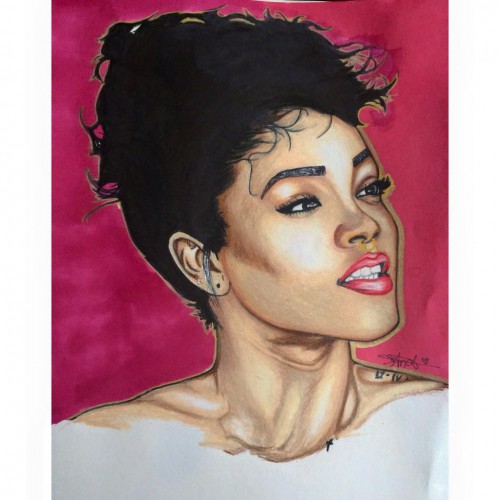 Art is also a way to relieve stress for Anderson, and is her method of procrastination. Whenever she doesn't want to do schoolwork or if her mind is off focus, she likes to paint to center her thoughts, or as she calls it, "tunnel vision." When she paints, she doesn't worry about anything else and her mind is put at ease. After painting, she says she can take on a three-page paper easily.
Anderson has been displaying her art through social media, including her Instagram page Shavs_love_of_art. She hopes to have an art show at home in Jamaica over the summer and start a business of painting portraits for tourists who visit the island, as long as they trust her "inspiration and talent."
She also sells her original paintings and prints on her website artmelodies.bigcartel.com. Prices vary according to sizes, which start from 8.5 x 11.
As for her future goals, Anderson has always wanted to use her art, along with film, to help raise funds for children in foster care, especially since she has gone through foster care herself.  She hopes to bring awareness for those children and raise money to help them pursue an education.