No GNAC trophies, but plenty of honors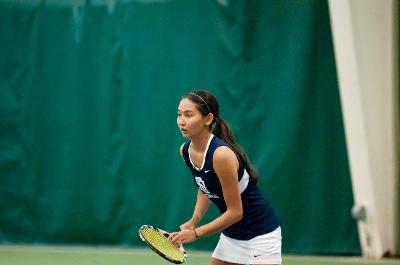 There will be no shiny trophies for Suffolk University this fall season, but plenty of honors to go around.
No team at Suffolk had as much success as the Lady Rams tennis team.
After their elimination in the GNAC semi-finals, the Lady Rams still managed to walk away with a solid team record and some awards.
Rising star and sophomore Aidiana Sagyndykova won the highest honor in the GNAC by being named Women's Tennis Player of the Year. She won the honor by coaches' votes across the conference, according to the GNAC official website.
Courtesy of Suffolk Athletics
Sagyndykova lost her first match of the season, but finished the season 13-1 overall in singles matches going undefeated after her first loss. According to Suffolk's athletic website, she tied the modern record for most singles match wins.
The Lady Rams tennis squad received All-Conference honors as well, with the Player of the Year Sagyndykova earning first-team honors. Teammate Becca Eshoo was named as one of the second-team selections.
Eshoo played mostly as the No. 3 singles starter, but also assisted in doubles wins by playing with multiple opponents as mentioned in a previous profile in the Journal. The junior is anticipated to move up to No. 2 singles next season.
Senior Adrianna Garrett earned a spot on GNAC's All-Sportsmanship team. In a previous interview, Eshoo referred Garrett as a "great leader," so it appears this honor is well deserved for the only graduating player.
Women's tennis had the most success of any Suffolk team in the fall season, but other teams show promise looking ahead to 2015.
The women's soccer team (5-9-3) was dismantled by Lasell College (15-4) in a GNAC quarterfinals rout, 7-0. Seniors Lisa Gambale, Katharine Cote, Hannah McNulty, Lauren Spencer, and goalkeeper Melissa Brouillette will be major losses for the Lady Rams in 2015.
Young players like points leader Jessica Harmon will have high expectations to lead the team next season.
Men's soccer fell to Norwich 6-2 in the quarterfinals to close out its season, and will lose eight graduating seniors in 2015. Alex Bittan, Ben Daniels, and goalkeeper Nicholas Chamma are all returning.
Suffolk's volleyball team failed to make the postseason, but will get to see the growth of outstanding freshmen Krista Iacobucci and Jane Buckley. Yabriela Perez will also have a shot to lead the Lady Rams in 2015 for her senior year.
Men's golf placed fifth in the GNAC tournament, with senior Tim Benedetto earning second team All-Conference honors. His stellar performance in the championship tournament placed him sixth among 40 players according to Suffolk's athletic website.
Men's cross country finished sixth among eight different schools in the GNAC Championship, and women's cross country finished last. While the men's team was a mixed bag of upper and lower classmen, women's cross country featured six underclassmen on their nine-runner roster.
The cliché is that "you can't win them all," but each fall sport should be prepared to practice hard and improve for the 2015 season since all the squads have such young talent.
Leave a Comment