It is safe to say that being a student-athlete at any university is a difficult task. Between classes, homework, practice and games, it makes for little free-time.
But in the rare phenomenon of being a multi-sport athlete at a university, this lifestyle is even more amplified.
In the case of senior McKenzie McGrath, sophomore Dakhensey Marcellus and freshman Julia Hunt, being a student-athlete in multiple seasons is a way of life; what was once considered a leap of faith is now a reality that is fully embraced by all of them.
McGrath, a captain for both the golf and softball teams, began her collegiate career as only a softball player. The then-freshman had no intentions of adding a sport to her resume, until she was made aware that the university was adding varsity golf, she explained.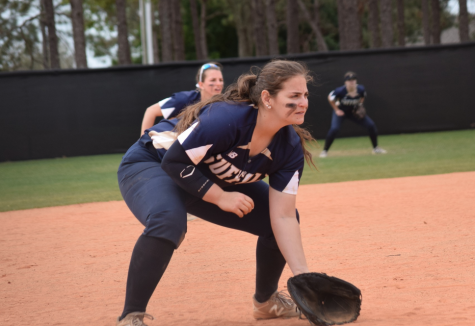 McGrath was ironically informed of the golf team by softball head coach Jaclyn Davis. Davis texted McGrath and told her the university was adding a women's golf team, aware that the then-sophomore had played in high school. Davis got McGrath into contact with head coach Jay Parker and joined the team shortly after.
"I figured it was another opportunity and was something that I couldn't pass up," said McGrath in a recent interview with The Suffolk Journal. "I never doubted that I would be able to play two sports at the same time because it is something that I am used to. In high school I played on three varsity teams. I was constantly busy year round."
McGrath explained that the fall season is where she is mostly found juggling between each sport, as both golf and softball are underway for their respective fall campaigns.
"There were some days where I would go from class, to softball practice, and then to golf practice right after," said McGrath.
Despite winter practices and lifts for golf, McGrath is mostly absent. Between conditioning and afternoon practices for the upcoming spring softball season, there is little-to-no time for golf.
McGrath believes that playing multiple sports has benefited her academically, as it has given her strong time-management skills off the field (or the green).
"I'm always busy with a practice, workout or a game, so over the years I've had to perfect my time management skills and how to balance academics with sports," said McGrath.
Marcellus entered the scene as a freshman having no recruiting for a single sport. Originally wanting to play volleyball, she walked onto the team, eventually working her way up towards becoming starting Libero.
Evidently, that would only be the beginning. Marcellus was hungry to play a sport in every season.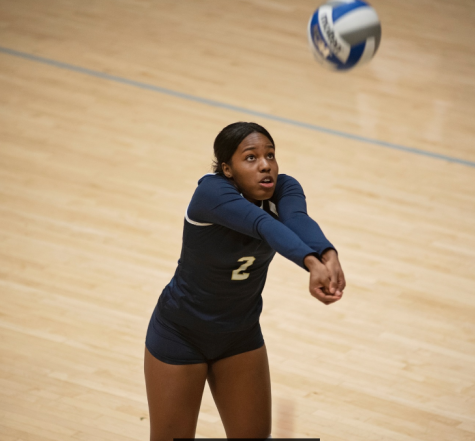 "In my head, there was no way I was going to settle for one sport [at Suffolk]," explained Marcellus in a recent interview with the Journal. "My whole entire life I've been juggling multiple sports at a time, so I wanted to continue this during college because these sports are what make my life. I know I'm only young once. There was never a doubt that I couldn't do it."
Participating in the 60-meter and 200-meter dash, Marcellus joined the track team her freshman year, filling out her winter and spring seasons. From zero sports on day one at Suffolk, Marcellus managed to tack on three in a short amount of time.
"
My whole entire life I've been juggling multiple sports at a time, so I wanted to continue this during college because these sports are what make my life. I know I'm only young once. There was never a doubt that I couldn't do it.
— Dakhensey Marcellus
"One season of a sport is like one third of the school year," said Marcellus. "So what would I do for the other two thirds to make me happy?"
Between a 16 hour work week after just obtaining a job, practices and class, she hardly finds herself with a lot of free time.
But much like McGrath, Marcellus embraces balancing practice and schoolwork, noting that any type of sport is a remedy to a stressful day of hitting the books.
"Sometimes in college you need a break, or a breather. You need to remember that your grades are everything, but you need to have fun at the same time," Marcellus explained. "After [practice], I'm motivated to conquer anything and everything."
Unlike Marcellus, Hunt was a highly recruited athlete coming from high school. The track standout was recruited by head coach Will Feldman during her meets in high school, eventually receiving a spot on the Rams.
Hunt also had a passion to play soccer at the school, so back in April, she sent in a recruitment form to Suffolk. According to Hunt, head coach Ashley Van Vetchen almost immediately got back to her showing interest. When Hunt was offered a spot on the team, she took it right away.
Before stepping foot onto the university, Hunt was a three-sport athlete at Suffolk.
Hunt did express her concerns with how things would play out upon arrival to the school.
"There was doubt in the beginning of summer because I learned about early morning practices and I wasn't sure how difficult college work would be compared to high school," said Hunt in a recent interview with The Journal. "However, I'd done three seasons of sports my entire life and figured I'm better off giving it a shot and seeing what happens than just quitting before I start."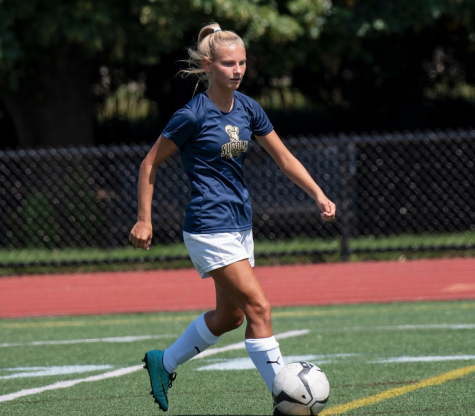 Hunt explained that the transition of soccer to track was difficult at first.
"It's very hard to switch gears. Soccer and track are very different sports and you need completely different styles of running. Ending soccer season, I was in perfect shape for a soccer game, however I struggled to run a track workout. But already being in some form of shape helps make it easier to adjust," said Hunt.
Though adjusting to the different sports may be tough at first, Hunt is not letting that get in the way of her school work.
"I've never been a student to not do my work, so I have never been behind on work. The coaches make sure that school is the priority. Academics always come first," said Hunt. "Also, playing sports actually keeps me on a schedule all day and [helps] me procrastinate less because I know I have less free time to get my work done."
Though Hunt had her worries and struggles at first, she's found her way. Hunt has no regrets about being a three-sport athlete and is ready with with what will come her way in the upcoming seasons.
"I've made my best friends from my sports teams and I'm so glad I made the decisions [to play three sports at Suffolk]. I played sports my entire life and I knew I wouldn't be the same if I didn't continue in college so I was very excited to see how college sports would turn out."