The Suffolk University men's golf team capped off their fall season on a high note as three players took home All-CCC honors.
This comes after the team's effort at the Commonwealth Coast Conference championships in Grafton, Massachusetts, Oct. 19-20. The Rams' showing earned them fourth place in a field of nine teams. 
Seniors Vijay Sakuru and Cameron Sinopoli took home first-team All-CCC and second-team All-CCC, respectively. This is the second consecutive year both golfers have been awarded those accolades. 
The final Suffolk golfer recognized was sophomore Christopher Sinopoli, who was named to the third-team All-CCC. This is his first All-CCC accolade. He is the younger brother of Cameron Sinopoli. 
Although he was a little surprised, Christopher Sinopoli was pleased with his accomplishment because it showed his dedication to the game. 
"It means a lot to me because we all put in the effort to go practice every day. It's great to get this honor because it shows you put in the time and it's not just handed to you," said Christopher Sinopoli.
The three All-CCC awards set a program record for most in a season, surpassing last year's total of two when Cameron Sinopoli and Sakuru won. Since the program's transition to the CCC prior to the 2020-2021 season, eight golfers have won All-CCC awards. 
Cameron Sinopoli, who has been a captain since his sophomore season, has recognized the evolution of the team as they add more talented players. 
"One thing that has changed over the last two years specifically is my expectation of what the team can do on the course. I feel like we've had a lot of talented kids come in so I expected the team to be in it in some of these tournaments. We didn't win anything, but we had a lot of growth in that area. We proved to a lot of teams and other schools around that we're right there with them," said Cameron Sinopoli. 
He said he felt a couple of his teammates deserved recognition this year, specifically junior Jake Zirlin. 
Along with the addition of new golfers into the program at Suffolk, the team also hired head coach Ken DiMaggio. Five of the eight All-CCC awards Rams golfers have won since moving to the conference have come under DiMaggio's leadership. 
Cameron Sinopoli has a lot of respect for coach DiMaggio and emphasized his appreciation for the commitment he has to the group.
"He cares about the group, which to me is the most important thing. I think having someone that cares makes it easier to go play for him and have him be the coach. On the course, he knows what he's talking about. He's been around the game his whole life and is a great player himself. We know we should listen to anything he has to say because he's usually right," said Cameron Sinopoli.
Christopher Sinopoli said DiMaggio has been a great resource for him and has really helped him with the technical side of the game.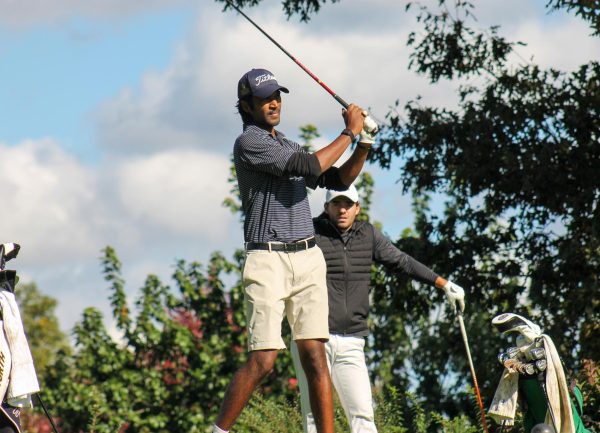 "He's really helped me with my swing. There were parts of my swing that I didn't know were wrong or could have been improved upon and he really helped me at practice with that. I feel like that showed during the tournaments. He also really helped me with my putting because that's always been a weaker part of my game," said Christopher Sinopoli.
Christopher Sinopoli has also used his brother Cameron as a resource when looking for some guidance or reassurance on the course. 
"I do feel more comfortable going to him, specifically. I've played golf with him my whole life so it's fun to go out there at tournaments and play on the same team, even if we're not in the same group. If we see each other on the course we'll talk for a minute and if he sees I'm struggling he'll tell me, 'Just keep going. You'll be fine. It's going to get better,'" said Christopher Sinopoli. 
Cameron is extremely proud of Christopher and said he's excited to see where all his potential takes him.
"I'm his biggest fan, I'm always pushing for him. To see him get recognized that way, I'm extremely happy for him. He's my brother so obviously I wanna see him do well in everything he does. We played together in high school and he played really well there so I'm happy to see him come into his own here at school and take that next step to be a leader for this team," said Cameron Sinopoli.
Cameron also said he hopes Christopher can use this as a confidence booster into the spring that helps the team reach that next level. 
The Sinopolis, Sakuru and the rest of the Suffolk men's golf team feel they have all the pieces and it's just a matter of putting everything together. Belief is high amongst the group that they can make an impact on the second day of tournaments.
The Rams will start back up in the spring. Their schedule will be released in 2024.