Suffolk University held its first annual "Recognize Rams" event April 21. The CCC Champion women's hockey team and cross country teams, along with the Frozen 8 champion women's indoor track team, were the subjects of the celebration.
Sydney Fogg and Natasha Savage, of the women's track and hockey teams respectively, spoke to attendees about their team's successes. SGA President Angela El-Jazzar and Suffolk President Marisa Kelly also spoke to congratulate athletes on a year of success.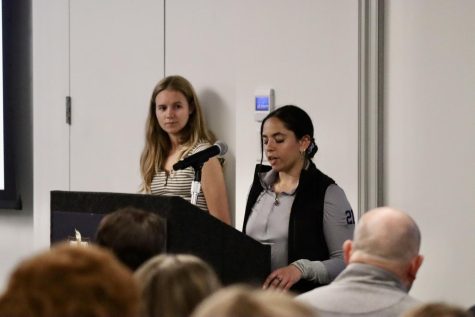 Suffolk Director of Athletics Cary McConnell said this was the first of what will be an annual event honoring excellence in Suffolk Athletics.
"It's been a commitment by the university, whether it's on full-time coaches, better facilities, just more investment, and now you're seeing the fruits of that," said McConnell speaking on the surge in success in Suffolk Athletics. "The teams are getting better, they're more competitive." 
Suffolk Athletics saw an unprecedented level of success this academic year, with two CCC Championships from women's cross country and hockey, a Frozen 8 Conference title from women's indoor track and a trip to the NCAA tournament from women's hockey. 
In addition to championships, Suffolk had a CCC runner-up in men's soccer and a double runner-up from the men's runners in cross country and at the Frozen 8 championship. Suffolk athletes have taken home dozens of CCC athletes and rookies of the week titles, in addition to an All-American selection in women's hockey's Madison Duff, along with her teammate Shana Cote, a repeat CCC player of the year. 
El-Jazzar said the success of athletics can largely be attributed to its support from the student body.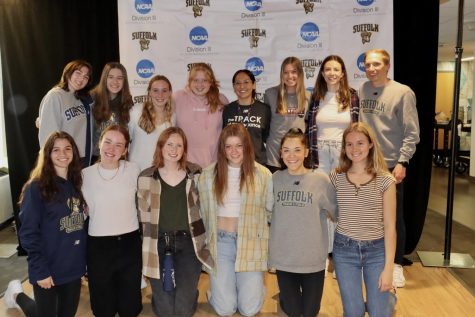 "The pandemic really made us realize how much life is worth living," said El-Jazzar. "Everything came down to the community and that's what I saw within the athletics program but also our student body, coming together as a whole to make things like this possible. It shows the commitment students have to one another and the community we've built." 
Many attendees spoke of the women's hockey championship and the environment students created, including Kelly and El-Jazzar.
"Our women's hockey final was one of the best sporting events I've been at while at the University," said McConnell. "I believe Angela used 'lectric' as what the atmosphere was like. It was a hard-fought game but the crowd was into it and the chants of MVP, it was a fun night for everyone involved." 
Follow JD on Twitter @jdconte617