The men's and women's cross country teams have had fast starts to their 2023 campaigns.
The Rams' most recent meet came at the Bates Invitational in Auburn, Maine. Despite a postponement that pushed the meet from Saturday to Sunday, both squads persevered and had successful showings.
The men's and women's teams took home fifth and fourth place respectively against a field of schools all featured on the most recent U.S. Track & Field and Cross Country Coaches Association regional ranking. Men's captain Kely Maloney and women's captain Sydney Fogg were both pleased with their teams performances. 
"The team had a good day. I think we exceeded expectations. We beat some teams that were ranked above us in the region so I think that's good going forward," said Maloney. 
The men beat out Colby College, who were seventh in the week one regional rankings, by 14 points. The women beat out 9th ranked Colby by 19 points, and 6th ranked Bowdoin by 29 points. Fogg also noted that head coach Will Feldman said it was "the best race they had ever had." 
"I think it was a confidence builder for everybody individually as well as collectively," said Fogg. "We proved to ourselves that we're able to play with the 'big dogs.'"
The performances by both the men's and women's teams did not go overlooked, as both teams saw improvement in their regional rankings. 
The men's team ranked seventh in the most recent poll, jumping up one spot from the previous  ranking and tying a program high in the ranking. Maloney indicated this was a strong position for the team to build on where they could still keep their season-long goals in mind.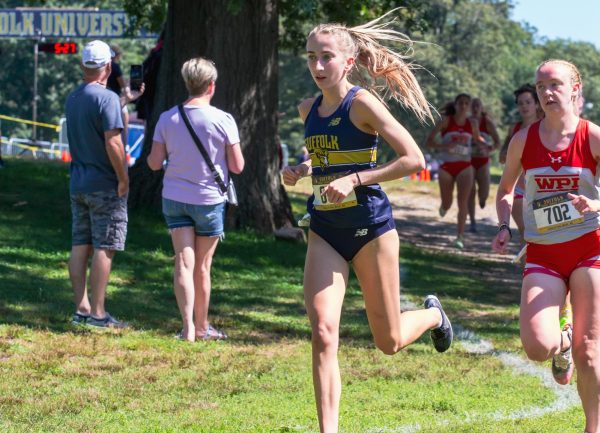 Staying focused is key, but Maloney also emphasized the importance of recognizing those accomplishments. 
"You don't want to ignore it because that's not life. You should be proud of your accomplishments but just realize there is a bigger goal at the end of the season," he said.
The women's team also came in at seventh in the ranking, which was a historic moment for the team as it marks their highest position ever. Fogg was delighted with the ranking, and she believes it shows how far the program has come. 
"We sort of have that underdog mentality sometimes. Before the past few years…we weren't really on the map. We had some great individual runners in the past, but we've really built up a strong team over the past few years," said Fogg.
Both captains also mentioned it is a great recognition that their hard work is paying off and will be a confidence booster to carry through the season. The Rams were the only teams from the Commonwealth Coast Conference to make the regional ranking.
Both captain's have strong belief in their groups and acknowledged key mantras that keep everyone focused on their goal. 
"With running a lot of it is just being consistent. We have a saying that we've been using: 'consistency creates champions.' We've been looking to that and trying to follow that," said Maloney. He added this mentality has applied to everything the team does, from lifting right to recovering sufficiently. 
Fogg mentioned something the women's team remembers while racing to help give them that extra effort. 
"When it gets hard, and it feels like you can't keep doing it for yourself to start trying doing it for each other," she said. 
She added that this is the hardest working group of athletes she's worked with and they have the potential for great success. Each captain also noted the camaraderie of each team and how their support for each other is important for staying together through a long season. 
Looking ahead, both teams will be traveling to Eau Claire, Wisconsin, to compete in the Blugold Invitational on Sept. 29. The invitational will feature nearly 40 other schools across the country, which provides a great opportunity for each team to see where they stand. 
The Rams teams will seek to carry their momentum from a successful weekend in Maine to Wisconsin, and through the rest of their year.