Massachusetts legislators signed a law in 2011 permitting three new casinos and a slots parlor to be built across three different regions in the state.
On Nov. 4, residents of Massachusetts will have a chance to either overturn this law or vote for it to come into effect. Because of the way the question is posed on the ballot, voting "yes" will mean voting against casinos and the slots parlor, and voting "no" will mean voting for it.
The most recent installation of Ford Hall Forum took place Thursday at Suffolk Law School, and was focused on the subject of casinos in the state.
The event was held in partnership with Suffolk Alumni Association during Homecoming Weekend, and was a gathering to discuss both sides of the casino debate. The debate presented different sides of the economic and social impacts of casinos in Massachusetts.
President and COO of Metro-Goldwyn-Mayer Springfield Michael Mathis, Founder and former CEO of Codman Square Health Center Bill Walczak, President of Mass Building Trades Council Frank Callahan, and Former Attorney General Scott Harshbarger, were on the panel moderated by Father Richard McGowan, economics professor at Boston College.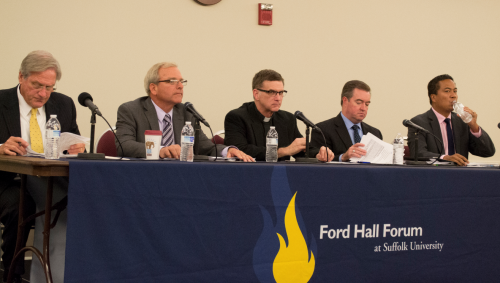 Harshbarger and Walczak are against casinos in Massachusetts, Mathis and Callahan are for them.
Harshbarger started the conversation, making a case against bringing casinos to the state, saying that as attorney general in the 1990s his primary responsibility was "to make sure that all industries played on a level playing field and did not achieve their objective by … unfair practices."
Harshbarger said the possible consequences will include the saturation of the northeast and economic bankruptcy, cannibalization of the Massachusetts lottery and local businesses, addiction in communities.
"In my view, this is like Lay's potato chips. You can't have just one. And we are not going to have just one … We will have at least three," Harshbarger said.
He referred to the fight for and against gambling as "David versus Goliath," and said, "The issue of expanded gambling is never triggered by a grassroots movement to let people take your money."
Most spoke up in protest of Scott Harshbarger's words. Before the event, there were demonstrators outside of Suffolk Law School holding up "vote no on 3" signs.
Callahan said, "There is more than just money in this race, I represent skilled craftsmen and women." He disagreed with Harshbarger's grassroots comment, and said that this movement was generated by the grassroots.
Those are not temporary jobs, those are good jobs where people pay their bills, support their families, and they need those," said Callahan.
Later in the conversation, Walczak read out loud the mean wage statistics for the most common job working in a casino: a gaming dealer. According to the U.S. Bureau of Labor Statistics, the figure is $20,890.
Callahan said Boston is not trying to be like Atlantic City, and put all of its eggs in one basket. It will still be a market for industries like academia, innovation and technology, and casinos would be just another industry, he said.
"This is the only initiative that addresses the 62 percent of Massachusetts residents who don't have a college degree … They deserve to have jobs at good wages, with good training …with good benefits, with health insurance, with dignity, a retirement where you can retire with good pension," said Callahan, "It's working for everyone, not simply those with lab coats and Ph.D.s."
Walczak said he has been working all of his life helping people with limited means achieve their success. He said, "There is a great draw in low-income communities towards gambling."
He spoke about the predatory nature of casinos, and how they purport an image of glamour, when the reality is most games are rigged to steal from citizens.
"The public health world teaches one thing, which is try to prevent harm from coming in," he said. "We need to make sure we are not providing an opportunity for people to come in here, create casinos, and take away the money that's currently being used."
He referred to it as a "phony economic strategy," and urged Massachusetts voters to "think about whether we really want to bring in the kind of corruption that we already know … every week there's a new indictment."
Mathis said, "We don't believe it's David versus Goliath, we believe it's people with jobs versus people without jobs," and gave an anecdote of how MGM came to Springfield. He said it was still unclear to him why they weren't building at that very moment.
A number of Everett and Somerville citizens asked what bringing a casino into their community would do to for them. Mathis and Callahan maintained that local communities would be fine.
A quick scan of the crowd showed many wearing "vote no" and "Protect Mass. Jobs" buttons.