TWLOHA Suffolk show attracts local student musicians
On Thursday, April 3, To Write Love on Her Arms held its second annual open mic night where different performers got to share their talents while also raising awareness on self-harm and bringing people together to openly communicate and hopefully eliminate the stigma associated with self-harm.
TWLOHA Suffolk chapter president Sunny Shannonhouse spearheaded the event. She contacted the different performers and collaborated with SLI, specifically Nicole Dygon for funding of the event and to arrange the chairs and decorations for the program.
Shannonhouse also had to screen some of the performers' playlists to avoid triggers for some audience members who are susceptible to them.
"[It] is primarily about bringing community closer together" said Shannonhouse.
The show began with Shannonhouse showing a video that encouraged the audience to stop the stigma and stop feeling alone because everyone in the room and maybe even in their own social circles, feel the same way.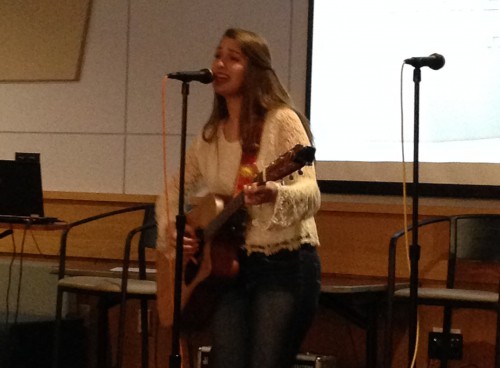 She then shared what she wrote for TWLOHA's eighth anniversary. She talked about how she supports and loved the organization but understands that it has its faults but no matter what she still loves it.
The first performers were Ellen Tomlinson and Frank Taylor. Tomlinson is a sophomore striving to earn a double major in political science and environmental studies, while Taylor is her friend from the Berklee College of Music.
Tomlinson had previously performed for the inaugural open mic night and co-sponsored last year's event. She used to perform in high school but has not performed as much recently and she feels that the event is a great opportunity for people who love to perform but don't necessarily have the chance to do so.
Tomlinson and Taylor performed cover versions of Still into You by Paramore, Your Song by Elton John, and Pompeii by Bastille, but stole the show with Elton John's classic.
The next performer was Andrey Kozlov, a sophomore majoring in both global business and marketing. He performed covers of four songs, Daft Punk's Get Lucky, Coldplay's Charlie Brown, Plain White T's' Hey There Delilah, and Elvis' Blue Suede Shoes.
Kozlov taught himself how to play guitar by watching youtube videos and constantly practicing and even performed in the streets of Quincy Market and is an individual who just wants to "share his talent with people."
Then came Gene Shavely III who performed a Switchfoot song and his own original songs, including one he wrote about a girl he was seeing at the time which he described as a song he is unsure of but his friends seem to constantly tell him to play the song at events.
Tom Lloyd Freeman, who uses the stage name "Covey" was next to perform, he played a cover of one of Drake's songs and his very own single Comes and Goes, which is apparently now on iTunes. He came to the event with his manager and mentioned that the reason he chose to perform was that he loved the ideas of To Write Love and that he would do any show citing that he was messaged on Facebook to perform. (However, he did leave immediately after his set.)
One of the three Suffolk students performing for the event was Daniel Sena, an accounting major. Like, Shavely, Sena performed original songs that were about his girlfriend and Switchfoot's The Moon is a Magnet.
"In my perspective, this event isn't trying to turn everything around in one day." Sena said, in an interview after the event. "Sometimes people just need to get out of their rooms and get some pizza while listening to people play music with their friends. It lets you know that you're not alone in your struggles no matter what they are."
The final single performer was Rebecca Roth, a student from Berklee who was told by the manager of a friend to perform for TWLOHA and she also praised the organization for its efforts to raise awareness.
The last performance was a combination of Sena and Shavely and they capped things off with Lorde's Royals.
To end the night, Shannonhouse shared this "You will always be perfectly imperfect just the way you are, wherever you are. Instead of berating yourself for falling short, give yourself credit for making progress. Grow as you go. Let go of how things should be so you can see all the great possibilities in front of you."
After the event, Shannonhouse thought that the event was a success and raised more money than last year's.
Leave a Comment