Music and Comedy Highlight Valentine's Day Celebration
Students gathered in the basement of 150 Tremont St. on Friday, Feb. 15 to attend performances by student groups at Suffolk and much more. The "All You Need is Love – Valentine's Day Carnival" was considered a success by many as Suffolk students took part in various activities Friday night from 7 to 10 p.m. Hosted by several Suffolk organizations, the evening was filled with fun activities.
Starting at 7 p.m., Suffolk's own The Guilty Sparks played their first full show, aside from an open mic night in the 10 West dorm building last semester. Consisting of four members, with Nick Aikens on piano and vocals, Luke Beramini on guitar, Nico Renzulli on drums, and Sean Egan on bass, The Guilty Sparks rocked out almost an hour and played almost a dozen songs – all to great enjoyment of the full-room audience.
Starting two original songs, and adding several more later on and throughout the rest of the concert, The Guilty Sparks continued with their own twist on popular songs like Adele's "Rolling in the Deep," Taylor Swift's "Trouble," and the Rolling Stones' "Sympathy For The Devil." The audience seemed impressed with their performance and the talent.  The 45-minute show was packed to the point that there was standing room only.
Sean Egan, the bassist for The Guilty Sparks, said he was surprised by the "full house" but considered the audience "a great crowd." He mentioned that it went really well, as he was impressed not only by the attendance but also in the level of performance that he and his fellow band members played.
Egan, who has been playing in bands for five years, says that The Guilty Sparks auditioned for and are hoping to be part of Unity Week. On the school's website, Unity Week is described as "Suffolk University's annual celebration of diversity and community. It is a collaborative effort by students, faculty, and administrators and has traditionally consisted of entertainment, speakers, dialogues, open classes, food, and music."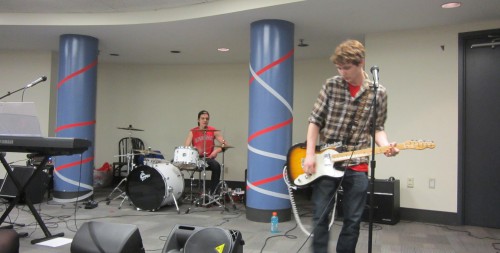 Egan, who is also a freshman SGA senator majoring in political science, also stated that this was his "last show with the band, but they are recruiting a new" bass player. At this point, the new bassist has been confirmed as Esteban Cajigas.
Molly Dudko, a freshman from Connecticut, said she attended the concert in order "[to] support my friend Nick [Aikens] and his band." Although she ended up sitting on a table in the back, Dudko says she had a great time.
For a first show, Dudko did not hesitate to say she "thought it was really good," and that she "liked some of their original stuff [since] it was really cool."
Dudko, a public relations major, said "I'm glad I went…it was nice to support my friend's band and I enjoyed the performance." She also added that she would recommend that people attend upcoming Guilty Sparks shows because "it was a fun and exciting show."
After The Guilty Sparks packed up their equipment and instruments, it was time for another Suffolk group to shine. This time, it was a comical one, rather than a musical one: the sketch comedy team known as Sketchual Misconduct. Their various skits, as always, got the audience cracking up and yearning for more laughs.
Aside from performances from two of Suffolk's talented student entertainment groups, there were other activities at the Valentine's Day Carnival, including a dancing contest, free food and drinks, games, prizes, and a BFF heart photo booth where friends and couples alike held onto either side of a big, cardboard heart and smiled for the camera.
The event was sponsored by the Suffolk University Residence Hall Association (RHA), the Suffolk Off-Campus Housing Office (OCHO), and To Write Love On Her Arms (TWLOHA). Overall, it seemed that the carnival turned out to be a big success as students left with smiles on their faces, food in their stomachs, and a night of some great music, great comedy, and great times.
View Comments (4)