Provost Barry Brown leaving Suffolk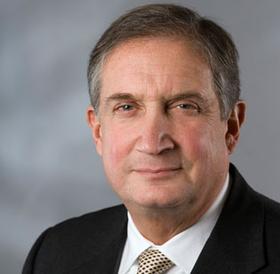 Provost Barry Brown is leaving Suffolk at the end of the semester to become the eighth president of Mount Ida College in Newton.
In an email to faculty and staff, President James McCarthy announced Brown's departure, confirming reports to the Journal that he would be leaving Suffolk. Brown will assume his new responsibilities on July 1, according to Mount Ida's website.
"Please join me in congratulating Provost Barry Brown… and in thanking him for his many years of dedicated service to Suffolk University," said McCarthy in the email. "Barry is a proven leader who cares deeply about education."
Brown became Provost in 2008 and stepped in as Acting President in 2010, after former President David Sargent abruptly retired. He returned to the sole role of Provost when McCarthy became president in February.
"Barry was appointed university provost in 2008 and in that role took positive action to stabilize the university's finances during a recessionary period," said McCarthy in the email. "He restructured the university's debt in a way that ensured stable credit bond ratings. He also successfully worked to increase student financial aid."
McCarthy also credited Brown with his efforts to "restructure the institution in the face of rapid growth while remaining attentive to the vigor of our academic programs."
The news of Brown's appointment as the new president of Mount Ida was front and center on the college's website and included well wishes from McCarthy and Suffolk Board of Trustees Chairman Andrew Meyer.
"We are grateful to Barry Brown for his tireless efforts on behalf of Suffolk University over more than three decades of teaching and academic leadership. Mount Ida College has chosen a dedicated and forward looking leader who works hard to make sure that students receive a high-quality education. We are proud to see Barry take on this new leadership role at Mount Ida," said Meyer.
Michael Burns, Mount Ida's Board of Trustees chair welcomed Brown to the school:
"We are delighted and honored Barry will lead Mount Ida College. Throughout his career as a professor, Provost and Acting President, Barry has helped students from all backgrounds achieve success in higher education and in their chosen careers. We know he will bring that energy to Mount Ida and build upon our potential as a New England college which combines the best attributes of a supportive, small campus with the benefits of the vibrant Boston community environment to lead students from potential to achievement."
A statement from Brown was also on the website:
"I'm thrilled to be joining Mount Ida College, an institution dedicated to providing students with a strong liberal arts and career-focused education to achieve their career goals. This is an exciting moment in American higher education. There is no better college to seize the opportunity to provide college age students from all backgrounds and circumstances with the tools to succeed as educated men and women. I share Mount Ida's mission and believe there is a strong need for institutions to deliver a challenging education with small classes, close contact with faculty and a reasonable tuition structure."
Asked by phone yesterday if he was leaving Suffolk, Brown declined comment.
In addition to news of Brown's departure, the Journal was also told by sources that one or more administrators from the Provost's office will also be leaving.
Interim Vice President of Marketing and Communication Greg Gatlin confirmed that "Several people will be leaving the university and beyond that it's a personnel matter."