The Common rocks out at the Hard Rock Cafe
As the opening riff of "Detroit Rock City," originally by Kiss, filled the Hard Rock Cafe's Cavern Club, it was impossible not to get up and move your feet.
The Common, Suffolk University's house band, performed Wednesday night for the first time since 2019 to an adoring crowd of students and family members at the downtown venue. 
The Common is composed of six Suffolk students: seniors Robbie Silva (bass), Alexa Majka (vocals) and Nick Shepard (drums), sophomores Kathryn Kilbride (keyboard) and Tyler Eld (guitar) and freshman Charlotte Weldon (guitar and trumpet). 
The Hard Rock Cafe provided a free buffet of chips and salsa, sliders and flatbread pizza for audience members to enjoy during the performance. 
The Common's set included a perfect mix of energetic anthems like Elton John's "Crocodile Rock" and classics like "Have You Ever Seen the Rain?" by Creedence Clearwater Revival. Majka's powerful voice carried every song with ease, and the band's joy while playing was palpable from how much passion they pumped into each song. 
Josh Ziemann, The Common's staff music director, attributed this energy to the lack of chances for students to play live due to the pandemic. The Common did not get to perform their annual show at Hard Rock in 2020, as the COVID-19 pandemic struck the country a month before. 
This fall was also the first time that The Common was able to hold auditions and practices since 2020.
Due to the nature of college, where students are constantly coming and going, The Common is never the same band twice. This can be both exciting and intimidating because there's always a possibility that there won't be enough members for a full band.
"At the beginning of every year, there's a moment where you're like 'I don't know if this is going to happen,'" Ziemann said. 
Luckily, The Common is a group of dedicated musicians, practicing diligently every Sunday since the fall to hone their set. Ziemann commended them for the incredible effort they put in.
"It's a lot of repertoires to learn, it's kind of a crazy amount on top of all the schoolwork and jobs. I'm super impressed with everything they pull off," Ziemann said.
Their hard work paid off, as the audience cheered and sang along throughout The Common's set. 
The band was perfectly in sync with one another, and each song showcased the members' talents. Silva's jazzy bass and Kilbride's keyboard were the perfect complements to Majka's smoky rendition of "Valerie" by Mark Ronson, famously sung by the late Amy Winehouse.  
Weldon traded her guitar for a brass trumpet to play Gnarls Barkley's "Crazy," with the bright tone and confidence of a seasoned player. Shepard's drum solo in "Godzilla" by Blue Öyster Cult was so impressive he split one of his drumsticks in half.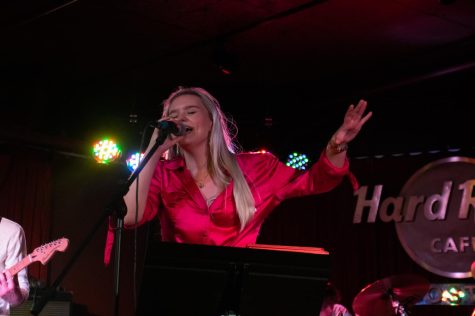 To end their set, Majka joked that they "couldn't find a high energy song to end on," and began to sing "Earth Angel," a doo-wop song by The Penguins. Before she could reach the chorus, however, Eld's screaming guitar interrupted her, and the band started to play "Johnny B. Goode" by Chuck Berry to close out the show.
The crowd went wild, clamoring for an encore as the band walked off stage.
Majka said the crowd's reaction made the performance even better than she had anticipated.
"I had so much fun. It was such a fun experience," Majka said.
With half of its members graduating this spring, The Common is looking for new bandmates to join next year. They encourage any students interested to audition in the fall, no matter their musical ability.
"Don't let fear hold you back," Majka said.
The Common's next performance will be at Springfest at the Royale on Friday at 6 p.m.
Follow The Common on Instagram for updates about future performances and auditions.
Follow Leo on Twitter @leowoods108.
View Comments (1)
About the Contributor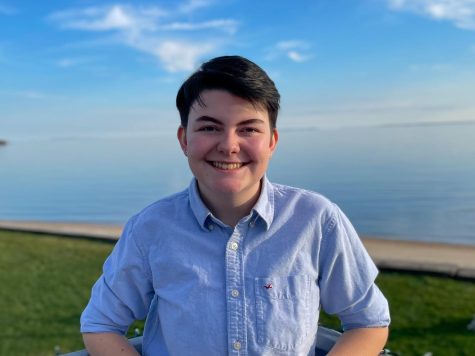 Leo Woods, Photo Editor | he/him
Leo is a junior political science major with a minor in philosophy from Clinton, Conn. When he isn't writing for The Journal, you can find him walking around Boston with his camera taking pictures of the city. He is passionate about politics, Mexican food, and Dungeons and Dragons. In the future, he plans on attending law school and permanently moving to Boston.
Follow Leo on Twitter @leowoods108