Jasmine Mohit: Student by day, rapper by night
Jasmine Mohit is a Suffolk University sophomore, criminal justice and history double major, statehouse intern and songwriter.
Mohit has released "Losing My Mind," on Spotify, SoundCloud and Apple Music, and has made her own music video for the song.
Mohit was inspired to get serious about songwriting her freshman year of college when a Suffolk alumnus and former SGA vice president, Oba Oseghali, opened for Tory Lanez at the university's 2019 fall concert.
"He was actively pursuing music and he is what actually made me get into it more because I saw him doing it and he was so welcoming," Mohit said. "That was the catalyst to push me to start." 
It wasn't until a few months later when Mohit was inspired to write her first song. She got the idea for it after listening to her friend's rap. Brady Dillis, also a musician, enjoyed practicing and writing in his home studio.
Mohit loved one piece in particular and Dillis gave her permission to use it.
Mohit worked with another Suffolk friend, Sung Hee Lee, to complete "Losing My Mind."
"I started thinking of lyrics and then she started thinking of lyrics. We kind of bounced off ideas and then all of a sudden we just wrote a whole song," Mohit said.
Mohit plans on releasing an album inspired by climate change and the environmental state of the world, something she's interested in. This album will be inspired by "Bring Me the Horizon," a band she looks up to.
Mohit has been passionate about music since she was very young, recalling journals filled with lyrics, typing some into her first iPhone's notes and recording them in her voice memo app. She is also very passionate about advocating for environmental problems in the country and would like to incorporate that passion into her music to make a change.
It has been a journey for Mohit and her musical career. Mohit wished she had known a few things when starting out.
"Don't try to please people," Mohit said. "Literally make music that feels good to you and that you like and you're proud of it because at the end of the day, I get it that you have to make music that pleases the fans if you want to go anywhere, but it's really not like that if it's what you love."
"The people out there who really resonate with it and love your music will support you,"  Mohit said.
Mohit's goal is to continue to write music and in the future hopes to use music to make a difference. Mohit would love to be in a position to make a change in a government career or in a musical one.
"If I can get to that point where I can shape people's minds, like that if it has to be through music that's fine by me if it's not by music then I'll just have to work my way up to those big positions to make change, but I am really big on helping people and making a real change for people that deserve it in this country," Mohit said.
Mohit hopes this passion will drive a change in others.
Mohit's music can be accessed through the link on her Instagram bio. Her music is available on SoundCloud, Spotify and Apple Music.
Follow Emily on Twitter @emilycSUCJN363.
Leave a Comment
About the Writer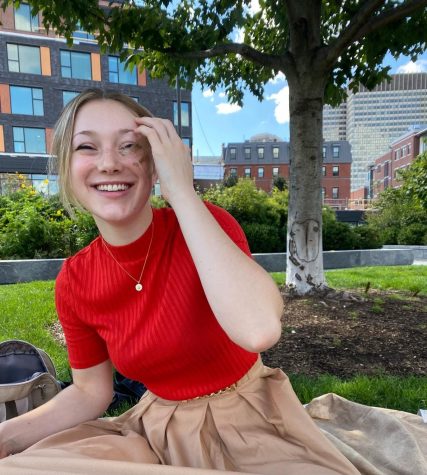 Emily Collins, Staff Writer | she/her
Emily is a senior majoring in print/web journalism and minoring in biology at Suffolk University. If she is not reading or writing, she can be found listening to music or spending time outside. Emily is also a member of Alpha Sigma Alpha and the Ramifications on campus. After college, Emily hopes to work as a wildlife journalist.
Follow Emily on Twitter at
@emilycSUCJN363
.