New portrait exhibit takes over the Suffolk gallery
Suffolk University Gallery's new exhibit, titled "Portraiture 1: Others, Mostly Painting," is giving students a chance to see creative, diverse perspectives through art until Oct. 31. 
This exhibit is bright, colorful and fun. The portraits vary in size and are very diverse. There are limitless conversations students can have about the art and what stories the artists are trying to tell. The portraits are all done from different angles, colors and sizes. 
Local artists Susan White Brown, Laura Chasman, Daphne Confar, Catherine Kehoe, Colleen Kiley and Keith Morris Washington all have work displayed in this exhibit, according to Suffolk's website. 
"They're all from the greater Boston area and I don't go very far to find artists," said Deborah Davidson, the gallery's director. 
Davidson said that all the portraits are done with oil paints, a very traditional medium.
"There are six artists and they all work very differently, but they are all interested in showing the viewer who they have painted," Davidson said.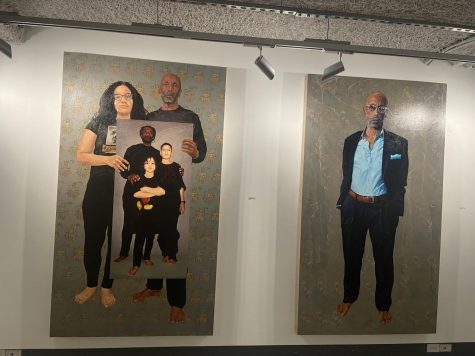 "I'm really gratified that we're open and that we've figured out a safe way to do exhibitions," Davidson said. 
Students are excited to return to the gallery in person. 
"It's really nice. Since last year it was mostly virtual, they didn't really have any events for us, especially not like an art gallery," said Sarah Pollock, a film major at Suffolk.
There are a variety of oil portraits to view at the exhibit featuring a diverse group of people and ideas. 
Pollock said one of her favorite paintings had various groups of people all facing backwards. 
"It's really refreshing to see people of color in art because you just never see that and to be able to see something like that in the gallery was really nice," Pollock said.
The pieces are also done in a variety of colors and styles. 
"When I do my own art I use a lot of bright colors and so it was really interesting to see that. It wasn't perfect, it was a little messy which I like in art," Pollock said.
The amount of diversity in the portraits allows students to perceive the pieces in an infinite amount of ways. There's something everyone can take away from this exhibit. 
"I take away that art doesn't have to be perfect," Pollock said, "I feel like I've always been told art has to be perfect, but a lot of the portraits were imperfect so it was really refreshing." 
The gallery is open from 11 a.m. to 3 p.m. on the sixth floor of the Sawyer building. Students can make appointments to visit the gallery by contacting Davidson. Masks must be worn and it is required to sign in when you visit the gallery. 
This is a great opportunity for students who are looking to view and take in some artwork created by local artists. 
Leave a Comment