If you're a college student, chances are you've probably been to a thrift store. Perhaps you thrifted to shop more sustainably, to save money by bargain hunting, to donate old clothes or because you wanted to search for that perfect Halloween costume or ugly Christmas sweater. 
With Earth Day come and gone, it's important to still remember that thrifting is good for the planet and for your wallet. Yes, thrifting may be more popular and "trendy" than ever, but it has always been cool to be eco-friendly and aware of the clothes you're buying. Thrifting is now more accessible and that should be celebrated!
According to ThredUp's 2020 fashion resale report, the secondhand market is expected to hit $64 billion in the next five years. This number is huge and goes to show how thrifting has evolved to become a top contender in the fashion industry. As mentioned in this report, it provides an optimistic outlook for the future of fashion as the younger generations demonstrate a strong desire to shop second-hand as a solution to fashion waste.
However, in recent months, social media apps like Twitter and TikTok have become a place for people to critique the popularity of thrift shopping and discuss how thrifting is becoming gentrified. And while there is some truth to this like with the recent ThriftCon TikTok that went viral, the app's criticism of thrifting is misleading as there is no evidence that shows unconventional thrifters and resellers are pushing lower-income shoppers out. There are more than enough clothes for everyone.
Whether you thrift your entire wardrobe, thrift to resell or thrift to upcycle/DIY, thrifting is the solution to fast fashion and it shouldn't be reserved for only the working class. 
Here are four reasons why thrifting is good and ethical for everyone to enjoy:
It gives people an affordable way to be stylish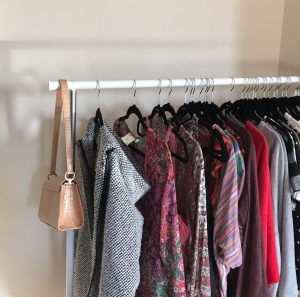 It's so thrilling finding a unique piece at the thrift store and thrift stores allow you to create a one-of-a-kind wardrobe! It's cool to set yourself apart from the pack and wear individual, eccentric clothing— life is more fun that way.
Also based on thrifting commentary on TikTok, many complain that young thrifters or resellers buy up all the clothing that are cute and trendy. However, the definition of cute differs for each person. And thrift stores change out their racks daily and their stock is constantly evolving. Some people prefer vintage or retro fashion, others love bright colors, whereas others love to rock muted tones. When thrifting, it's all about the eye of the beholder, so it's unfair to say that unconventional thrifters are stealing all the "good" clothes when there's no specific standard of these clothes. 
Thrift stores support the local community 
Many local thrift stores serve the community and residents through benefiting the economy and providing jobs. As of October 2020, over 100,000 people work at thrift stores. Shopping at a local thrift store keeps people employed and helps individuals with barriers to achieve self-sufficiency. 
For example, when the pandemic began, Massachusett's Goodwill stores, Morgan Memorial Goodwill Industries, were closed for a few months with a large number of employees laid off. Since reopening, every employee has been rehired. 
Morgan Memorial continues to provide on-site recruitment events and job fairs to help engage the local community. By shopping at thrift stores like Goodwill, you're supporting their mission.
Related to this topic, it's also important to note that reselling clothes from thrift stores generates income for many people, especially in times of high unemployment during the pandemic. Anyone can thrift and resell and it opens up sustainable shopping to an even greater audience of people online– as long as goods are still priced accordingly. 
Keeps clothing out of landfills 
Many people don't want to thrift because they feel guilty, as if thrifting clothing will take away from those in dire need. However, there will never be a shortage of clothes, so thrift away. Thrift stores deal with a huge volume of donations with racks stuffed full and bins piled high. And ultimately unwanted clothes get tossed into the landfill almost negating one of the major pros of thrifting, which is to be sustainable. The EPA reports that Americans generate 16 million tons of textile waste a year. So thrifting is not taking away clothing from anyone and the more people that thrift, the less clothing that ends up being trashed.
In Goodwill's retail stores, if items aren't bought for several weeks they are moved to the Goodwill outlet stores or "the bins," which are then priced by the pound. What doesn't sell at the outlets get transferred to Goodwill auctions or to textile recycling centers. At the centers the clothes are cut into rags, processed into softer fiber, or sent overseas. Broken down by Green America, 700,000 tons of used clothing gets exported overseas and 2.5 million tons of clothing are recycled. But over 3 million tons are incinerated, and a staggering 10 million tons get sent to landfills.
There is a whole process to unwanted clothes, but shopping second hand helps save some clothes from this fate. 
And after reading this, if you still think that thrifting makes shopping for clothes inaccessible to the lower class, avoid shopping at thrift stores that directly provide to these communities or that don't have a huge amount of clothes on the racks. 
Also avoid thrifting things like coats and other winter clothing, bedding, plus-size clothing and toys to prioritize people with less privilege.
Slows fast fashion 
Thrift shopping has been a major force in the fashion industry and with the pandemic, more people are embracing the frugality of thrifting. Thrifting, or slow fashion, provides a sustainable option instead of buying fast fashion clothing. Most pieces that you see at thrift stores are unique and well-made, whereas fast fashion is produced cheaply and poorly crafted to provide for a huge quantity of consumers. 
While scrolling through Tik Tok it's also difficult to avoid a 60-second video of someone's massive fast fashion haul. If you have money to spend hundreds on cheap clothes just to follow current fashion trends, you can afford sustainable fashion. 
If you're unable to give up brands like Forever 21 or Shein, it's good to have a balance between both slow and fast fashion. Or if you still want to shop fast fashion brands, I recommend shopping for these brands on reselling websites like Mercari or Depop. That way you're still shopping secondhand and these brands aren't directly profiting from your purchase. 
If you need to feel inspired to thrift and shop sustainably, watch "The True Cost" documentary, which delves into the dangerous and unethical world of fast fashion.  
It's incredible that more people are embracing thrifting and reducing their impact on the planet. However, while thrifting is ethical and sustainable, it's still important to buy what you need and to be aware of your privilege when shopping secondhand and what communities you are thrifting in.