Suffolk Musicians Network hosts final jam session of the year
Among utter silence from an entranced crowd, a haunting rendition of Fleetwood Mac's "Landslide" floated through the ears of students gathered on the third floor of Sawyer last Friday night for the Suffolk Musicians Network's (SMN) final open mic of the semester.
The student organization is a collaboration of musicians and avid music listeners. Its intention is to provide a space for members to jam together and talk about their favorite artists and genres.
Gianna Brimlow, president of SMN, was intrigued by the idea of the club, which has existed for several years on campus. However, she wanted to expand on what past students created within it when she became president.
"I always wanted something to do on campus that was music-based, but wasn't something I had to practice for or do group performances for," said Brimlow in an interview with The Suffolk Journal. "I wanted to create something that was more solo-oriented, but also a way to network with other people who are also music enthusiasts like me."
The club dwindled after its entire executive board graduated last year, so Brimlow, who was a member of the Network in her early years at the university, contacted The Performing Arts Office to open it back up and start holding meetings again this year.
With the help of Social Media and Public Relations Chair Dylan Shamy, Brimlow rejuvenated SMN, bringing forth a new platform for music fans at Suffolk.
"We just like to talk about music, new and old, and host events like karaoke or open mic nights, or even jam sessions, where members can just rent out the band room and everyone plays music with each other," said Shamy in an interview with The Journal.
Along with hosting events and jam sessions, SMN also has a blog that features coverage of live shows, reviews, music news and a forum for musicians and fans to share their thoughts on trending topics.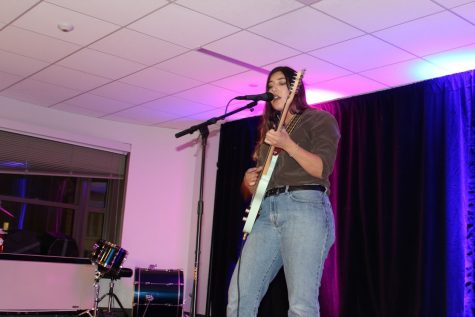 Brimlow, a journalism major, wanted to tie together her love of music and writing, and the blog was the perfect way to do so.
"I feel like every other college I toured before Suffolk had more than two publications that students could write for, so I wanted to create something that could progress after I was gone," said Brimlow.
Events like the open mic on Friday allow performers to showcase their talent in a laid-back fashion. As the night proceeded, more and more individuals were drawn into the room by the sounds being shared.
While the main focus of the night was music, the dance group Fusion Dhamaka also took the stage for a performance of K-pop and Bollywood inspired dance.
Among the other performers of the night was Gio Cassella, vice president of SMN. He delivered a folk-inspired set consisting of covers and original songs, with his confident vocals and acoustic guitar sending chills through the audience.
Since Brimlow and Shamy are graduating this semester, Cassella will be one of the main members moving forward. When asked about his plans for the club in the years to come, Cassella said he simply wants to build on what Brimlow has created.
"I want to welcome people in and show them to not be afraid to be who they really are," said Cassella. "They don't have to worry about being alone, because we're all alone. But we're all alone together, and we're all one and the same here. So, I just want to welcome more people next year, as well as do more of the open mics."
Cassella also touched upon how the open mic provides him with an incentive to create more and refine his work as an artist.
"I really like the open mics, because they keep me going with writing more. I just want to be heard, not just at town shows or bars, but by people in my Suffolk community as well too," said Cassella.
Brimlow closed out the night with a set driven by heavy electric guitar, and emotional original work. She premiered a new song "Cycle," a raw expression of love and doubt.
SMN meets every Tuesday during activites period at Beacon Room 104. The club is always welcoming new members to come and share their love of music